Diarmuid O'Brien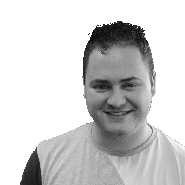 Get to know Diarmuid a little more!
Why did you get into radio?
I've always been fascinated by all aspects of radio; the jingles, the ads, the news and most especially the music and DJs. Radio is such a personal and direct medium and gives you that sense of comfort and companionship that TV and other media just can't do as well so that has always been a draw into the industry for me.
What has been your best moment in radio/on air?
Well I'll never forget my first radio shows, both on college radio and then later on commercial radio. But for me my favourite on-air shift has to be a live Christmas Day show that I did on Midlands 103 last year.
I was on in the afternoon while people were cooking, eating and relaxing after Christmas dinner and I've never had so many texts and messages online from people who were just enjoying the day and shouting out family and friends from near and far. I really felt part of a special and personal community that day and came away from the show with such a smile on my face (3 hours of Christmas music will also do that to you

️)
What motivates you on your show?
Like most radio or club DJs, once I hear a new song that I love or come across a new artist, I get this overwhelming desire to share my discovery with as many people as possible. I always feel so chuffed when somebody becomes obsessed with a new tune or becomes a new fan of an artist and thanks me for putting them in the know! Radio is essentially doing this same thing on a greater scale and I get such a kick of playing music I love and believe in to our listeners.
What were you like in school?
Oh, I was a model student

I spent every moment I could in the music classroom playing music and was known to have many an injury to get me out of doing P.E. and forced to go play some music instead!
What is your biggest pet peeve?
I'm a neat freak with many pet peeves but my current one is people who use their hand to rub their car windscreen to clear it when it fogs up! THIS DOESN'T WORK

What's your favourite thing about your job?
I get to play some songs and talk about them in between, it's a no brainer really!
Pick three song titles that describe your life.
Bon Iver - Re:Stacks
Prince - Controversy
Donna Summer - I feel love
No particular reason for these choices, they're just 3 of my favourite songs
Would you let us hook up your 'Recently Played' Spotify Playlist on the office speakers? What's most likely to be in it?
I'd be all for hooking up my Spotify and giving everyone the chance to hear what I listen to, but be prepared for a mix of Daft Punk, Beethoven, Shania Twain, Harry Potter film scores and cheesy 90s Pop! I'm the definition of someone that has a VERY diverse and eclectic mix of music but, if that's your thing, I'm your man!
You can contact Diarmuid right here!