New brand, Local Insurance, tunes in to Radio and Local for success:Launches with playful advertising parody of competitors.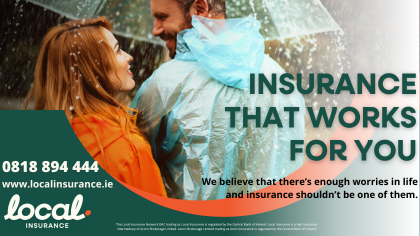 Ireland's latest brand, Local Insurance, launched recently with a new model for the insurance market. A new company and brand were created that leverages the power of local radio throughout Ireland to deliver general insurance – Motor and Home.
The brand is positioning itself as a polar opposite to the larger players in the market, with no interest in becoming a national conglomerate. Instead, its character is firmly rooted in local communities and supporting local economies. Providing value for money, taking time to serve customers efficiently and with consideration are the hallmarks of the brand.
The philosophy is that clients will be offered a smooth and stress-free experience when selecting the policy that's right for them, matching their specific needs. Simplifying the process and brokered through Acorn Brokerage, Local Insurance will compare policies from 14 different insurers, so clients don't have to.
A dedicated sales team is on hand to navigate clients through the insurance maze and they can be contacted on 0818 894 444 and via the website www.localinsurance.ie where full details of the service are outlined.
Advertising Campaign
An 18-week local radio advertising and digital campaign has already commenced comprising three 30 second rotating commercials playfully parodying the behaviour of bigger brands with the message that Local Insurance is NOT like other brands and treats customers in a different way.
Marketing Director of Local Insurance, Nicola Murphy says "Local radio has a trusted presence and strong reputation in local communities. With lots of attention by major brands on an overall national audience, we believe that communities outside cities are sometimes overlooked with generic communications, disinterested service and limited options. Irish owned and locally based. we feel that there is an opportunity to create a local insurance brand that speaks to and resonates with local communities – reinforcing consumer choice and value."
"We're going to take time with people, championing transparency and speaking the language of the local area, not corporate jargon."
Commenting on the launch of Local Insurance, Barry O'Sullivan, Chief Executive, Acorn Brokerage said: "We are delighted to partner with Local Insurance, working with them as a Tied Agent of Acorn Brokerage. Their offering is very different with its concentration on markets outside major centres of population. We look forward to working with them and building a successful brand in the coming years."