Suzanne Doyle answers our questions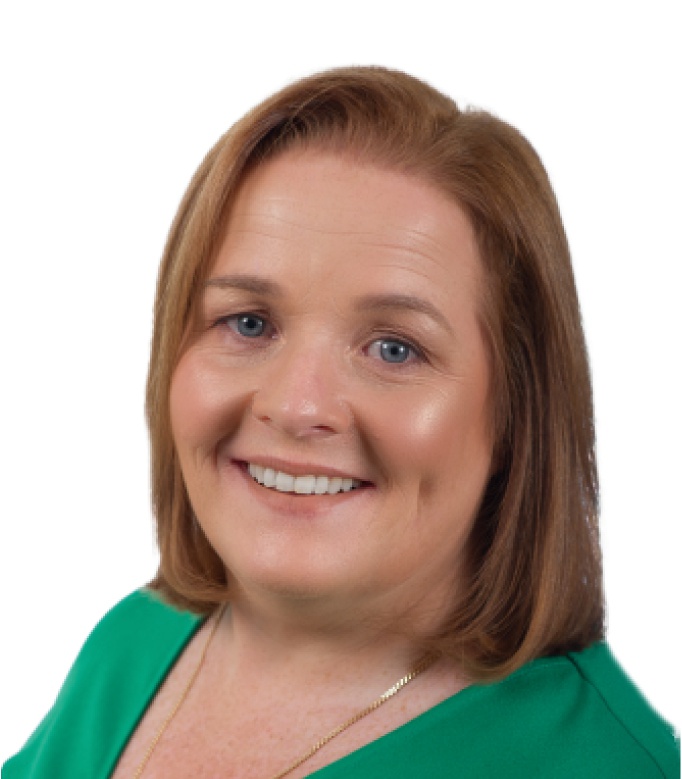 Suzanne Doyle
- Fianna Fail
- Kildare South
Many local workers are forced to commute. What sustainable job opportunities can you identify in Portarlington?
This is the big issue for every key town in the South Kildare constituency, the level of similarities between, Portarlington, Athy, Monasterevin, Kildare and Newbridge are enormous, all train station towns with massive commuter numbers, huge numbers of people who have moved to towns in pursuit of affordable purchase or rental homes. Improving the working and living ratios for these communities has been my mantra for many years. Beyond the obvious of bringing economic vibrancy to the area, it is key in improving the quality of life for people and communities, allowing us more time with family & friends, time to invest in community, all the essential components that helps towns thrive.
An inland port could be developed in the midlands along the rail corridor, this would act as a catalyst for enterprise. The proposal could be driven through climate action initiatives, in terms of creating greater efficiencies for the movement of goods. All key coastal ports are linked by rail and the use of huge docklands site in Dublin, coupled with congestion caused by HGVs in city centre makes a good argument for this initiative.
Huge areas of boglands within the midlands need to be utilised and am aware that BNM are exploring a range of potential enterprises that will replace peat based industry. Ironically, with different activities our boglands could be the economic drivers of the 21st century that they were in the 20th.
The Peatland rehabilitation scheme has the scope to be developed into a key tourism attraction, much like the Dungarvan, Waterford Greenway. The natural spiders web of routes throughout the bog could be developed into a destination midlands amenity. This could have very valuable knock on impacts for Portarlington and neighbouring towns.
Fish Farm being trialed at Mount Lucas appears to be working well, and this has potential to be grown with secondary processing job opportunities.
Through the rehabilitation of big unusual industries such as natural herb harvesting and processing. Trials are being carried out on Birch water harvesting is also worth exploring and advancing.
Investment in broadband is critical and the development of hot desking hubs and properly supported and promoted SME incubator units are very valuable means of developing and attracting a range of industries.
One of the key attractions for potential employers is the value of the workforce. It would be helpful to audit skills base within the area and promote to relevant enterprise. To that end it is also important to invest in quality upskilling opportunities in areas of demand, particularly IT sector.
Portarlington's population has increased dramatically over the past 20 years as part of the Dublin commuter belt, yet it lacks a 24 hour Garda presence. What will you do if elected to combat crime?
In my role as Chair of Kildare County Council, I am advancing with AIRO (research data centre based in Maynooth) a matrix that will set levels of support required for various population levels to inform growth and challenge any development proposals to demonstrate that sufficient supports exist. As it stands no one is allowed build a house unless water and sewage services exist, we need to elevate all necessary services to the same level, including Garda services, public amenities, education and local health and GP services.
What projects will you support and advocate to promote amenities, affordable accommodation and overall quality of life in Portarlington?
FF have a definite plan to drive a state supported building programme for both social and affordable housing. It is important that state drive this programme. FG have abdicated social housing delivery to private sector, this had resulted in a high cost model where we don't even own the asset in most cases (HAP) and has caused a lack of supply and affordability for starter homes. Traditional social housing, which FF has a strong record of delivery on, gives stability to communities, security of roof over your head is cornerstone of stable society.
Portarlington sits on the Laois/Offaly border, creating challenges of coherent planning. It will now be represented by TDs in the South Kildare constituency. How will you ensure joined up thinking?
The National Development Plan has put in place protocols that will require Counties to manage growth more efficiently and have regard to border towns, Kildare has a similar situation in Maynooth with Meath and ultimately the department will assess each County Development Plan to ensure that they are compatible. From a practical point of view it would be helpful for both Counties to hold joint Local area committee meetings where relevant representatives from both sides of Portarlington sit down and plan together, issues such as the support for fire station should be equitably supported.
Coláiste Íosagáin Secondary School is overcrowded. What is your commitment regarding a new building or extension?
If FF are in government we will drive capital education programme, if we are not in government, I will work with all successful candidates to have this project prioritised.
A flood relief plan is due to begin in 2023, subject to funding. How will you ensure this proceeds?
Again if FF are in government, I will use my influence to lobby for prioritisation of this project and if not will work with fellow representatives to secure budget. Ultimately, these projects are a cost saving investment and make financial sense to advance.