Find out more about Pippa Hackett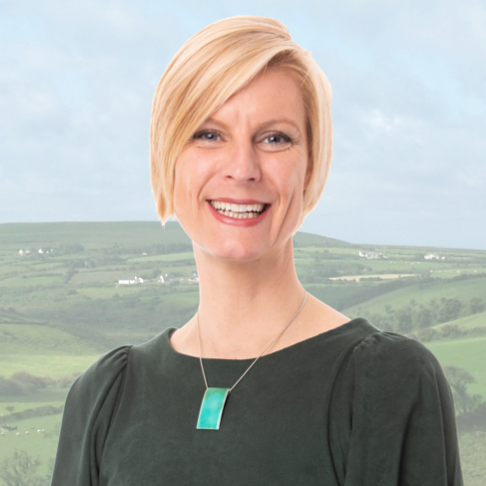 Meet:
Pippa Hackett
GREEN PARTY CANDIDATE FOR LAOIS/OFFALY
My vision for Laois-Offaly
I love living in the Midlands – it has so much to offer. I envisage a more diverse environment to live in: vibrant towns and villages, beautiful countryside and a range of facilities designed to engage the whole community.
What I stand for
I stand for fairness and doing the right thing. I'm tired of complacency and the "it'll be grand" attitude. I like to lead by example and would not expect anyone to do something I have not done myself. I would like to be able to inspire others to do the best they can for themselves, their families, their communities and for the environment in which we all share and live.
My priorities
My priorities for Laois and Offaly are centred on community. I see the huge value of having a vibrant community to live and work in, to raise families, to exercise, to socialise and to enjoy life.
Vibrant towns & villages: We have many lovely towns and villages, but some are in great need of renewal and revitalisation.
Natural environment and heritage: There is much potential in the Midlands to improve our biodiversity, water and other natural resources, and our communities are central to this.
Farmers and farmland: It is important to support and protect farmers – to have proper consultation and support for public services, e.g. the Shannon Pipeline Project and Greenways. Develop environmental projects with local farmers, specific to this area.
Opportunities for physical activity: I see the huge value physical activity and exercise has in people's lives. Simple and effective initiatives can improve this; I would love to see a publicly available running track in both Laois and Offaly.
Animal Welfare: Often overlooked, animal welfare is a huge community issue. There is much potential for welfare projects (local authority, schools or community based) which deal with many of these issues, being piloted here in Laois and Offaly.
My experience
I hold a BSc in Agriculture from the University of Essex, a postgraduate diploma from University College Dublin, and a PhD from the University of Limerick. I took leave from academic research and lecturing to raise my family. I live on a mixed organic farm (suckler cows, sheep, hens and horses) with my husband Mark and four young children, near Geashill in Co Offaly, close to the Laois border. I'm activity involved in many community-based and schools projects in both counties. These roles include youth club secretary and leader, local newsletter editor, Mountlucas parkrun director, and board member of local sports committees.
Green Election

How we deal with the climate and biodiversity crisis will determine the future of everything: our health, our housing, our transport, our energy, our land use, our rural areas, our education, our heritage, our enterprise. This is the Green Decade of Change, and Laois-Offaly need to be part of it. Please support me with your Number 1 Vote on Saturday February 8th.

Posted by Minister Pippa Hackett on Tuesday, February 4, 2020