Martin Heydon answers our questions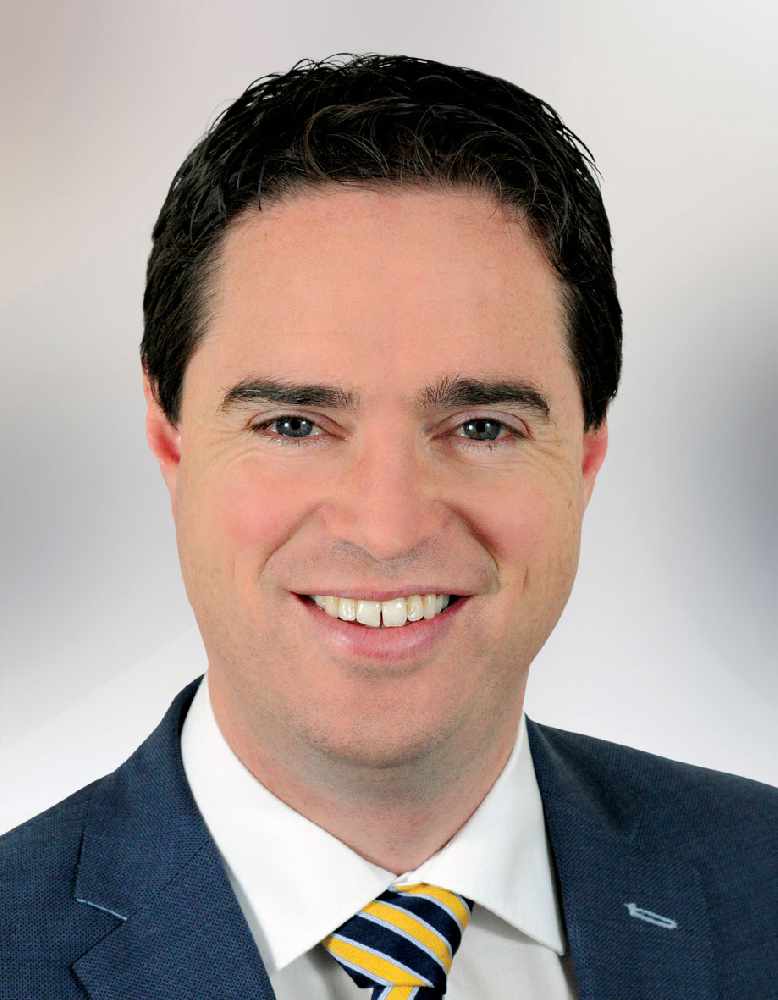 Martin Heydon
- Fine Gael
- Kildare South
Many local workers are forced to commute. What sustainable job opportunities can you identify in Portarlington?
Portarlington is commercially the second largest town in Laois with a large and talented work force. I would seek to work with Enterprise Ireland and the IDA to develop the zoned land on the Lea Road as well as working in conjunction with Laois Local Enterprise office to drive more job opportunities in the Portarlington area and to support those employers in the area already. I would also support the work of the excellent Portarlington Enterprise Centre which works closely with the impressive newly established Laois Chamber of Commerce.
Portarlington's population has increased dramatically over the past 20 years as part of the Dublin commuter belt, yet it lacks a 24 hour Garda presence. What will you do if elected to combat crime?
I think the recent changes in the garda organisation where Laois/Offaly Garda division has joined the Kildare division and are all now served under the one Chief Superintendent John Scanlon is a real benefit to places like Portarlington that is on County boundaries. I am aware from Chief Superintendent Scanlon that there are increased Gardaí in Portarlington but I would like to see it progressed to a 24 hour Garda station. This is something I will advocate for if elected.
Portarlington sits on the Laois/Offaly border, creating challenges of coherent planning. It will now be represented by TDs in the South Kildare constituency. How will you ensure joined up thinking?
Already I have worked in conjunction with my colleague Cllr. Tom Mulhall to deliver and support Sports Capital Grant applications from Laois and Offaly. I have worked very closely with Portarlington Leisure Centre in securing the €300,000 large scale Sports Infrastructure Fund that was needed for the refurbishment and safety works at the leisure centre. I have also worked with other clubs in the area. With a town that has a rapidly growing young population, we need more money invested into the area. Project Ireland 2040 through the Rural Regeneration Fund is the way to do that. Those applications must come through the Local Authority but once they are submitted, I will support them in Dáil Eireann to drive more investment into the area.
Portarlington sits on the Laois/Offaly border, creating challenges of coherent planning. It will now be represented by TDs in the South Kildare constituency. How will you ensure joined up thinking?
What I offer you as a candidate, by electing me as your TD, is a broader Fine Gael team working closely with my colleagues on Laois and Offaly County Council. I believe this is what sets me apart from Independent politicians that have to work on their own. You can only achieve coherent planning and support through TD's working with councillors, local authorities and state departments. I can be that conduit between the local authorities of Laois, Offaly and Kildare as well as the state departments in Dublin and I am ready to work with my colleagues in Laois and Offaly to deliver a coherent plan for the future development of this area.
Coláiste Íosagáin Secondary School is overcrowded. What is your commitment regarding a new building or extension?
I am determined to see a new school building for Cólaiste Íosagáin having met staff, pupils and parents on a few different visits to the school. In addition I recently met the Principal and Deputy Principal of the school in Dáil Eireann where I introduced them to the Minister for Education Joe McHugh to raise the case directly with him. This would be a number one priority for me for the Portarlington area if I am re-elected.
A flood relief plan is due to begin in 2023, subject to funding. How will you ensure this proceeds?
I understand that Laois County Council are working with the National Parks and Wildlife and Inland Fisheries to draw up a three year management plan with a maintenance plan for the River Barrow. The challenge we face with the Barrow, as I am well aware of, is that it is a special area of conservation. There is a need for substantial maintenance works to be carried out. Those last works were carried out in 2018 and while of assistance is not enough. We need to do more, I will work with Laois County Council and the Department to raise these points, secure the funding for the flood relief works that are badly needed. I will also work with local councillor to promote the proper maintenance of the river which is absolutely crucial for adjoining land owners and those who wish to use the Barrow as an amenity. I am not willing to wait until 2023, I would hope and expect that this maintenance work will continue again in the Spring when the season comes and that any ecology reports on work that has to be done is done now in the off season so that we are ready to go as soon as July 1st arrives.