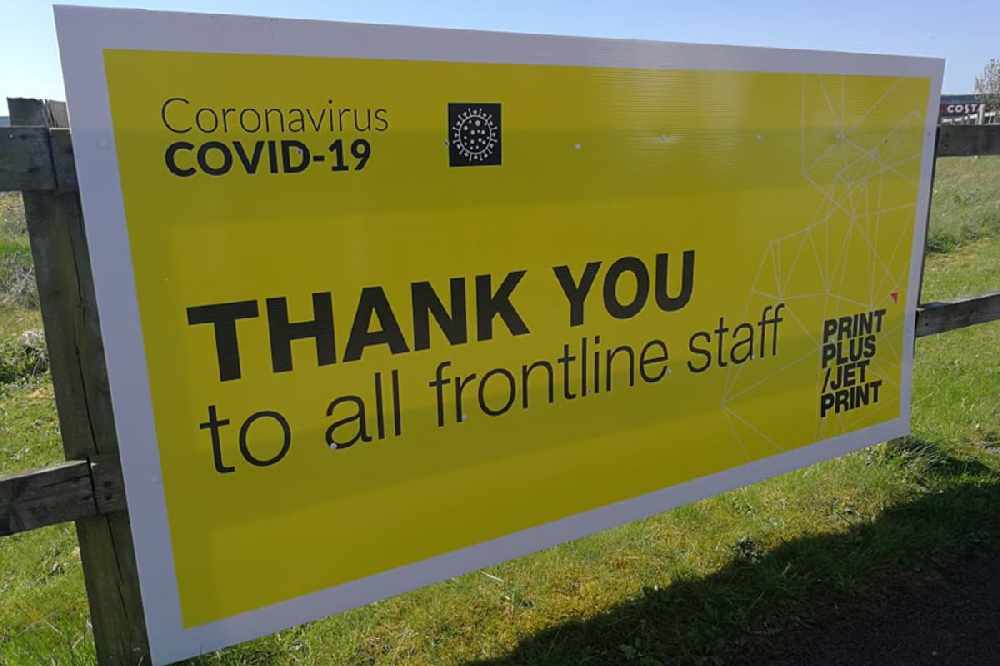 National news updates on Friday 16th October.
Latest figures:
There are 1,000 new cases in the Republic, and three deaths.
The National Public Health Emergency Team The Health Protection Surveillance Centre has today been notified of 3 additional deaths related to COVID-19.
There has been a total of 1,841 COVID-19 related deaths in Ireland.
As of midnight Thursday, 15 October, the HPSC has been notified of 1,000 confirmed cases of COVID-19.
There is now a total of 47,427* confirmed cases of COVID-19 in Ireland.
Of the cases notified today; 478 are men / 520 are women
71% are under 45 years of age
The median age is 31 years old 254 in Dublin, 102 in Meath, 88 in Cork, 81 in Cavan, 75 in Galway and the remaining 400 cases are spread across 20 counties.
As of 2pm today 246 COVID-19 patients are hospitalised, of which 30 are in ICU. 13 additional hospitalisations in the past 24 hours.
Dr. Tony Holohan, Chief Medical Officer, Department of Health said; "Case numbers are continuing to rise.
Right now, we need everyone to cut their social contacts to an absolute minimum.
Every time you physically interact with another person, you are providing an opportunity for the virus to spread."
The COVID-19 Dashboard provides up-to-date information on the key indicators of COVID-19 in the community.
*Validation of data at the HPSC has resulted in the denotification of 2 confirmed cases. The figure of 47,427 confirmed cases reflects this.
Today's cases, 14-day incidence rate per 100,000 population and new cases in last 14 days (as of midnight 15 October 2020) (incidence rate based on Census 2016 county population)
County

Today's Cases

(to midnight 15/10/20)

14-Day Incidence Rate per 100,000 Population

(14 days to midnight 14/10/20)

New Cases during Last 14 days

(14 days to midnight 14/10/20)

NATIONAL

1,000

217.9

10,377

Cavan

81

735.1

560

Meath

102

402.5

785

Monaghan

15

368.2

226

Donegal

32

365.0

581

Clare

12

308.9

367

Sligo

34

291.4

191

Cork

88

237.3

1,288

Galway

75

228.6

590

Leitrim

18

218.4

70

Westmeath

3

210.7

187

Limerick

22

208.8

407

Kildare

32

203.6

453

Wexford

28

202.4

303

Dublin

254

198.6

2,676

Roscommon

7

196.8

127

Louth

33

180.8

233

Longford

<5

176.2

72

Kerry

9

175.3

259

Laois

8

168.8

143

Offaly

<5

141.1

110

Mayo

26

123.4

161

Kilkenny

23

122.9

122

Carlow

21

119.4

68

Waterford

32

109.3

127

Wicklow

21

91.3

130

Tipperary

22

88.4

141
Doctors' plea:
Doctors are warning another shutdown of non-Covid healthcare this year would be a catastrophe.
The Irish Medical Organisation is appealing to the public to comply fully with Covid 19 restrictions, saying there is an extremely short window to avoid the health system becoming overwhelmed.
The IMO say Departments of Public Health all around the country are under extreme pressure with the rapid rise in cases.
Leaking:
A government TD has said questions should be asked about whether NPHET is fit for purpose if leaking of recommendations continues.
Fine Gael's Alan Farrell says he believes the information about a level five recommendation was leaked by NPHET.
He's tweeted to say its focus should be advising government, not causing fear and worry.
Government considering Level 5:
Taoiseach Micheál Martin says the government is giving "very active consideration" to moving the country to level five restrictions.
NPHET has recommended a six week lockdown of the country to combat the increasing spread of the virus.
The leaders of the three government parties will meet tomorrow with the Ministers for Health, Finance and Public Expenditure to discuss whether or not to accept the recommendation.
Speaking in Brussels this afternoon Taoiseach Micheál Martin didn't put a timeline on when a decision can be expected:
Level 5:
NPHET has made another recommendation to move the entire country to level five restrictions.
Public health officials have said the lockdown should last for six weeks.
This recommendation from NPHET wasn't unexpected in Government Buildings.
Public health officials made it clear a number of weeks ago they feel a level five lockdown is needed - and the situation has only deteriorated since then.
The latest recommendation came on a day that saw a record high number of cases at 1,205.
It's not expected there will be any immediate decision from the government on what to do.
Taoiseach Micheál Martin is in Brussels for the EU Summit and won't be back until late tonight.
Government sources indicated they would take the weekend to consider the situation, the impact of level five and whether in light of a further worsening of the situation that it's warranted.
That would indicate a cabinet decision on the issue on either Monday or Tuesday.
A number of Ministers also want to get out of the cycle of having new announcements every few days which they admit is very draining for people.
They also want to give level three restrictions a further chance to work - given it's been less than two weeks since they were implemented.
However, the NPHET recommendation will put further political pressure on an escalation of restrictions.
Marts:
Marts will be allowed to continue to operate through Level 4 restrictions in Cavan, Monaghan and Donegal.
New guidance has been issued which says livestock should be dropped off and then sellers leave the premises where possible.
Inside the building around the mart ring strict social distancing will be in place.
President Trump:
Donald Trump says he 'doesn't know' if he was tested for COVID-19 before a US Presidential debate two weeks ago.
The US President tested positive for the virus days after the debate, where he went up against former Vice-President Joe Biden.
Both candidates held separate town halls with rival TV networks last night, after the second debate was cancelled.
UK:
More parts of England could have tighter Covid-19 restrictions imposed later.
Lancashire could be moved up one of the UK government's tiers, while there are still discussions about Greater Manchester, where local representatives are worried about the potential job losses.
Mayor of Manchester Andy Burnham believes the entire country should be moved up a level.
The UK's Health Minister, Matt Hancock is encouraging the regional leaders to work with government:
Vaccine:
Early results suggest a Chinese Covid-19 vaccine could be safe - and draws an antibody response.
The research shows those aged 60 and over were slower to respond to the jab, compared with younger adults.
It found antibody levels to be lower in older people because the immune system weakens with age.
Meanehile, Russia is targeting the Oxford University Covid-19 vaccine with a disinformation campaign - claiming people can be turned into monkeys.
The Times of London is reporting the Russians are publishing pictures, memes and video clips depicting the jab as dangerous.
Manufacturer AstraZeneca says the campaign poses a risk to public health.
UK Foreign Minister Dominic Raab says a campaign like this is dangerous:
Incidence Rates National:
Ballyjamesduff in county Cavan has the highest 14-day incidence rate than any other local area in the country at over 651.
Lifford Stranorlar in county Donegal has risen in the past week to a rate of 610.
There are concerns about the situation in cities with Cork South-Central and Galway City Central both having rates of more than 550.
While, Gorey in county Wexford has seen a rise of over 400 percent in the past week to have a rate of 533.
Northern Ireland:
A four-week lockdown in Northern Ireland begins at 6 o'clock this evening.
Pubs and restaurants will be forced to close, apart from for takeaways and deliveries.
Schools and colleges will shut for two weeks, but retail shops will remain open - unlike in Donegal, Cavan and Monaghan.
Donegal GP Denis McCauley says people are likely to break the rules as a result.
Ambulances:
The HSE spent nearly 4.5 million euro on private ambulances in the first six months of this year.
According to freedom of information figures, Letterkenny University Hospital's bill was the highest, at 629,000 euro.
Private ambulance providers are used for non-urgent cases when the National Ambulance Service isn't available.
Lifeline Ambulance Service got over 1.4 million euro in the first half of 2020 - but chief executive David Hall denies it's a waste of money.
Restrictions:
Household visits are banned nationwide as new restrictions came into effect overnight.
Cavan, Monaghan and Donegal are now under level 4 restrictions, meaning shops that sell non-essential items are not allowed to open for four weeks.
In addition, no more than six people from two households can meet outdoors.
It comes as 1,205 cases and 3 additional deaths were confirmed last night.
Chief Medical Officer Dr. Tony Holohan says they working on additional guidance for people who live alone.
The head of the state's Covid-19 modelling group believes any link between household and school outbreaks would be identified.
Professor Phillip Nolan doesn't think the rise in clusters in homes can be linked to the reopening of schools