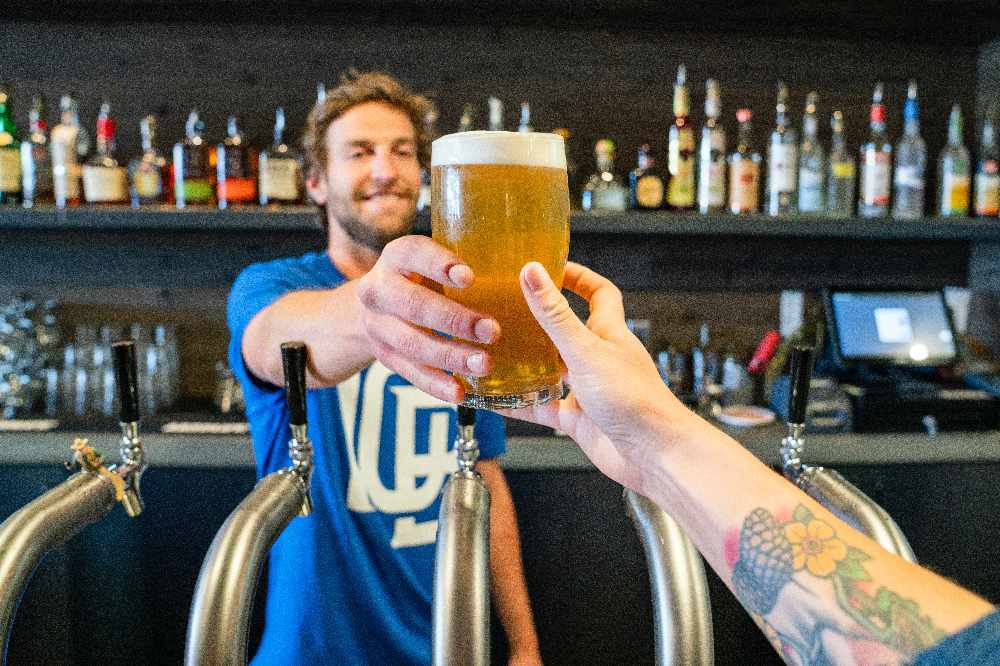 They're proposing a limit of four customers per ten square metres.
Pubs are hoping they could open earlier than planned if they can stick to strict social-distancing rules.
They're not due to reopen until August, but this could be brought forward to the end of June.
Under measures proposed by the Vintners' Federation of Ireland, pubs could be restriction to four customers per ten square metres.
Owner of Gilleran's in Mullingar Liam Gilleran is unsure about the practical applications of the proposals:
Sean's Bar in Athlone says it is distancing itself from the statement issued by the Vintners Federation of Ireland (VFI) and the Licensed Vintners Association (LVA) yesterdaywhere they have asked the government to re-open pubs on the same day as restaurants and cafe's.
The following statement was published on its Facebook page:
We feel that this statement is irresponsible given the health crisis we face today. In this statement the VFI/LVA have said that it is unfair to treat pubs differently to restaurants and cafe's and that we shouldn't be creating a two-tier hospitality sector. They have also outlined "radical measures" to help with social distancing.
The truth of the matter is there is nothing fair about Covid 19. Restaurants are different to pubs. We would like to know what medical advise the VFI/LVA received? Did they seek advise from expert virologists such as Luke O'Neil? Have they received reports and if so can they be published? Who came up with these guidelines? What recommendations have they received from their paying members?
We believe as publicans we have to be responsible and lead by example. We have to consider the well being of the general public, our staff, their families and of course the future of our industry. As such we should be following the advise of NPHET and doing our best for the wider community. The Public Health Experts will rightly decide what industries open first. We should only open once the medical experts say it is ok to do so and then we need to make sure we have the necessary procedures in place that will give the general public confidence in us. As things stand It is very clear that many people are nervous about the thought of re-entering a pub again. We have only one opportunity to get this right. We would love to open Sean's bar as soon as possible. We are desperate to get back to work like most businesses. Unfortunately our sector has to be patient. We cannot rush into re-opening just because we think its unfair. What would be more unfair would be forcing a publican to re-open while its not safe to do so. Lets say the average rural pub has 100 square meters of space leaving out the bar and on these guidelines you'll be allowed to have 40 people on your premises. Has this been costed with having to have extra staff, security, etc. How is this viable or even workable?.
We do believe that Gastro pubs should be allowed re-open as restaurants once they follow the guidelines.
We need the VFI/LVA to fight on our behalf on a number of issues, for example , reduction in VAT, commercial rates, wage subsidy scheme's. The industry will need grants (not loans) to re-open. We need the insurance companies to honour their policies. This pandemic will change the pub industry forever. We need a strong voice to act on all these measures to ensure as many pubs as possible survive. The measures announced by the government last week are simply not good enough. It is our opinion that the VFI/LVA will become irrelevant very quickly perhaps leaving a vacuum for other like minded publicans to act in the best interests of the industry.. not just the chosen few!
Meanwhile,
An Offaly publican says it would not be financially viable for her to re-open under regulations put forward by the VFI.
Aggie D'Arcy from the Blackthorn Pub in Daingean estimates she could only accommodate up to 24 people should proposals be implemented.
There are also concerns about the ability to retain two full time and four part time staff.
Ms. D'arcy fears that her clients may be worried to return: