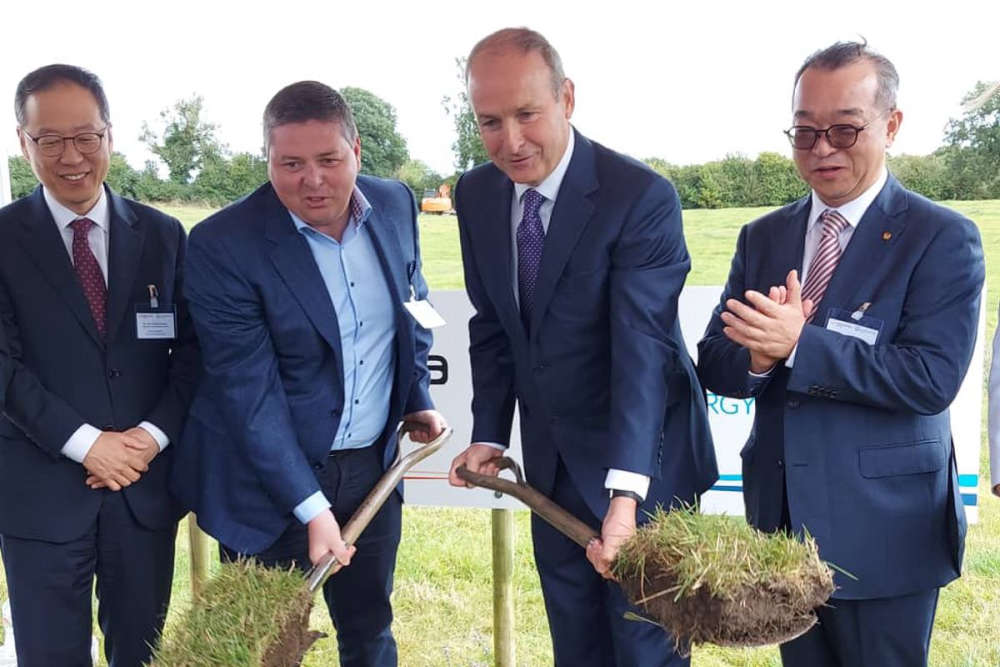 Korean Ambassador, Ki-hwan Kweon; Lumcloon Energy CEO, Nigel Reams; Taoiseach Micheál Martin; Hanwha Energy CEO, In Sub Jung
The €130m facility is set to strengthen Ireland's ability to produce solar and wind energy.
A new, first-of-its kind renewable energy project has been officially unveiled in the midlands.
Developed by Offaly company Lumcloon Energy, with their Korean partners Hanwha Energy, the €130 million 'Shannonbridge B' plant will help to store solar and wind energy generated in Ireland, providing an additional 170 megawatts to the national grid.
Taoiseach Micheál Martin broke the ground on the site in Shannonbridge today, in the shadow of the former West Offaly Power Station.
150 jobs are set to be created when construction starts later this year, with 15 permanent positions when operation starts in October 2024.
The new hybrid facility will, for the first time, combine a long duration battery with a synchronous condenser, to more efficiently meet the changing needs of the power system.
Batteries can deliver very rapid frequency response, reserve and ramping services, while synchronous condensers provide low carbon inertia, all of which are required to react to any sudden loss in electricity supply or surge in demand.
CEO of Lumcloon Energy, Nigel Reams says this new facility will greatly strengthen Ireland's ability to produce renewable energy:
Taoiseach & Ambassador of the Republic of Korea in Ireland among the dignitaries in #Offaly today for turning of the sod of 'Shannonbridge B'.

The battery storage facility will be the world's first utility scale combined electricity grid stability project.

More on @Midlands103 pic.twitter.com/oTKKe2jl39

— Midlands103 (@Midlands103) September 6, 2022
Speaking at the event, the Taoiseach said the government is not considering re-starting the midlands' power stations, despite feared energy shortages this winter.
The peat-fired facilities in Shannonbridge and Lanesborough were shut down by the ESB in December 2020, after failing to secure permission from An Bord Pleanála to burn biomass at the plants.
Micheál Martin doesn't think re-firing the stations would be possible, given the legal technicalities, and says other energy alternatives are being considered: