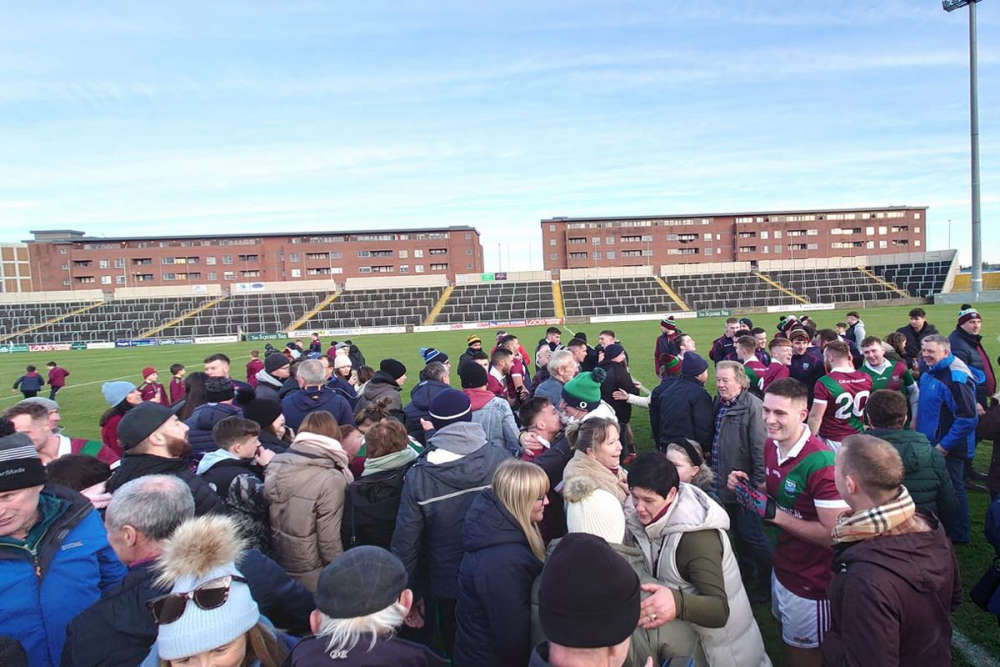 Photo Credit: Portarlington GAA Facebook
They've set up a trip to Croke Park in two weeks time.
There'll be a few more sore heads in Portarlington today.
Three weeks on from achieving back to back senior titles in Laois, they climbed another mountain by winning their first provincial championship match in 20-years.
It was a very hard fought battle with St. Lomans, who played their part in a tremendous spectacle in O'Moore Park. Ultimately, it was the Laois champions ability to find eight different scorers on the day and find the target at crucial intervals that won them the day.
Portarlington now get a crack at dual Dublin champions Kilmacud Crokes in Croke Park at 5pm on December 18th. How to handle Paul Mannion and co will be a happy worry for Martin Murphy and his management team over the next number of weeks.
In the aftermath of the win, which came 50 years to the day after his home club Gracefield claimed the first ever Leinster title, he was very proud of his player's efforts:
They had a couple of attacks with the ball dropping in the square and if John Heslin or one of their big men gets a hand on it then we're out of the Leinster Championship, but our lads stuck to their guns.
A lot of people thought there wasn't much character in this team but I have to say there's tremendous character in the Portarlington team and we're looking forward now to the Leinster final.
It's a thing of dreams. We're here with the players for the last three years and we've a great management team in place. The players have bought into what we're trying to do here. They've worked hard through covid and through lockdowns and the fruit is coming to bear and if we can go to Croke Park with the same enthusiasm that we brought to the game against St. Lomans, then we can give Kilmacud Crokes a right rattle on Saturday week.
We're fortunate in a sense that it won't be new to everyone in the sense that between all the age grades, I think all of our players have played with Laois at one time or another, maybe not in Croke Park but they've played in plenty of big games.
It's a big exciting thing that's happening and I'm sure there'll be a big crowd travelling up from not just Portarlington but from all of Laois to support us and I can't tell you enough how much we will be looking forward to that.