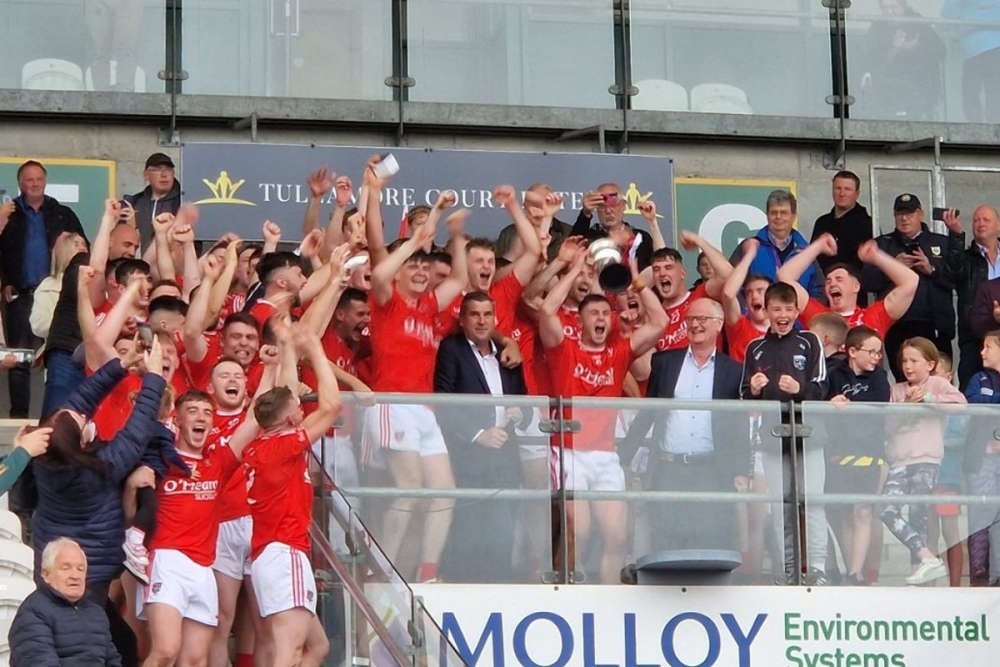 Trevor Fletcher's side are Offaly senior hurling champions after a performance of quality against Kilcormac-Killoughey on Sunday.
The people of the parish of Shinrone have new heroes after the club ascended to the throne of Offaly hurling on Sunday.
The opening stages suggested Kilcormac-Killoughey were well selected as favourites to win a first title since 2017.
Shane Hand's side is stocked full of hurling talent and have no shortage of physically imposing players.
This match and the Seán Robbins Cup could have been all but theirs if they took a series of guilt-edged chances in the first 15 minutes.
As it happened, Shinrone led KK by two points after the first thirty minute period.
From the start of the second half to the end of it, it seemed Trevor Fletcher's Shinrone team had decided they were going to win this game.
Cillian Sampson and Ciarán Cleary delivered stand out performances, scoring 4 and 5 points respectively.
Captain Jordan Sampson, who fired the winning injury-time goal against Belmont in the semi final, also registered four crucial scores as well.
Speaking to Joe Troy after the game he says his manager has done remarkable work to create confidence:
Kilcormac-Killoughey's confidence seemed to shrink as the second half progressed as did their accuracy.
Through pressure, intensity, and clear mindedness, Shinrone strode away from their opponents as the game wound towards the 60th minute.
They were beaten finalists in 1960, Shinrone now has a new high water mark and the Leinster Championship to come.
Trevor Fletcher is the man at the helm of that historic success and he tells Joe Troy about the joy of this victory: