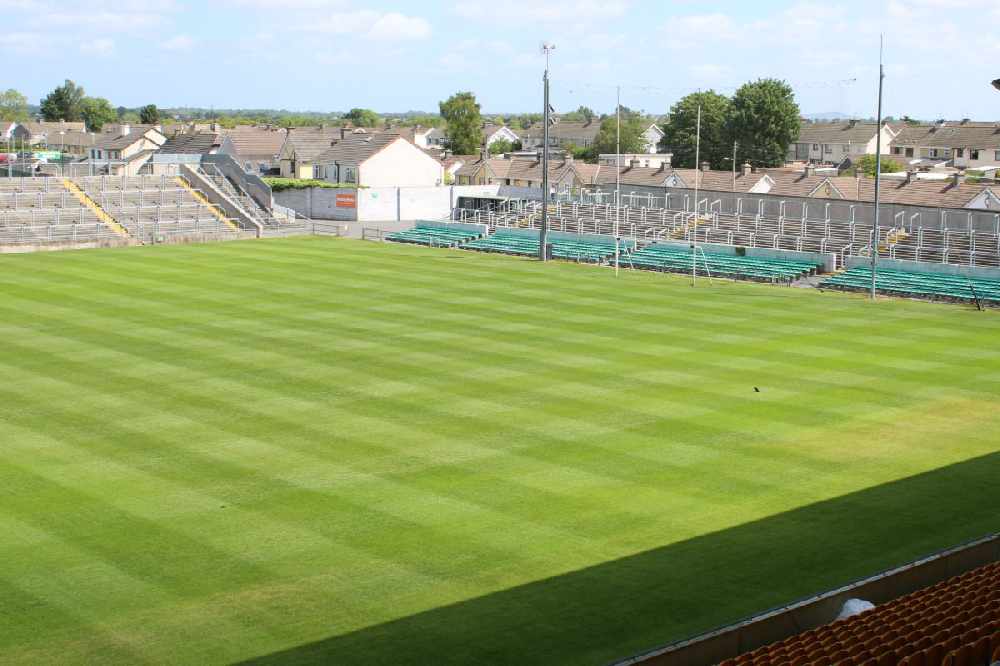 It's the fifth time the teams will have clashed for the Sean Robbins Cup.
St. Rynaghs and Coolderry meet in the final of the Offaly senior hurling championship for the fifth time this Sunday.
The head to head currently stands even at two-apiece.
Ken Hogan's side will be hoping bring home the Sean Robbins cup for the third time in succession, another step towards emulating the great St. Rynagh's outfit of the 70's who won five in a row.
Speaking to Offaly GAA ahead of the contest, Hogan said the quick turnaround has been a challenge:
Yeah, I suppose. What is it really? 10 weeks I think from one final to the other so. We were so disappointed last year when the game was postponed at the last minute, Croke Park pulled it and we were really looking forward to it.
It meant we had to wait until August of this year, but it was the positives in that is that we came back training and we knew that we're actually training for a county final. So, I mean, it meant that we had to get to the top of our game, very fit, very focused, and thankfully you know we got over that game.
A great victory, but now, of course, we're looking forward to the big one or is the next game, playing Coolderry is a mouthwatering clash, particularly for the Offaly hurling public, from that point of view. So, looking forward to that.
A crowd of almost 5,000 packed into O'Connor Park for the recent football final replay and Hogan is hoping for more of the same:
Absolutely wonderful. It's great to see the stand full in O'Connor Park but also the terraces when the day is fine like it was for last week with KK and the people in the terraces and the craic is wonderful.
So please God you know that we'll all keep safe, out of trouble and that we have a huge attendance for the final.
On their run to the final so far, the perennial winning manager was somewhat coy of their form:
Not too bad. Not too bad, I think. Yeah, that lads love playing matches like that's how we all grew up aspiring to play games with our clubs and our counties and the lads are no different. The lads are no different, they love the game.
We came through our group after having had a bit of a slip up against Birr, of course, and a hugely tough semi-final, to play the same team three times in the space of 9 or 10 weeks is very difficult and KK are great opponents and you know what?
It went down to the wire. It could've gone to extra-time but thankfully we got over the line and now were looking at the huge test of Coolderry on Sunday.
St. Rynagh's road to the final:
Group Phase:
St Rynagh's 0-23, Kinnitty 1-12
St Rynagh's 10-18, Ballinamere 0-19.
St Rynagh's 3-12, Coolderry 1-15.
St Rynagh's 2-24, Kilcormac-Killoughey 0-21.
Birr 1-23, St Rynagh's 0-13.
Semi-Final:
St Rynagh's 1-18, Kilcormac-Killoughey 0-20.
Despite their vaunted history, Coolderry manager Brian Culbert believes they've shocked the county in getting this far.
The Clare man has blended in some youth to their experienced panel and taken them back to a decider for the first time since 2018, when they won it all.
As mentioned previously the sides have met on four previous occasions, 1965, 1968, 1986 and 2015. Coolderry came up short on the opening two encounters but have turned the tables in the most recent battles on county final day.
Previous final meetings:
St. Rynagh's 2-12, Coolderry 1-9
St. Rynagh's 1-12, Coolderry 3-4
Coolderry 3-8, St. Rynagh's 1-10
Coolderry 2-15, St. Rynagh's 1-16
Our own Joe Troy caught up with him in advance of this one and asked about their aims this season:
I suppose the aim, I mean you never set out to go to a county final, but I suppose this year it was known that we thought we could get here. We ourselves at the start of the year didn't flag it, we just said we would take each game as it came and we said we would blend all the players here and get back on track and I know that look last year they probably didn't qualify which might have been a surprise but our aim is just to make things better every day, we go out and make the team better.
A Lot of people are shocked, and we're probably shocked ourselves in a way, but we're delighted, and I think we deserve a lot of praise for getting there.
The former Clare and Sixmilebridge hurler wasn't surprised about the spirit he found upon entering the club:
The hurling club here is everything. It's the whole community and the minute I came here, I saw straight away like it's the centre of the whole village so there was never anything that I had to install or try and put in. It was everything you look for in a club and after that it was just about training hard and getting the hurling and attitudes right.
What happened last year or the year before or the last county final never matters, it's what's ahead of you and the year ahead and look they've done everything we have asked of them so far this year so we can't fault them.
On having to bring through a new generation of Coolderry hurler:
We never looked at the new players as young lads, we never looked at the old fellas as old fellas we just went out and picked the team that we felt could get us over the line and these fellas have just taken it on their shoulders and driven on and there's never been a question.
That's the only way they're going to learn, the young lads will learn off the older lads. They've thrived and listened to that wisdom and the older lads will pick things up off the new fellas, that gives them a bounce too so it's a nice mix.
Coolderry's path to the final:
Group Phase:
Coolderry 0-26, Belmont 0-16
Coolderry 1-18, Shinrone 0-19
St Rynagh's 3-12, Coolderry 1-15
Coolderry 6-27, Drumcullen 0-9
Coolderry 0-20, Seir Kieran 1-15
Semi-Final:
Coolderry 3-13, Shinrone 1-16