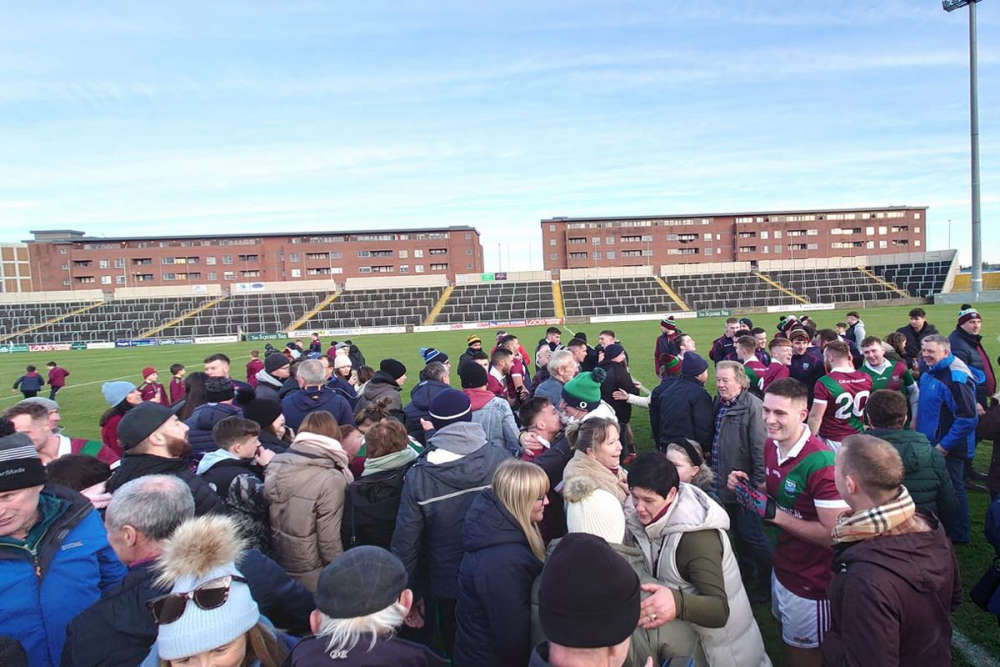 They're set for a huge clash with Kilmacud Crokes tomorrow afternoon.
Martin Murphy is aware of the magnitude of this weekend. Not only for his team but for Laois as a county.
'I'd like to take this opportunity to wish Clough/Ballacolla the very best of luck on Sunday on behalf of the Portarlington management and the team,' he starts with.
That's a man who gets it.
A huge 48 hours will kick off when his Portarlington team take the field of play in Croke Park on Saturday evening to face a much vaunted Kilmacud Crokes side boasting a number of all-Ireland title winners, players who've taken in this stadium on a number of occasion and know what it's all about.
They got lost on the way to Navan last Saturday but there's no fear of them getting lost on the M50 as they travel to HQ this week.
The big question facing Portarlington management this week will be - how do we stop them? Do we divert from our own game-plan or do we try and impose our will on the opposition?
Do we let the likes of Robbie Piggott play his game or ask him to worry about that of another? Preparation, how do we make it as easy as possible on our own players?
Just getting the team in the best position to put their best foot forward on the day can be the toughest task. Portarlington have been dominant in Laois for the last two years. They've the best defence in the county by some distance and the physical tools to take the game to any team.
This is the national stage and this is where they need to show it.
They won't lack for support. The town has thrown itself into the Christmas spirit but also the GAA spirit. Portarlington theme'd festive lights have gone up in the square and the maroon and green bunting is awash everywhere.
A mass exodus is expected from the county on both days this weekend and Portarlington manager Martin Murphy is aware of just how much this all means:
Yeah, everyone is buzzing. There's huge, enthusiasm around the town for this game and everyone's looking forward to traveling to Croke Park on Saturday.
It does indeed and I've been enthused by the number of people from outside of the town that that know me and around the county and in both Laois and Offaly who have contacted me over the last few days wishing us luck, so you know this is creating a huge stir and I suppose it's coming up to Christmas and that people have other things on their mind, shopping and so on but, this seems to be a number one on their agenda for this weekend anyway.
Of course, I mean Kilmacud Crokes are Dublin champions, so we know we're facing a very daunting task on Saturday, but you know, I think our boys have proven locally anyway that over the last two years that you know they are a team to be reckoned with. We'll go to Croke Park happy in the knowledge that we've been playing decent football and if we can bring that and bring our game to Croke Park on Saturday, we'll give Kilmacud a good run for their money.
On the prospect of shutting down former Dublin stars Paul Mannion and Rory O'Carroll along with an in form Crokes attack:
Well, I'll be honest with you, we've spoken about it. We've sat down with the management and the team, and you know, we're going to stick to our game plan and we we'll stick as closely to it as we possibly can and hopefully let them worry about us a little bit.
And you know, if you're going to look at a team with the quality they have, and we decide to man mark one or two players and you know, there's always one or two more that are going to pop up and cause problems, like they have five or six lads with all Ireland u-21 medals or u-20 medals, and you know there's two or three lads with all-Ireland senior medals so you know we won't be taking them for granted, but at the same time we won't be specifically going out to block out one or two players.
We will play our own game and trying to enforce our game on them and make them worry about us more, so they're not worried about them.
Among the storylines of this game is 36-year-old Dave Murphy and many other stalwarts getting the chance to line out on the hallowed turf with their club mates for over a decade:
I'm delighted for Dave to get this this opportunity to do this with his club and many other players within the squad as well. It's a huge thing for any group of players from the from their own locality and town to play together in Croke Park.
We're going there to try and win on Sunday and hopefully get another day out there come January.
Going into the game as underdogs is no big deal for Portarlington, according to Murphy:
Well Robbie, this is the first time I think this year that we'll go into a game, certainly this year, maybe even for the last two years that we go into a game as the underdogs.
I think in fairness, throughout the Laois championship the last two years, most of the bookies would have had us as favorites and again two weeks ago against St. Loman's, it was a sort of even. So, we're going in as underdogs and look at there's no pressure other than the pressure, we put on ourselves to go and try and win this game.
There's no doubt that our lads will do that on Saturday. They'll go all full blast to try and get to the Leinster final and that's what the prizes at the end of the day.
It's not just about playing in Croke Park, it's to get to the Leinster final and that's our objective.