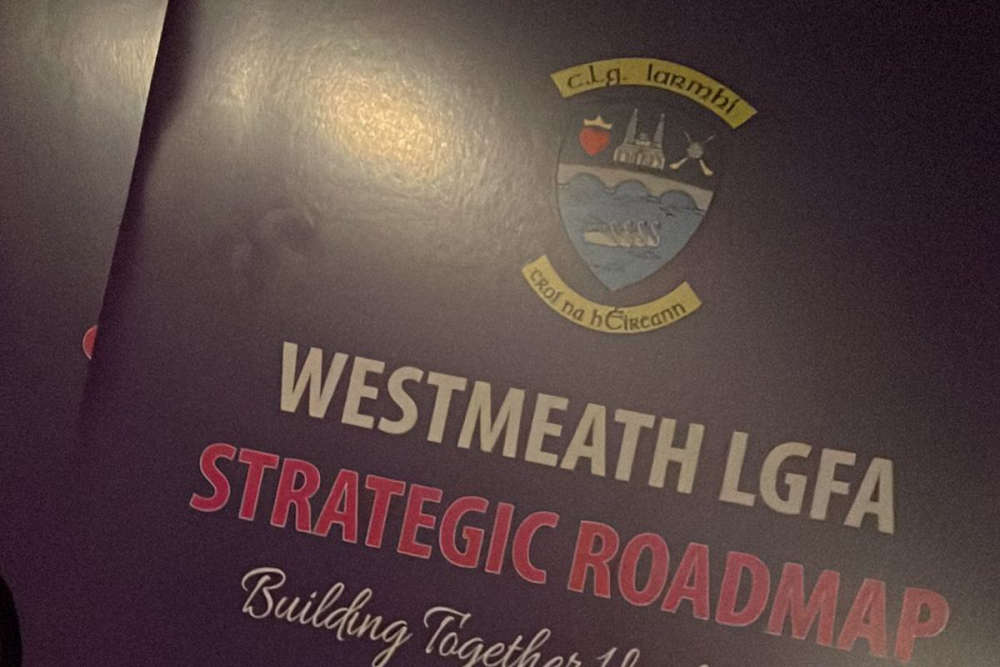 They're looking to build on existing traditions in the county.
Westmeath LGFA last night launched their new Strategic Development Plan, 'Building Together to 2025' which lays down a firm statement of intent to deliver future success for the county – both on and off the pitch.
The plan builds on the existing proud tradition of Ladies Gaelic Football in the county, and was launched by chairperson of the County Board, Geraldine Giles alongside All-Ireland Intermediate champions, Fiona Claffey.
Work on the roadmap began in March 2021, and quickly identified three clear target areas: Developing Our Games, Building Our Structures and Communicating Our Message.
The process got underway with a consultation with all clubs in the county to establish their needs and requirements for now and the future. A steering group of individuals from a variety of different expertise and backgrounds was then put in place, and the feedback from the surveys proved invaluable, providing the foundations from which this clear, practical and challenging - yet achievable - roadmap was built.
Congratulations to @WestmeathLadies on a brilliant event to launch their new Strategic Roadmap 'Building Together Until 2025' which was live steamed. A very successful year and they are now looking to the future. Well done to all involved! pic.twitter.com/4K2jhsXOLk

— Ladies Football (@LadiesFootball) November 4, 2021
'Building Together to 2025' demonstrates Westmeath LGFA's determination and vision for the future, achieved through attainable goals and underpinned by the core elements of: building solid foundations at club and county level, maximising participation across the county and listening to our membership in order to provide a clear direction for the future of the county.
Speaking following this evening's launch, Chairperson of Westmeath LGFA County Board, Geraldine Giles stated:
"Our new strategic plan, 'Building Together to 2025' is a really important milestone for Westmeath Ladies as we look ahead to the future. We have enjoyed considerable success down through the years, and this past decade in particular has been an incredible one for ladies football in the county, with two All-Ireland titles bookending it. Now, we are looking ahead to the future to ensure that there are clear pathways, structures and a visible roadmap ahead for all.
"We took the feedback from all of our clubs and supporters on board, and this roadmap brings together the vision and aspirations of each unit of the LFGA in the Lake County. The work does not stop here though. This plan will be a live document that will be constantly reviewed and updated as the times and needs of our clubs and county continue to evolve and change over the coming years. We are really looking forward to seeing the plan come to fruition, and we would like to thank everyone involved in making this happen – the many people who completed our surveys, our clubs, the County Executive and the LGFA and the Steering Committee, who helped to guide us through this process.
The mission, vision and values outlined in the roadmap will only be effective when we work together and, as one team, strive to ensure the success of this plan. It is achievable, measured and worthwhile, and I am excited to work with all of our stakeholders in the months ahead to attain our goals."
Also speaking at the launch, double All-Ireland intermediate champion, Fiona Claffey stated:
"I am really honoured to be here today, and it is fantastic to see such importance placed on the future success of the game in our county. It is vital that we all come together now to achieve the goals set out in this plan and to continue to work hard on growing the game in our clubs and county, while offering young players, volunteers, coaches and referees new opportunities to learn and grow. It's already been an incredible journey for Westmeath Ladies these past few years and, with this plan in place, there's no doubt that the future is definitely bright!"