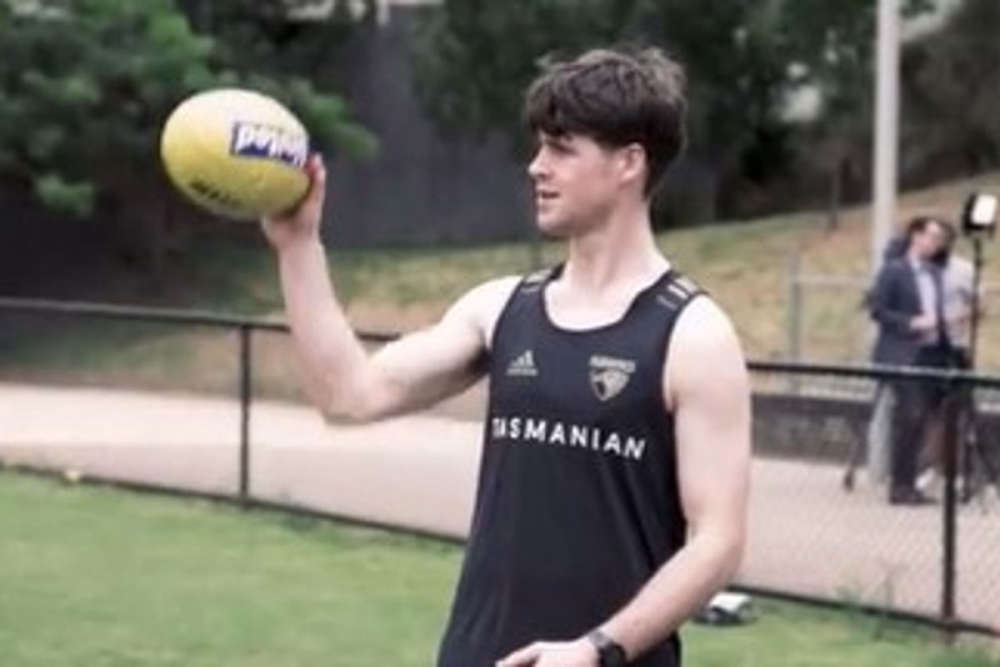 Photo Credit: Hawthorn FC
He started training with Hawthorn this week.
Fionn O'Hara seems happy to be at the beginning of his journey down under.
The former Westmeath underage star and Leinster out-half announced in October that he'd be taking his talents to the AFL and is now officially a part of Hawthorn FC, though you shouldn't expect to see him on the field soon.
There's traditionally a steep learning curve for crossover talents and it's evidence from his initial training sessions on the eye test he has a considerable amount of gym work ahead of him.
That hasn't left the lake county talent daunted at all and he spoke to Hawthorn's official media team about making the move:
My first training session wasn't exactly what I expected. It's nice to get eased into it rather than get thrown in with the sharks, but I'm delighted to be here and in training eventually.
I'm living with Conor Nash for the first while so he's going to look after me (hopefully). He's done it so far, but I'm not sure he's going to keep it up. He likes to eat out a bit so I might have to start cooking for him and teach him a few things.
On what he hopes to bring with him as he transitions to the oval ball:
I hope to show off my ability to kick off both feet and it's something I want to take with me from home.
You can check out the interview in full here:
Looks who's arrived from Ireland.

It's great to finally have you here, Fionn. 🤗 pic.twitter.com/HzKyFy31qX

— Hawthorn FC (@HawthornFC) January 17, 2022