Brian Moss
Brian could be best described as Midlands 103's resident class clown! The Laois man has been with Midlands for nearly a decade and has worked across a variety of shows across news sport and entertainment. Moss's radio career has seen him travel far and wide and has worked for a number of local stations across the country and also nationally with Newstalk and RTE.
An encounter with Midlands 103 whilst at school set the wheels in motion for the Mountmellick mans love of radio
"I remember we were in 6th class and one of the then presenters came over to our school to do some recordings and I was just mesmerized by the Midlands 103 van with all the gear and the big tape recorder that the guys were using to record!! Somewhere in the log tapes there's an 11 year old me making my radio debut, I was hooked from that day on"
The tape recorders may have been replaced by more modern technology but Brian's love of radio (and fear of having to get a real job) has always remained.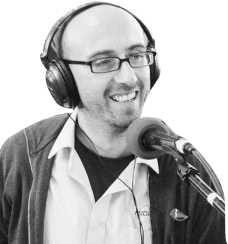 "Every time I walk into the studio I still can't believe that I get paid to work in radio, I'm always waiting for that tap on the shoulder to say hey it's time to get a real job!! Thankfully I've managed to avoid it so far and having had "real jobs" in the past I know how incredibly lucky we are , I always try and bring my excitement and passion for radio across in everything I do"
You can catch Brian on The Saturday Beat, Saturday from 5 to 9 and Mon, Tues and Wed nights on The Late Shift from 10 pm to 12 pm