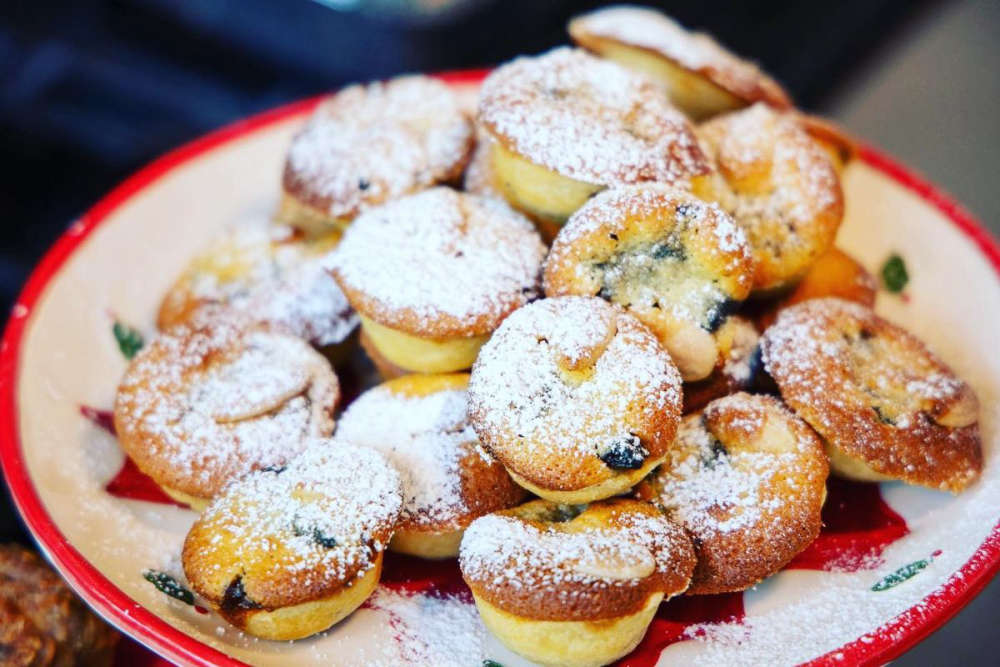 Offaly's Hey Pesto! has lots of tasty recipes to try out this year.
Hey Pesto! has a lot of Christmas recipes to keep you busy in the kitchen this year.
Tullamore's Yvonne Carty has been sharing some festive ideas with Will Faulkner on the Midlands Today Show:
She has an alternative way of cooking your turkey and very quick simple recipes to cater for unexpected guests.
Sausage Truffles:
What you need:
125g plain flour
½ tsp salt
½ tsp smoked jalapeno powder (or smoked paprika)
1 ½ tsp baking powder
1 lb sausage meat
80g cheddar, grated
50g butter, melted
30 ml milk
What you do:
Preheat oven to 200 C
Mix your dry ingredients together then add in sausage meat, cheese, butter and milk
Mix well and then using wet hands form into approx. 24 balls. Chill if you have time
Place on lined baking sheet and bake for 20 mins until golden.
Serve hot or cold with a cranberry dipping sauce (mix sour cream, cranberry sauce and a dash of mustard)
Christmas Pudding Cheesecake Pots
What you need:
150g ginger nut biscuits
50g butter, melted
200g Christmas pudding
30 ml Cointreau
Zest and juice of 1 orange
250g cream cheese (the full fat version please!)
250g mascarpone
80g soft brown sugar
200 ml cream
1 tsp vanilla extract
What you do:
Crush the biscuits in a plastic bag using a rolling pin. Mix the crushed biscuits and melted butter together and press into the base of each shot glass (this mix should make approx. 24 pots)
Blitz the Christmas pudding, brandy and orange zest to a puree
Whisk the cream cheese, mascarpone, cream and sugar and vanilla extract together until smooth and creamy.
Carefully fold the pudding purée into the cream cheese mix. Pipe or spoon onto the biscuit base
Leave to chill before serving.
By now you should be feeling rather full so we'll move onto what to do with your leftovers.
Potato cakes always make a good addition to Stephen's Day and will use up leftover mash and ham
Best Ever Cashew Nut & Mushroom Roast
No Servings: 6
Oven: 180ºC/ gas 4/350ºF
What you need:
1 tbsp vegetable oil
1 medium onion, finely chopped
1 clove garlic, finely chopped
8 oz/225g cashew nuts, roughly chopped
4 oz/110g breadcrumbs
1 egg
3 medium parsnips, cooked and mashed
1 tsp each fresh rosemary & thyme
¼ pt/ 150 ml vegetable stock
Good knob of butter
8 oz/ 225g mushrooms, sliced.
What you do:
Heat the oil in a large pan and sauté onion for few mins, Making sure to add a pinch of salt. Add the garlic then cook until soft
In a large bowl mix nuts and breadcrumbs together with the beaten egg.
Add in the mashed parsnips and the herbs, followed by onion and garlic. Make sure you add all the cooking juices in to avoid any dryness in roast
Stir in the stock and season to taste. Set aside
In your pan sauté mushrooms in butter until soft. I always add a little sherry or vermouth at this stage…. it gives a lovely flavour!
Butter and line 2 lb loaf tin. Put a line of your best mushroom pieces down the middle of the base – this will be the top of your roast when you turn it out so make sure they look good!
Then press in half the nut mixture. Cover with a layer of mushrooms and top with rest of nut mixture.
Cover with foil and bake for 1 hour. When cooked remove from oven and allow to stand for 10 mins before turning out.
Serve it hot with all the usual Christmas accompaniments or have it cold with salad and chutney.
And she also has tips on how to get the perfect Turkey.