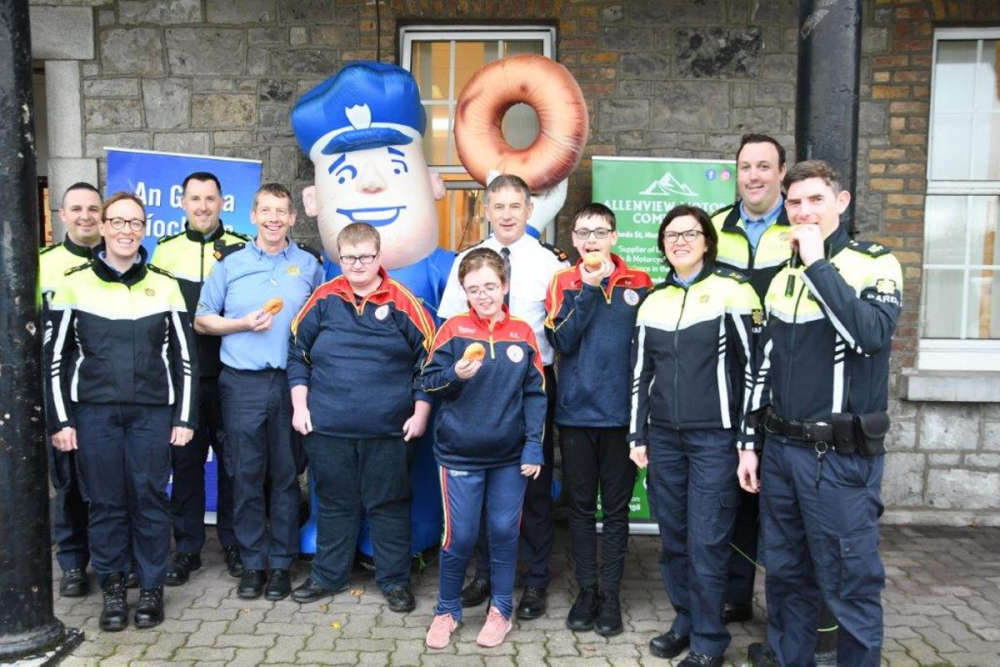 Pictured: Superintendent John Lawless, Inspector Joe Culliton and Gardaí from Abbeyleix and Portlaoise Garda Stations along with athletes Kizzie Clear, Alex Percy and Jack Kealey of Laochra Laoise Special Olympics Club.
They are raising money for Special Olympics Leinster.
Laois Gardaí are holding a fundraiser in aid of Special Olympics Leinster called 'Cops on Donuts'.
Officers from Abbeyleix and Portlaoise will be in Laois Shopping Centre in a bid to sell 2,000 doughnuts, with all the proceeds of the sales going directly to Special Olympics Leinster.
The fundraiser is taking place on 10am to 4pm on Sunday 20th November.
The donuts will be delivered fresh that morning from Kelly's Family Bakery of Wexford Town and sold at a cost of €2 for two or €5 for a box of six.
The event is being run as part of An Garda Síochana's commitment to the Law Enforcement Torch Run for Special Olympics.
Speaking at Portlaoise Garda Station today, Superintendent John Lawless said 'I am delighted to be involved in the Cops and Donuts event this year. This not only gives us the opportunity to raise money for a good cause, but to also get out there and engage with the people in the community. I would encourage everyone to come and show your support on the day as we raise money for an excellent cause.
Sgt Paul Howard of Abbeyleix Garda Station said '' I am delighted to be able to organise this event in aid of Special Olympics. This is a very worthwhile cause and we hope to raise as much money as we can for our special Olympics athletes who will be travelling to Berlin, Germany next June to compete in the 2023 Special Olympics World Summer Games.''
Eoin Treanor, Regional Funding Coordinator with Special Olympics Leinster said: "The Cops and Donuts events are a fun and tasty way to raise much-needed funds for the Special Olympics. We are extremely grateful to An Garda Síochana, whose support for Special Olympics is invaluable We are grateful for Allenview Motor Company, Monasterevin who have kindly agreed to sponsor the event and to Kevin and his team at Laois Shopping Centre for allowing us to set up shop in the centre for the day''