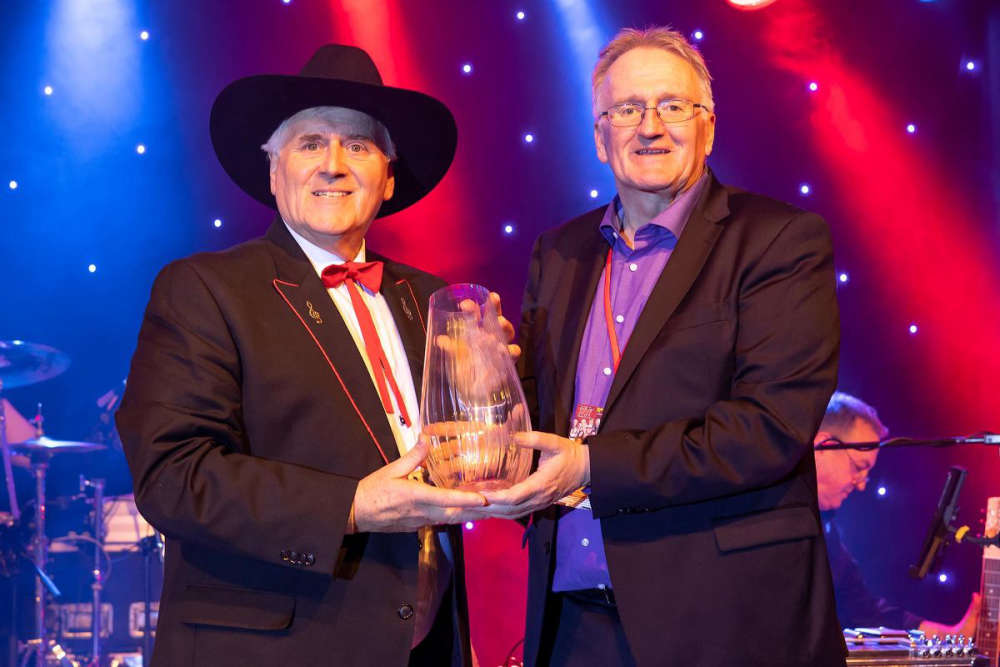 Mike Gleeson presented TR Dallas with a special award marking 50 years in country music.
He picked up a special acknowledgement of his fifty years in music.
Country great TR Dalals was among a host of entertainers from the midlands who were honoured at the recent 10th annual Hot Country TV Awards Concert in Cavan recently.
TR picked up a special acknowledgement of his fifty years in music from Hot Country founder and host Hugh O' Brien.
When it comes to instantly recognisable sights on the Irish country music scene - and indeed, in all of Irish entertainment by now - there are few as distinctive as the almost ever present cowboy hat that sits proudly atop TR's head.
The singing legend has been both a mainstay of, and a trailblazer for, the country scene for many a year now, inspiring fans and fellow artists alike.
TR is the man who brought the cowboy hat into Irish entertainment when he asked the question, Who Shot J.R. Ewing? back in 1980, and he also fronted The Mainliners for a time.
And far from Who Shot J.R. Ewing? being the only song he's famous for, you won't go to one of his shows without hearing shouts for Lord, It's Hard To Be Humble, This Story I Tell You Is True, Travelling To Big Tom, and many more.
Presented to him by Mike Gleeson of Downda Road Radio on the night, this is an award that TR's many fans and friends across Ireland and beyond will all agree was well deserved.