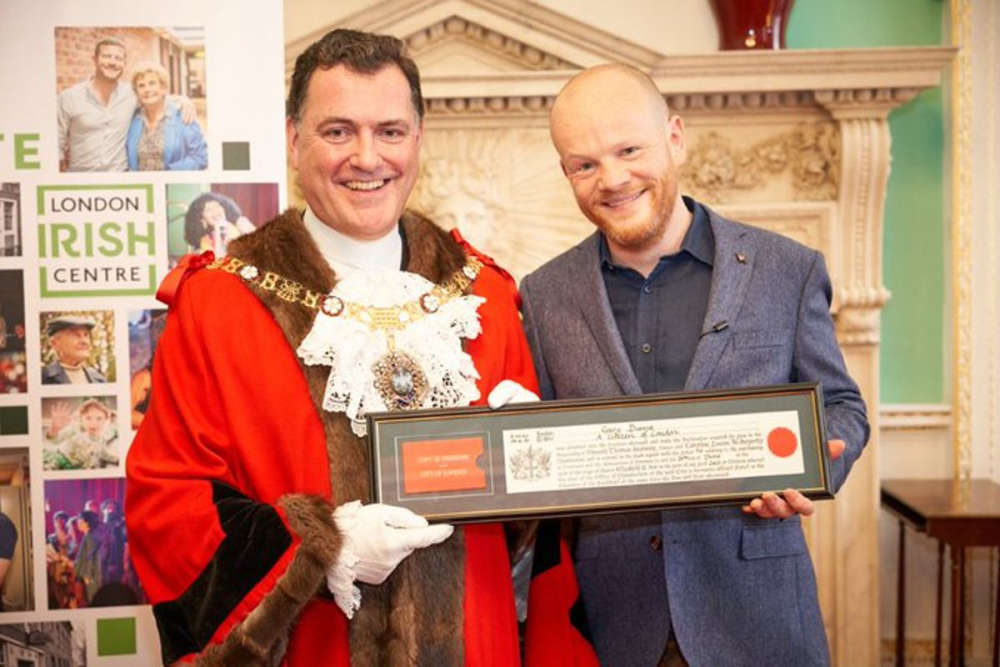 Photo credit: @GaryDunne
The Laois man says he's honoured and humbled.
A midlands man is recieving the Freedom of the City of London today.
Laois' Gary Dunne, who is the Creative Director of London Irish Centre, is being recognised along with his close friend, singer-song-writer Ed Sheeran and colleague Maeve Heath.
As well as his considerable success and achievements in the music world, today's award acknowledges Ed Sheeran's work as charitable patron with the London Irish Centre (LIC).
In the past 12 months, the LIC (londonirishcentre.org) delivered 12,346 free advice sessions, supported 10,000 hours of voluntary work, and showcased a virtual Irish culture programme to over 250,000 people.
I was also so pleased to recognise the hard work of the @LDNIrishCentre's Creative Director, @GaryDunne & Maeve Heath, who has volunteered at the Centre since 1977. Along with Ed, they recieved their Freedoms of the City at Mansion House. pic.twitter.com/XjsDqCDQRJ

— Lord Mayor, City of London (@citylordmayor) June 24, 2022
Lord Mayor of the City of London, Vincent Keaveny, said "Ed Sheeran is one of our most remarkable and best-loved musical talents, and I am delighted to be acknowledging his contribution to the UK by supporting his Freedom of the City of London. As the first Irish National Lord Mayor, it also means so much to me to pay tribute to Gary Dunne and Maeve Heath, because their work with the London Irish Centre – alongside their other impressive achievements – underlines the warm friendship and cultural exchange between the capital and Ireland."
Musician and London Irish Centre Patron, Ed Sheeran, said "I think everybody knows how much I love London, and how much it's been a part of my musical journey, so to receive the Freedom of the City today is something truly special. Doing so on the same day that we return to Wembley Stadium is also a beautiful thing. Given my family's Irish heritage, to receive the award from London's first Irish National Lord Mayor, Vincent Keaveny, and alongside London Irish Centre friends, is a bonus. Thank you to everyone involved, and to the great City of London."
Musician and Creative Director of the London Irish Centre, Gary Dunne, said "Like many Irish people, this city has played a central role in my family's life for generations, so I am honoured and humbled to receive the Freedom of the City of London. To do so with people I know and love makes it even more special. Míle buíochas to the Lord Mayor, my friends and family, and the countless Irish people who have helped to make this city what it is."
London Irish Centre volunteer, Maeve Heath, said "it is a great honour to get awarded for doing something that I love! The London Irish Centre has been a part of my life for nearly 45 years. I could never do without it. It's great to see the younger generation coming into the Centre and bringing all their new ideas. That's the future, and it's wonderful to see. Very special thanks to the Lord Mayor, and all my family and friends."
City of London Corporation Business Performance & Transport Group Manager, Vince Dignam, said "it is a great pleasure to join Lord Mayor Vincent Keaveny in nominating Ed, Gary, and Maeve for the Freedom, for their fundraising work for charity, and how they have supported the London Irish Centre with such dedication over the years. It will be a very special day for three very special people, all of whom deserve this unique recognition from the City."
One of the City of London's ancient traditions, the Freedom is believed to have begun in 1237 and enabled recipients, who were also required to join a Livery company, to carry out their trade.
As well as being nominated for, or applying for, the Freedom, it is also offered by the City of London Corporation to individuals as a way of paying tribute to their outstanding contribution to London or public life, or to celebrate a very significant achievement.