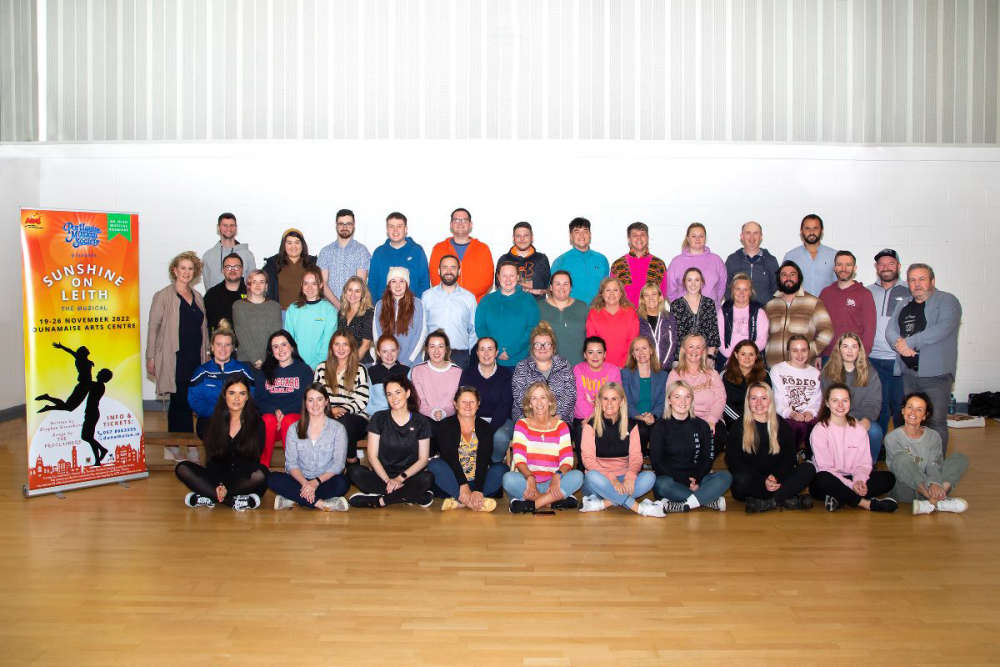 They will be the first Irish amateur musical group to perform with an ISL interpreter.
Portlaoise Musical Society are set to take to the stage at Dunamaise Arts Centre with their Irish Musical Premiere of Sunshine on Leith from 19th to 26th November.
The group will be the first Irish amateur musical society to perform with an Irish sign language(ISL) interpreter at one of their performances - on Monday 21st November.
Irish sign language interpreter Mary Guest will accompany the show to ensure that everyone can experience the production in all its glory.
A portion of seats are exclusively reserved at this performance for those audience members who may benefit from the presence of an interpreter. Furthermore, all seats for the ISL assisted performance are priced at the reduced rate of €18 making it more accessible to a wider audience.
Mary, originally from Moneygall but living in Tullamore is a primary school teacher, and also a qualified ISL-English interpreter, having studied at Trinity College Dublin.
Mary became interested in sign language after taking part in evening classes in Tullamore.
Secretary of Portlaoise Musical Society Hilary Treacy said:
"We are so excited to finally get back on the stage and bring sunshine to the people of Laois in this gem of a show, and to present a more inclusive event to our local community. We received a lot of support from various vested individuals and organisations when we initially introduced the idea of having an ISL interpreted show, and we are so grateful to Mary that our hopes can become a reality."
Featuring music by Scottish pop-folk band The Proclaimers, 'Sunshine on Leith – The Musical'; is a funny, energetic and heartfelt piece of musical theatre about the power of home, family and love.
The story follows the highs and lows of Davy and Ally, who, after coming home from serving in Afghanistan, have to re-learn how to live life in Edinburgh, together with their family and friends.
The show features an large production team including Director Paul Norton, Musical Director Emer Hartnett and Choreographer Stephanie Browne and a cast and chorus of 55 people.
The main cast includes some faces well known to the Dunamaise stage as well as some new including Shane Kelly; Eoghan Fingleton; Aishling Rohan; Sarah Troy; Hilary Treacy; Andrew Docherty and Aoife Digan.
Supporting roles will also be performed by Rory Chadwick, David Walshe, John Lynch, Johnny Mulhare, John Coss, Aishling Geoghegan, Tríona Talbot, Emma Phelan, Dawn Kavanagh, Joan White, Claire Carroll, Derek McGinn, Jamie O'Callaghan, Laoise O'Connell and Teresa Lynch.
As part of the front of house display for the show, Portlaoise Musical Society's resident photographer, Terry Conroy and Sunshine on Leith's Director Paul Norton will present a photographic exhibition of Edinburgh.
The exhibition will also feature an additional photograph by member Derek McGinn.
They are supported by People First Credit Union and Laois Arts Office, and of course AIMS.
Tickets for Sunshine on Leith from 19th to 26th November are on sale now at €20/€18* (*Monday only) from Dunamaise Arts Centre Box Office, Tel: 057 8663355 or dunamaise.ie .