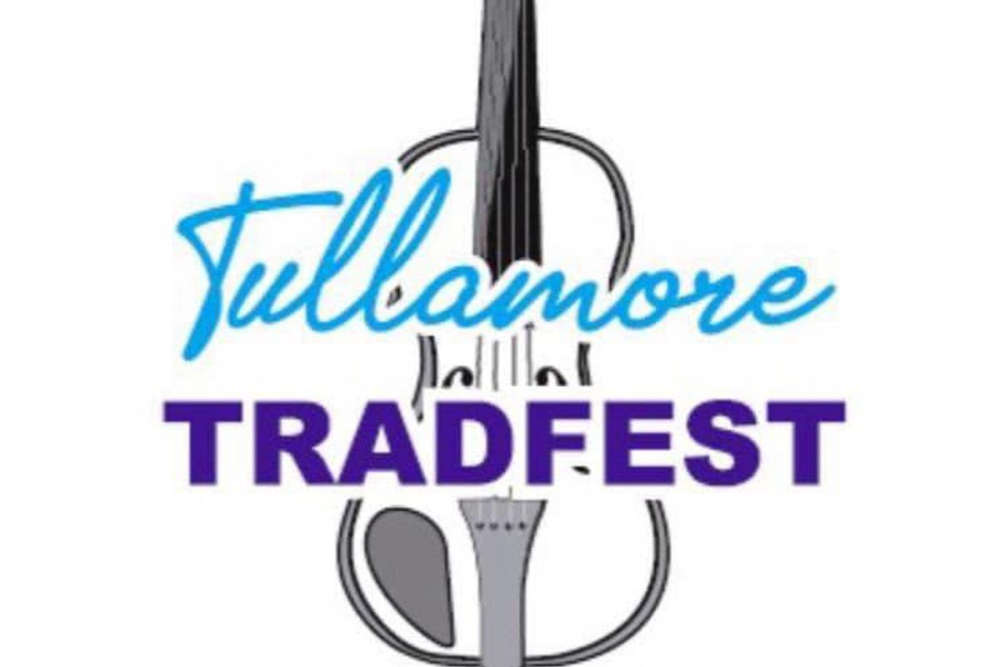 It will start off with live broadcast from the Bridge House Hotel foyer by Midlands 103
Preparations for Tullamore TradFest 2022 are in full swing to ensure a bumper packed weekend of the very best of traditional music, song, dance and fun for all to enjoy!
Tullamore TradFest 2019 enjoyed a huge level of support, both locally and nationally, getting the festival off to a great start.
According to the TradFest committee this has been matched and superseded already as we head into this year's festival, so expect Tullamore to be alive with music and laughter this April as musicians, singers, dancers, friends and families all come together and reconnect after what has been a most challenging few years for everyone.
Festival organiser Tommy Craven says, "Ticket sales and workshop bookings are going very well. It is clear that there is great appetite to get back attending events like Tullamore TradFest again. What is especially great to see from ticket sales is that our strong line-up of artists coupled with Tullamore's central location appears to be the perfect place for friends from all over to meet up as we emerge from the Covid19 pandemic. It is great to see people coming together again to chat, laugh, make music and dance, especially musicians who are only beginning to get back some of what makes them who they are since the pandemic hit in 2020. Tullamore TradFest 2022 will be a special event in many ways."
The TradFest weekend is set to get off to an action-packed start with a live broadcast from the Bridge House Hotel foyer by Midlands 103. This will be followed by the main concert which features the 7-piece Téada band including Samantha Harvey and Seamus Begley. They are supported on the night by Ryan Molloy, Orlaith & Brogan McAuliffe and Frances Kennedy.
There will also be a special presentation on the night to Offaly's own Ellen Comerford Flanagan for her outstanding contribution to traditional music locally and nationally. Ellen was the first female to win the All Ireland Senior Accordion title, a member of The Bridge and Escir Riada Ceilí Bands and passed on her music teaching hundreds if not thousands of young musicians over the years.
Saturday morning sees the instrument workshops returning to Coláiste Choilm where budding young musicians come together to learn their craft from some of the tradition's finest exponents. There are still a small number of places remaining for the following workshops: Accordion (Tutor: Derek Hickey) Banjo (Tutor: Cillian Doheny) Concertina (Tutor: Brogan McAuliffe) and Flute (Tutor: Orlaith McAuliffe). The fiddle workshop with Scotland's Benedict Morris is already fully but a second workshop with Benedict will run if there is demand.
Saturday night sees the TradFest Festival Club back upstairs in Fergie's Bar where Damien Mullane, whose high-octane performance enthralled revellers in 2019, returns this year along with Sean O'Meara (guitar) and Karen Hickey (fiddle). They are supported on the night by local band Splendid Isolation, which comprises of Seán Bourke, Michael Buckley and Ciarán Cooney. Please note that there are only a small number of tickets remaining for this event.
The TradFest 'Monster Session Trail' also returns this year with more venues than ever. The Brewery Tap, The Bridge House Hotel, Digan's, Eugene Kelly's, Fergie's, The Goalpost, Hugh Lynch's, Joe Lee's, The Old Harbour Bar, OMIYA, Spollen's, The Townhouse and The Tullamore Court Hotel will all host the very best of traditional music sessions featuring the cream of the local and national visiting musicians. The Bridge Center, Tullamore Credit Union and Tullamore Library will also feature as venues for family sessions and TradFest TV recordings. Festival organiser AnnMarie Kearns added "The Session Trail" is the highlight of every tradfest and again it goes back to being together, musicians from every corner of the country of varying ages and musical abilities all sitting down together making music, learning, laughing and having the craic with each other. Traditional music is really a social activity, it is all about the people you meet and lifelong friendships that you make. There will be musicians meeting up for sessions this April that may not have seen each other for two years, so expect musical sparks to fly and the beats of jigs, reels, hornpipes, polkas and slides to be heard as we come out of our two-year hibernation".
Recitals will once again feature this year with the Accordion Recital returning to Coláiste Choilm (Saturday @ 3pm) and the Fiddle Recital takes centre stage in Killeigh Comhaltas' new Teach Ceoil (Sunday @ 2pm). These are free entry events that will see some of Ireland's best accordionists and fiddlers perform.
This year's festival will also be a very poignant event as local musician and friend of the festival, Ashling Murphy will not be present. Ashling was an integral part of the traditional music scene not just in Offaly but nationally through her involvement with the National Folk Orchestra and Comhaltas Touring Groups. She was a much admired, respected, treasured musician and friend to many. Tullamore TradFest 2022 will culminate with a concert in the Tullamore Court Hotel where her life and music will be remembered and celebrated.
Festival organiser James Hogan added "It didn't matter how well you knew Ashling, what you got from one meeting with her was how genuine and decent she was not only as a musician but as a person, always smiling, always welcoming. She will be terribly missed by so many people, and we are honoured to be able to remember her and celebrate her music. We have also modified our Tullamore TradFest logo for this year to reflect that, while we have a fun weekend of activities planned, Ashling and indeed her family and friends, are very much in our hearts and in our minds. Admission to this event is free but tickets must be reserved in advance. The remaining tickets for this concert will go live on the festival website www.tullamoretradfest.com next Wednesday 16th March at 1pm.
Tullamore TradFest takes place April 8th - 10th and is supported by, The Arts Council of Ireland, Tullamore Credit Union, Offaly County Council, Tullamore Vintners, Coláiste Choilm, Midlands 103, The Bridge Centre, and the Tullamore Tribune. For up-to-date details and to purchase tickets please visit www.tullamoretradfest.com or find us on our social media channels @tullamoretradfest