MENOWELL - FREE 6 WEEK PROGRAMME FOR WOMEN IN ALL STAGES OF THE MENOPAUSE
MenoWell is a FREE fully funded 6-week online physical activity and health education programme for women in all stages of menopause. It will start on Monday 3rd October and will include two Menopause specific exercise classes per week and one Menopause specific health masterclass per week.

When does it start?
MenoWell will start from Monday 3rd October 2022. There will be two exercise classes per week, Monday 6-6:40pm and Thursday 8-8:40pm for 6-weeks. The 40-minute MenoModule workshop will be delivered every Wednesday from 7-7:40pm.

How much is it?
MenoWell is brought to you in partnership with Laois Sports Partnership, Laois Connects, Healthy Ireland and the Health Service Executive so places on this programme are completely FREE!

How can I sign up?
Please complete this sign up form: https://edufit.ie/menowell/. Please note that the closing date for signing up is Thursday 29th September 2022. Please note places are limited so please sign up as soon as possible to avoid disappointment. Places will be allocated on a first come first served basis.

If you have any questions, please email ruth@edufit.ie or kiera@edufit.ie or WhatsApp 083 374 8262.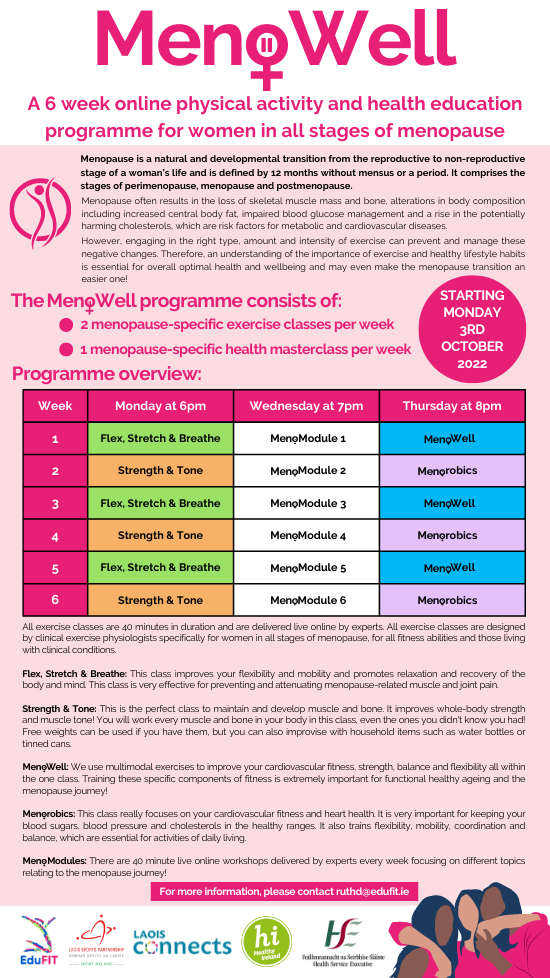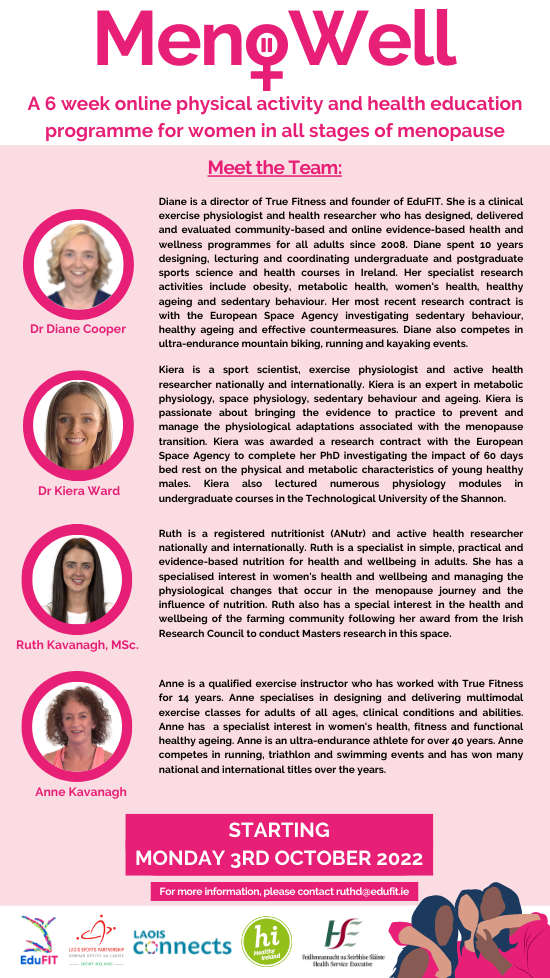 The Health and Finess Show is proudly supported by
Westmeaths Sports Partnership - https://www.westmeathsports.ie/
Offaly Sports Partnership - https://www.offalysports.ie/
Laois Sports Partnership - https://www.laoissports.ie/
To listen back to any of the episodes visit - https://www.midlands103.com/podcasts/the-health-and-fitness-show-with-dr-diane-cooper/