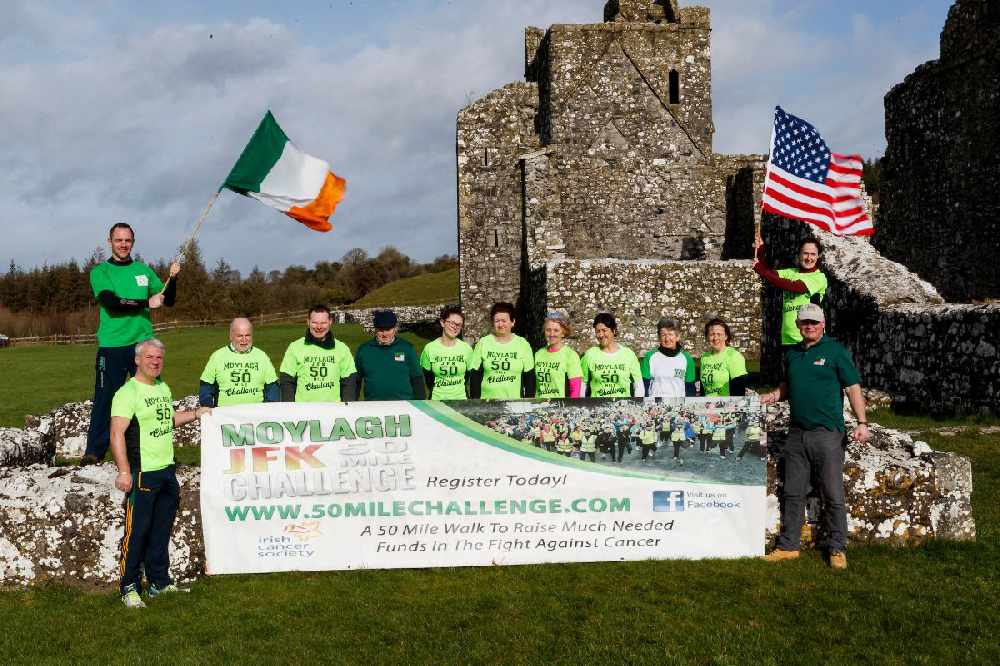 The route takes in stunning scenery of Westmeath, Meath & Cavan.
The ninth annual Moylagh JFK 50 Mile Challenge has been launched by an eight-mile route around the megalithic mounds of Loughcrew.
The world's largest 50 mile walking challenge is in support of cancer services and takes place on Saturday 6th June.
The walk / run takes in stunning scenery across the three counties of Meath, Cavan and Westmeath along a Camino-style route.
The challenge is based on an endurance test handed down by John F Kennedy to the US military to cover 50 miles on foot within 20 hours.
It has raised over €750,000 for cancer charities with over 1,000 people taking part in the 2019 edition, 332 of whom made it all the way to the finish line.
People can do as much or as little as they like, with every mile making a difference in the fight against cancer.
All monies raised through the challenge go towards cancer services, with 80% going to the Irish Cancer Society, and 10% each going towards the Lakelands Area Retreat and Cancer Centre (LARCC) in Westmeath, and palliative care.
Event organiser Gerry McDonnell said: "We would like to thank each and every walker/runner from all corners of the country who took part last year. We are hoping to have big numbers again this year given that we are already ahead of schedule with registrations."
He added: "We are very proud of our local community of Moylagh and surrounding parishes and townlands who get really involved every year. Throughout the route local people are always out in force to help out with catering, stewarding, volunteering as drivers and handing out water."
The event has recently seen a surge in businesses and groups taking part. To cater for this demand, there is now an option for groups to sign up at www.50MileChallenge.com to do it as a team or relay.
Moylagh JFK 50 Mile Challenge Chairman and Meath West Sinn Fein TD Johnny Guirke said: "We would like to thank all the businesses that took part last year and invite them back again for 2020. We would also like to sincerely thank everyone who has donated to the running of the event or sponsored equipment used. Without this, we would not be able to give 100% of the funds to these much-needed cancer services."
Registration for the 2020 Moylagh JFK 50 Mile Challenge on Saturday 6th June is now open, and more information is available at www.50MileChallenge.com.