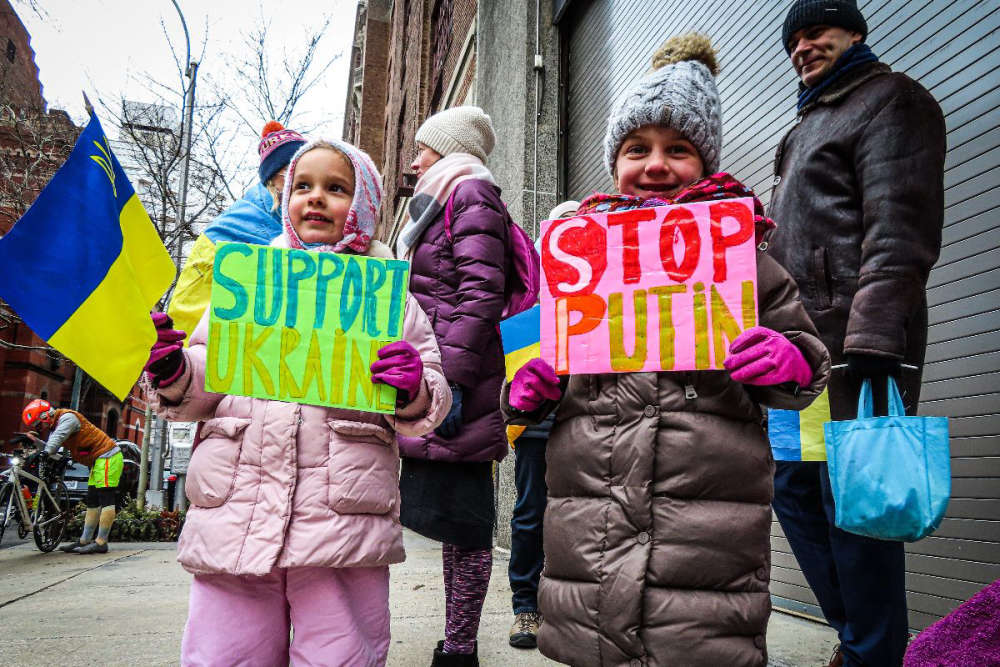 It comes as Ukraine's president says they've reached a "strategic turning point".
Ukraine's president says his country has reached a "strategic turning point" in Russia's invasion and insists he will win the war.
Volodymyr Zelenskyy's also accused Russia of deploying Syrian mercenaries into Ukraine, after Vladimir Putin invited thousands across the Middle East to volunteer and fight for him.
In a televised address, he praised the courage of his people.
Speaking through a translator, he says they're staying strong against Russian forces:
The UN Security Council is meeting today to discuss Russia's claims that the US and Ukraine are developing biological weapons.
The White House has dismissed the allegations as "laughable".
A huge convoy of Russian military vehicles heading towards Kyiv looks like it has split up and reorganised.
It's thought it's now less than 10 miles away.
The mayor of Kharkiv - the country's second largest city - says the area is under non-stop bombardment, with a psychiatric hospital apparently hit.
Justin Bronk, Research fellow at UK think-tank RUSI, says Russian forces have been able to get moving again:
'Apocalyptic' scenes have been described in the Ukrainian city of Marioupol, with children dying of dehydration.
Gas, water and electricity supplies have all now been cut and fights have broken out among residents over the limited food supplies.
The city's Deputy Mayor - Sergei Orlov - says it's virtually impossible for anyone to leave because of Russian checkpoints.
It comes as a lorry-load of emergency supplies from Westmeath has safely arrived in Poland.
Rory McCauley and Enda Manning from EUTRANZ have made the trip from Whitehall in Castlepollard to Gdansk, with items donated by the public.
It's one of a number of collections being organised by people from around the midlands.
Rory says they've been met by an army of volunteers at a distribution hub at the University of Gdansk:
Meanwhile, Buccaneers RFC is supporting the Ukraine Crisis Appeal.
The club is appealing to parents and club members for donations of the following items. Rice, pasta, tinned food, cereal bars, bottled water, baby wipes, baby formula, nappies, toiletries or pet food (no clothes).
Drop off point Buccaneers RFC Saturday March 12th 10am to 1pm for further queries contact Paul Hamilton on 087 9834953.