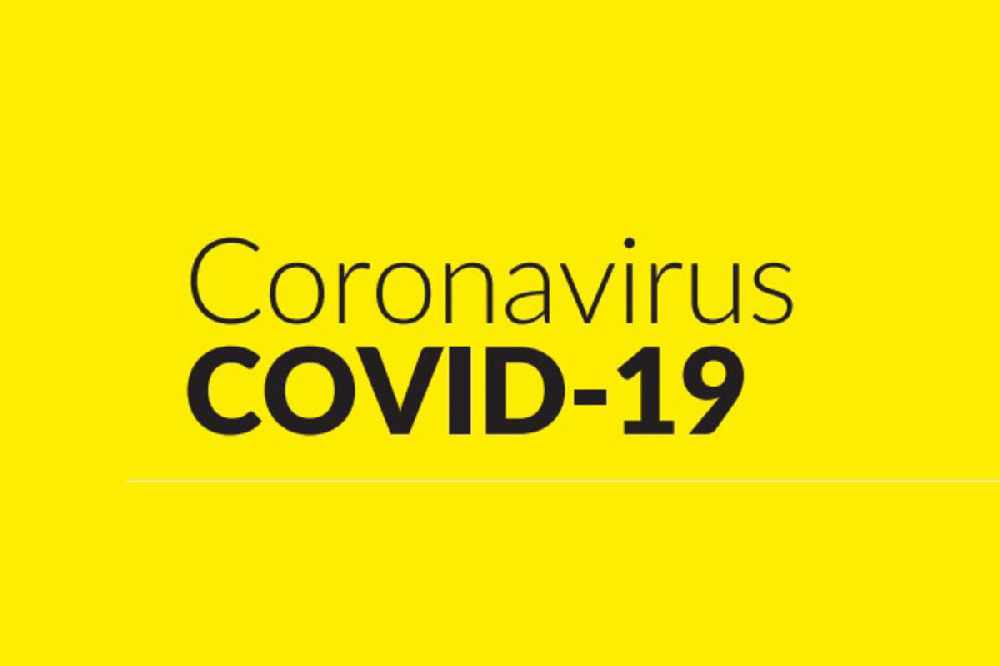 National news updates on Monday 19th April.
Latest figures:
The Health Protection Surveillance Centre has today been notified of no additional deaths related to COVID-19.
There has been a total of 4,836 COVID-19 related deaths in Ireland.
As of midnight, Sunday 18th April, the HPSC has been notified of 403 confirmed cases of COVID-19.
There has now been a total of 243,911 confirmed cases of COVID-19 in Ireland.
Of the cases notified today:
208 are men / 192 are women

73% are under 45 years of age

The median age is 31 years old

174 in Dublin, 34 in Meath, 20 in Kildare, 18 in Mayo, 16 in Cork and the remaining 141 cases are spread across 20 other counties*
As of 8am today, 183 COVID-19 patients are hospitalised, of which 50 are in ICU. 7 additional hospitalisations in the past 24 hours.
As of April 17th, 2021, 1,204,063 doses of COVID-19 vaccine have been administered in Ireland:
852,189 people have received their first dose

351,874 people have received their second dose
The COVID-19 Dashboard provides up-to-date information on the key indicators of COVID-19 in the community including daily data on Ireland's COVID-19 Vaccination Programme.
ENDS//
*County data should be considered provisional as the national Computerised Infectious Disease Reporting System (CIDR) is a dynamic system and case details are continually being validated and updated.
7-day incidence 54.7

5-day moving average 364
Today's cases, 5-day moving average of new cases, 14-day incidence rate per 100,000 population and new cases in last 14 days (as of midnight 18 April 2021)
(incidence rate based on Census 2016 county population)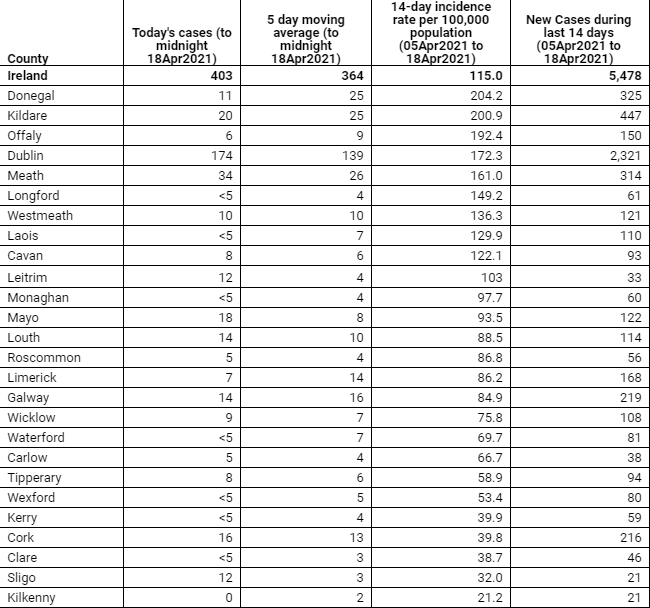 Crowds:~The 5-day moving average of the number of new cases provides an appropriate indicator of current daily case numbers within a county. It takes account of any validation of cases for previous days and smooths out daily/weekend fluctuations in case numbers.
Experts are studying two UK sporting events where crowds were allowed back in for the first time.
They'll be examining what worked and what didn't, with a view to fully reopening stadiums, theatres and nightclubs there in June.
Fans were at the World Snooker Championship in Sheffield.
While, more than four-thousand people were at the FA Cup semi-final between Leicester and Southampton.
US:
Just over half of all American adults have now had at least one shot of a Covid-19 vaccine.
The CDC - a US public health agency - says just under 210-million doses have been administered.
Around 84 million people have now been fully vaccinated.
Italy:
The family of an Italian woman who died 19 days after having the AstraZeneca Covid-19 vaccine are taking legal action - to establish whether the injection was to blame.
55-year-old music teacher Augusta Turiaco (PR: turry-ack-oh) developed blood clots - including in her brain.
The European Medicines Agency has now listed them as 'unusual' and rare side effects.
Her brother Nunzio says it was a complete shock:
Youngsters:
Young people who've had Covid-19 are going to be deliberately exposed to the virus again to check how their immune systems react.
The trial also hopes to discover what dose of the virus is needed to cause reinfection.
People aged 18 to 30 who've previously been naturally infected are being recruited by the University of Oxford.
Mass:
The Archbishop of Armagh says his priests aren't sure if they can even carry out a wedding ceremony this week without committing a crime.
The amendment to the Health Act emergency provisions signed last Monday only allows a priest, minister or imam lead prayers or worship remotely.
Exceptions are made in the statutory instrument for a funeral and a "wedding reception" -- not a wedding.
Archbishop Eamon Martin says that appears to rule out having a wedding ceremony in a church without breaking the law.
European Union:
A top EU official's suggesting the bloc might not order more vaccines from Astrazeneca after June.
Internal Markets Commissioner Thierry Breton says the bloc now has to be "pragmatic" about the pharma company's failure to fulfill its contract.
He says Pfizer has secured a deal until the end of the year -- but Astrazeneca's runs out in June, and is still under negotiation.
The French commissioner says Pfizer is simply the more reliable supplier:
Women + covid:
There are growing concerns covid has the potential to put back progress in gender equality.
Ibec's research shows almost half of firms surveyed say more women than men had asked for changes to their work patterns to allow for caring.
It reveals a fifth of companies have noticed a change in the position of women in their organisations over the past 12 months.
Ibec Head of Social Policy, Kara McGann says the pandemic has had a negative impact on working women:
Vaccination:
The Acting Chief Medical Officer says if the country keeps incidence low, vaccination will play more of a role in suppressing the virus.
Dr. Ronan Glynn is praising the enormous efforts of people across society to keep themselves and their families safe.
269 new cases of covid 19 have been confirmed - it's the first time case numbers have dropped below 300 since mid-December.
UCC Professor Gerry Killeen says people need to keep up the good work in driving down the virus due to the new variants: