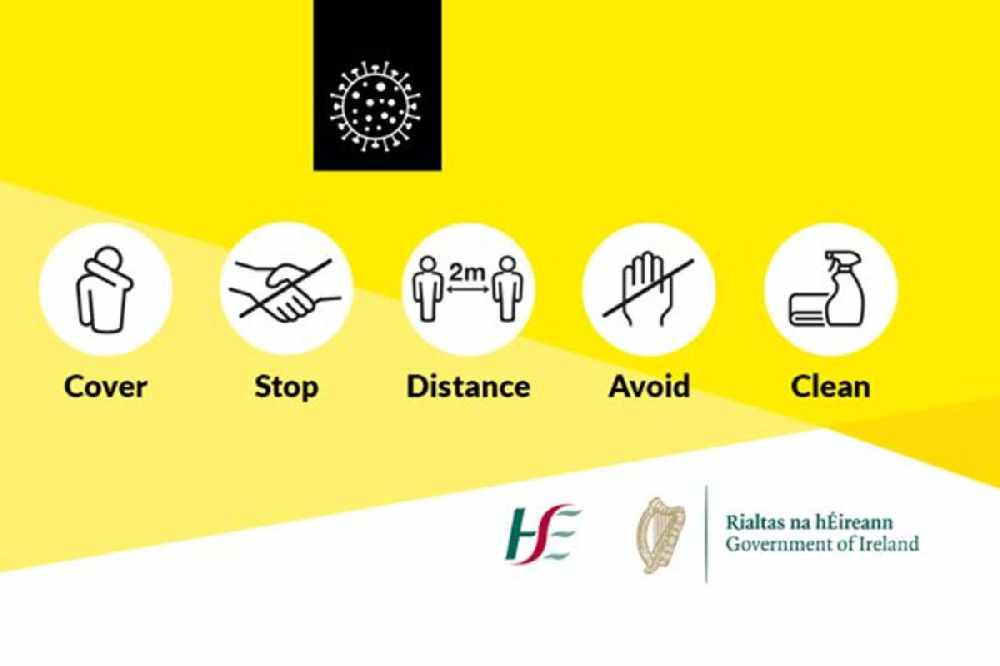 National news updates for Saturday 10th October 2020.
Latest figures:
The Health Protection Surveillance Centre has today been notified of 3 additional deaths related to COVID-19.
There has been a total of 1,824 COVID-19 related deaths in Ireland.
As of midnight Friday 9th October the HPSC has been notified of 1,012 confirmed cases of COVID-19. There is now a total of 41,714* confirmed cases of COVID-19 in Ireland.
Of the cases notified today;
511 are men / 496 are women
71% are under 45 years of age
The median age is 30 years old
241 in Dublin, 112 in Cork, 80 in Cavan, 72 in Meath, 66 in Galway, and the remaining 441 cases are spread across 21 other counties.
The Department of Health has not released the number of cases in Laois, Offaly or Westmeath.
The latest figures for midlands counties, which were measured midnight on Thursday 8 October, shows the total of cases in Westmeath now stands at 845 following an increase of 11 new cases, while Offaly had an rise of 10 bringing its total to 800 and Laois now stands at 540 after 15 people tested positive for the illness.
As of 2pm today 199 COVID-19 patients are hospitalised, of which 31 are in ICU.
Dr. Tony Holohan, Chief Medical Officer, Department of Health said; "I am very worried about the numbers we are seeing and how quickly they are deteriorating.
"All of today's 1,012 cases were notified to the HPSC over a period of 24 hours up to midnight.
"The 14-day incidence rate has increased from 108 per 100,000 last Sunday to 150 per 100,000 today, which represents a 39% increase.
"All of the important indicators of the disease are deteriorating. For example, there has been a consistent increase in test positivity over the past week. The test positivity rate up to midnight Friday 9th October was 6.2%, which has more than doubled in less than a fortnight.
"Case numbers are growing across all age groups and throughout the country."
Dr. Ronan Glynn, Deputy Chief Medical Officer, Department of Health said; "In the past 24 hours, there have been 35 new admissions of laboratory confirmed cases to hospital and 4 new admissions to ICU. There are now 199 people in hospital and 31 in ICU. Every age group, location and household needs to act now, limit your contacts and stop the disease in its tracks."
The COVID-19 Dashboard provides up-to-date information on the key indicators of COVID-19 in the community.
Level 3:
60,000 people have been laid off in the last week due to Level 3 of coronavirus restrictions.

The extra measures were brought in across the country to deal with the rising number of coronavirus cases.

It led to a ban on indoor dining with only businesses doing takeaway or with outdoor seating allowed to stay open.

Tanaiste Leo Varadkar has confirmed it's led to a surge in the number of people on the pandemic unemployment payment:
Budget:
An increase in the state pension in next week's Budget is "key", according to Age Action Ireland.

It's reported around 200 thousand people receiving the living alone allowance will see their payment increased by 5 euro.

It'll rise from 14 to 19 euro a week - while the fuel allowance will go up by 3.50.

Paddy Connolly, CEO of Age Action Ireland, says many pensioners will need a lot more support:
Gardai:
There are calls for clear guidelines around the introduction of a system of fines for people breaking Covid 19 laws.

The cabinet has approved the drawing up of graduated penalties for those breaking the rules, such as not wearing a face mask or travelling outside your county for non-essential reasons.

No decision has been made yet on the scale of the fines.

Vice President of the Garda Representative Association, Frank Thornton, says there needs to be clarity on how exactly it'll work:
UK pubs:
It's thought pubs across parts of the north of England will be ordered to close from Wednesday as coronavirus cases continue to increase.

Boris Johnson's preparing to make a statement to MPs on Monday - in which he's expected to announce a three-tier local lockdown system for England.

Leaders in the north are warning that could have a 'devastating' impact on the regional economy.
Music:
The performing arts sector is to receive "tens of millions" of euro in funding as part of Budget 2021.

The Irish Examiner reports that the support package aims to prop up the industry, which has been hit badly by the pandemic.

Live music venues will be able to apply for funding under a new scheme run by the Department of Tourism and Arts.

It will offer venues, big and small, a minimum of 10,000 euro to get back up and running.
Testing:
An expert says it's a 'national embarrassment' that the testing and tracing system is so overwhelmed.

DCU Professor Anthony Staines believes fast screening tests for Covid are needed which can be used on a much larger scale.

It comes as 617 new cases of coronavirus have been confirmed, with 5 further deaths.

Professor Staines says more staff are also needed to carry out testing in this country:
Fines:
New graduated fines are to be introduced for people who break coronavirus rules.
The cabinet sub-committee has agreed to ask the departments of health and justice to draw them up.
There will be different levels of fines for people who break Covid laws, like not wearing a mask or travelling outside their county.
Sinn Féin's justice spokesman, Martin Kenny, says it's not good idea:
Northern Ireland:
There are calls for more cross-border co-operation after a record number of Covid-19 cases in the North yesterday.

1,080 infections were confirmed in the region yesterday, and nearly 5,300 in the past week.

Almost a third of the North's cases have been recorded in the past week.
Hospital beds:
The Irish Hospital Consultants Association has asked for an extra 2,000 hospital beds to open over the next few months.

It says delivering acute and ICU hospital beds will help tackle capacity challenges in hospitals due to the pandemic.

It's to discuss solutions and forward planning in dealing with Covid at its virtual annual conference today.

IHCA President, Professor Alan Irvine says it's vital to have more ICU beds:
Mental health:
Over three quarters of people with mental health disorders in several countries do not receive any treatment.

The World Health Organisation also says one person dies by suicide every 40 seconds.

Director-general Tedros Ghebreyesus says the Covid-19 pandemic has hit people hard:
Budget:
Sinn Féin says it's vital the Christmas bonus isn't scrapped this year because of the Covid-19 pandemic.

It sees long-term social welfare recipients get a double payment in one week in December.

But Public Expenditure Minister Michael McGrath says he can't guarantee it'll be paid this year because of our 'strained' finances.
Local figures:
617 new cases of Covid 19 have been confirmed - the highest daily increase since the end of April.

There have also been five further deaths recorded by health officials.

72 cases have been identified as community transmission 123 in Dublin, 107 in Cork, 42 in Meath, 36 in Kerry, 35 in Galway and the remaining 274 cases are located across 21 counties.
The Department of Health didn't release daily figures for Laois, Offaly or Westmeath yesterday.

The Chief Medical Officer says the trends "continue to deteriorate" and it's "vital we interrupt the transmission of the virus now".
According to their latest figures, which were measured at midnight on Wednesday 7 October, 525 people in Laois have been diagnosed with the illness since March, while Offaly's total is 790 cases, and Westmeath has had 834 confirmed cases.