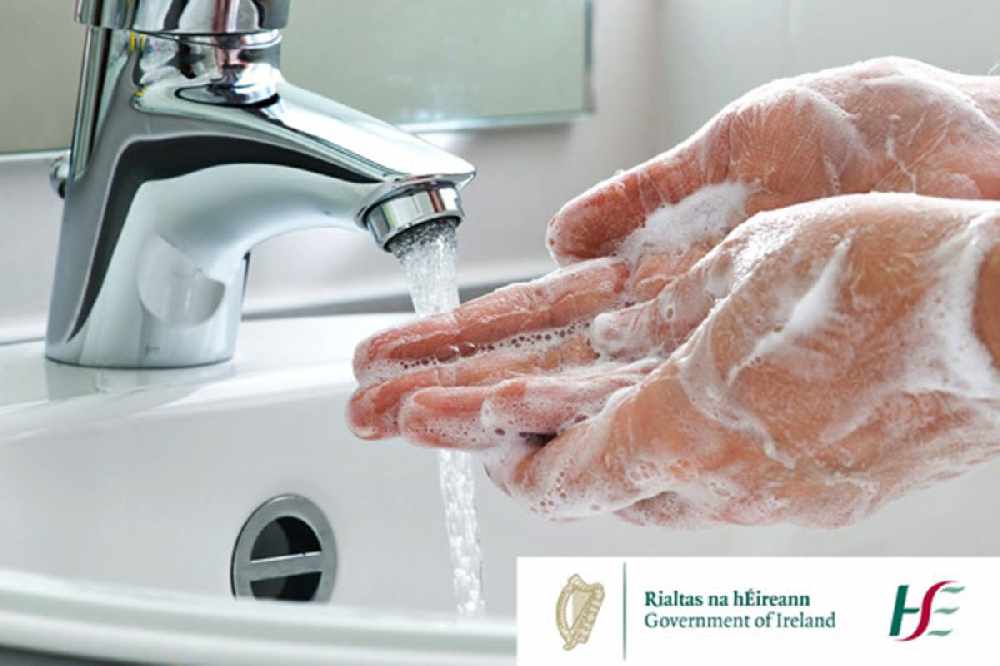 Latest news updates on Wednesday 13th May.
Latest figures:
There's been four new cases of Covid-19 in the Midlands, meaning the combined figure for the region is 1,254.
Two new confirmed cases in Westmeath, bringing the total there to 645.
A further two cases in Offaly, where the total stands at 360.
There's been no change recorded in Laois, the total number with the illness there is 249.
The Health Protection Surveillance Centre has today been informed that a total of 10 people with COVID-19 have died.
There have now been a total 1,497* COVID-19 related deaths in Ireland.
As of 11am Wednesday 13 May the HPSC has been notified of 159 new confirmed cases of COVID-19. There is now a total of 23,401 confirmed cases of COVID-19 in Ireland.
The HSE is working to identify any contacts the patients may have had to provide them with information and advice to prevent further spread.
Today's data from the HPSC, as of midnight, Monday 11th May (23,144 cases), reveals:
· 57% are female and 43% are male
· the median age of confirmed cases is 48 years
· 3,050 cases (13%) have been hospitalised
· Of those hospitalised, 389 cases have been admitted to ICU
· 6,997 cases are associated with healthcare workers
· Dublin has the highest number of cases at 11,242 (49% of all cases) followed by Kildare with 1,344 cases (6%) and then Cork with 1,238 cases (5%)
· Of those for whom transmission status is known: community transmission accounts for 60%, close contact accounts for 37%, travel abroad accounts for 3%
Dr. Ronan Glynn, Deputy Chief Medical Officer, Department of Health, said; "84% of people who have been diagnosed to date with COVID-19 have recovered.
"We have been provided with additional data today regarding cases with underlying health conditions. Of 15,450 cases, where information is available, 53% had at least one underlying condition. The most common underlying conditions reported are chronic heart disease (15%), chronic respiratory disease (11%) and diabetes (6%)."
Dr. Tony Holohan, Chief Medical Officer, Department of Health, said; "I would urge everyone to become familiar with the behaviours that we all need to maintain, including respiratory etiquette, physical distancing and handwashing. As we begin to think about easing restrictions these behaviours will become even more important."
*Validation of data at the HPSC has resulted in the denotification of 1 death. The figure of 1,497 deaths reflects this.
Masks:
The Transport Minister has said it's likely people will be asked to wear face coverings from next week.
The National Public Health Emergency Team will make a decision on the issue on Friday.
This morning the Taoiseach Leo Varadkar said he's more confident now that the country will be able to start re-opening from next week.
In the Dáil this afternoon, Transport Minister Shane Ross said part of that is likely to mean people will be asked to wear face coverings in public places.
The National Public Health Emergency Team will make a recommendation on Friday - but it's unlikely to be made mandatory.
Schools:
The Taoiseach says re-opening schools and creches could be one of the safest things the government does when Covid 19 restrictions are eased.

The health watchdog says it appears children aren't substantially contributing to the spread of coronavirus in their house or school.

HIQA has found transmission of the disease is lower among young people, particularly those under 14.

Leo Varadkar says any re-opening of schools or childcare facilities needs to be done safely:
Court:
The High Court has refused to allow Gemma O'Doherty and John Waters bring a judicial review of the laws that led to the Covid-19 restrictions coming into force.

Today's judgement was delivered electronically, but the pair have previously indicated their intention to appeal if they were not successful.

In their submissions to the court, John Waters and Gemma O'Doherty claimed the Covid-19 pandemic was not an "emergency" as set out in the Irish constitution.

As a result, they claimed the Covid-19 restrictions breached our constitutional rights.

They wanted the emergency legislation declared "null and void" on the grounds of what they claimed was its repugnancy to the Irish constitution, and they also wanted a declaration to the effect that the laws were not properly enacted.

The questioned the accuracy of the figures related to Covid-19 deaths, and accused the Minister for Health of relying on "fraudulent science".

They referred to the arrival of a "police state" and a parallel with Nazi Germany was also made.

In refusing their application, the judge said the constitutional rights involved are not absolute, and he wasn't convinced the restrictions were disproportionate.

Both parties have been invited to make submissions in relation to legal costs.
CPR:
The HSE has issued updated advice on how to perform CPR due to Covid-19.

People are being advised against mouth to mouth resuscitation, and are being asked to do chest compressions only.

A defibrillator should be used as soon as possible if there is one available.

Professor Cathal O'Donnell, Medical Director of the National Ambulance Service, says everyone's safety must now be protected while carrying out CPR:
Global figures:
The global death toll from Covid-19 has risen above 293,000, with close to 4.3 million confirmed cases.

Fresh outbreaks of the virus in Russia continue to grow, with over 10,000 new cases A DAY being reported this week.

Russia is emerging as a growing concern.

It's seeing more infections than any country other than the US and has over 242,000 cases, with 10,000 a day for the last 11 days.

Fears are growing of a second wave in South Korea, with 120 cases linked to nightclubs outbreaks.

Authorities have tested more than 20,000 people.

While Hong Kong has seen it's first locally transmitted cases in 22 days.

The UK's death toll has risen to over 33,000, after a further 494 people died.

Boris Johnson's admitted deaths in care homes has been "too high".

Police there have been told they have no powers to enforce two-metre social distancing.

And Poland will reopen restaurants, hairdressers and some schools on 18 May.

Here, 1,488 have died, with over 23,200 cases.

Leaving Cert:
There's been a stand-up row in the Dáil over the new system for the Leaving Cert.

Labour's Aodhan O'Riordain says the algorithms used by the Department to standardise results will impact unfairly on disadvantaged schools as the results will be partly compared to previous years.

Minister Joe McHugh claims the system will be fair and won't disadvantage any students.

The two TDs clashed on the issue in the Dáil chamber:
Tourism:
Plans by the EU to kickstart tourism in member states clash with Ireland's guidelines.

The European Commission wants to allow travel between countries with similar low levels of cases, and effective testing and contact tracing.

People arriving here from overseas are currently asked to self-quarantine for 14 days.

EU Health Commissioner Stella Kyriakides says that might not be required under their proposals:
Testing:
Technical issues are being blamed for a delay in turnaround time for Covid 19 testing.
Figures show there are over 23,200 confirmed cases of the virus here while a further 24 people have died.
The Director of the National Virus Reference Laboratory is hoping it will soon take 3 days from people reporting symptoms to results.
Cillian de Gascun says many delays have been down to IT problems:
Signs Of Recovery On The Way For Farmers https://t.co/YV4gwG38CP

— Midlands103 (@Midlands103) May 13, 2020
Working from home:
The Business Minister says people should keep working from home even after the Coronavirus if they can.
It comes as Twitter has told staff they can work at home forever if it suits them.
Minister Heather Humphreys says they won't be the only ones:
Retail:
It will cost retailers about 5,000 euro each to reopen their doors next week, according to Retail Excellence.
The lobby group says about 1,500 outlets will open on Monday, under the first phase of the plan to ease restrictions.
They include garden centres, hardwares, farmers markets and phone shops.
David Fitzsimons, from Retail Excellence, says plans are well under way for the reopening:
My effort to never forget all who have lost their lives to Covid19. And to remember their poor heartbroken families 💔 #wemustneverforget pic.twitter.com/PoCylk21q6

— Louise Coghlan (@CeolPR) May 12, 2020
Funerals:
Travellers are putting their lives at risk by attending funerals in large numbers, according to Pavee Point.
It's after up to 150 people attended four funerals in Wexford and Cork over the past week.
According to reports, mourners came from several counties and Britain to go to a funeral in Cork City on Monday.
Martin Collins, a co-director of Pavee Point, is appealing to his community to obey social distancing:
GP helpline:
A new helpline is being set up today, especially for GPs who have concerns over Covid-19 testing.
Doctors will be able to contact HSE staff for answers on delays to testing results for their patients.
A quarter of a million tests have been carried out since the outbreak began, but GPs are still reporting delays in getting results back from the labs.
HSE Chief Clinical Officer Dr Colm Henry says while communications are improving, he understands why doctors are frustrated:
Face masks:
Shoppers and people on public transport will be asked to wear homemade masks later this week.
According to the Irish Independent, the government will issue the advice after consultation with health chiefs.
DCU health professor Anthony Staines agrees with the advice that's likely to be issued on homemade masks:
Good signs:
The Chief Medical Officer says there are encouraging signs the country will be in a position to start easing the lockdown next week.
Phase one of the government's plan is due to begin on Monday, which includes the resumption of outdoor work and the reopening of some retail stores.
However, a final decision will be made later this week, once updated advice is provided by the National Public Health Emergency Team.
Dr Tony Holohan says there are good signs progress is being made in a number of important areas:
Latest figures:
New figures show there are 23,242 confirmed cases of the virus, while 1,488 people have died.
In the midlands, the total number of confirmed cases has risen by eight to 1,250.
No new cases were identified in Westmeath yesterday, leaving the total at 643.
Offaly had seven new cases bringing the total there to 358.
While Laois had one new confirmed case, the total there is now 249.