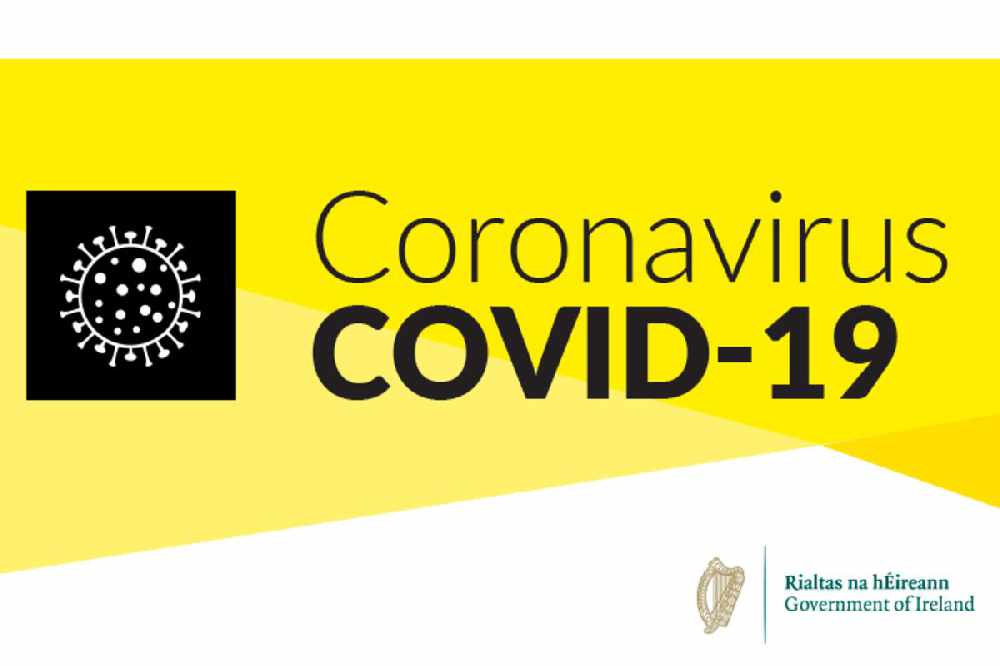 Live blog with the latest news.
Breaking News:
There are now 223 confirmed cases of coronavirus in this country.

54 new cases have been recorded today, of which 30 are males and 24 females.

All Irish residents are being advised against non essential travel overseas until March 29th, while those entering the country must restrict their movements for 14 days.

Dr. Tony Holohan, the State's Chief Medical Officer, says we can expect further increases in cases throughout this week.
The Taoiseach says cases of coronavirus will increase by 30 per cent a day, every day, for the next few weeks.

This could mean over 10,000 Covid 19 cases diagnosed here by the end of this month.

The number of confirmed cases in the Republic stands at 169, but a significant rise in cases is expected this evening.
17.13 - Sinn Fein:
Sinn Féin is urging the Taoiseach to contact the British Prime Minister over his approach to coronavirus.
The party wants Leo Varadkar to pressure Boris Johnson to ensure Northern Ireland brings in the same school closures as in the Republic.
Sinn Fein leader Mary Lou McDonald says it's not viable to have two different Covid 19 measures on the one island:
17.13 - Fundraising:
A new initiative aimed at providing food for healthcare workers is also raising much needed business for cafes looking to keep some revenue flowing during the crisis.
The 'Feed the Heroes' fundraising page was set up by those working from home who wanted to do something for staff on the frontline.
Thousands of euro have been raised since it was launched yesterday.
Cian O Flaherty says some smaller businesses may benefit as well as healthcare staff:
16.58 - Testing:
An online system to refer patients to get tested for Covid - 19 is back up and running after crashing earlier.
GPs had reported their phone lines were jammed and due to demand the system couldn't cope, when they tried to record a referral.
People are being reminded they should only contact their doctor by phone if they have symptoms.
GP, Dr Maitiu O'Tuathail says they are now able to refer patients who need the test:
Croke Park is to be used as a "drive thur" testing centre for COVID-19 following a request from the HSE.
It's one of a number of facilities being set up across the country to test patients with appointments, for the disease.
Minister Simon Harris is urging the public to be patient:
16.55 - Banking:
Bank of Ireland has temporarily suspended its contactless fees in light of the coronavirus outbreak.
The Bank says it is waiving the charges on a temporary basis as many consumers are relying more on tap payments.
It has also announced that it will buy back any foreign currency at the rate it was sold to anyone impacted by travel disruption.
16.41 - Airport:
Unions at Dublin Airport want the DAA to suspend a state dividend so the money can be used to support workers instead.
In 2019 the company controlling the airport paid out 37.4 million to the state with a similar amount expected this year.
With flight suspensions and a severe drop in passenger numbers, SIPTU's Neil McGowan says the money should be used for staff if needed:
16.33 - Garda Resources:
Gardaí say they are hiring 210 extra vehicles to give increased mobility around the country.
It will help them reach out to those with limited local support and may include collecting prescriptions or taking people to hospital appointments.
Anyone concerned for themselves or neighbours should contact their local Garda station.
16.12 - Lidl:
Lidl is implementing priority shopping hours for the elderly due to the coronavirus.
The supermarket is prioritising older shoppers at stores nationwide from 9am until 11am every day from now on.
They will be able to avail of prioritised queuing and additional assistance during this time.
Lidl is asking that others allow more vulnerable customers to pick up the food and supplies they need during this time.
15.53 - EU:
The EU is planning to ban all non-essential travel to Europe for the next 30 days.
The border closure will cover thirty countries.
Essential staff and people transporting goods would be exempt from the ban.
EU Commission President Ursula Von Der Leyen says the move is necessary to slow down the spread of Coronavirus:
15.20 - TV:
Peaky Blinders and Line of Duty are among the TV shows hit by coronavirus.
Filming on series 6 for both dramas is being suspended.
Meanwhile Loose Women was made without a studio audience for the first time ever.
Yesterday it was announced production on the upcoming Batman film was on hold for two weeks.
Midlands Hospital Staff Thanking Public For Donating To Online Fundraiser
15.11 - Restaurants:
The government says it expects to issue further advice around Covid-19 to restaurants and cafes later.
Unlike bars and pubs, many remain open - but are being directed to keep guests at least two metres apart under social distancing guidelines.
But the Restaurants Association of Ireland believes that isn't safe enough and wants government to direct them to close - just like bars and pubs.
Its spokesperson Adrian Cummins says people who want meals can still be accommodated:
15.01 - Agriculture:
Most agricultural marts will go ahead this week despite the restrictions on mass gatherings.
The Irish Co-Operative Organisation Society has put in place special rules that will allow them to take place.
No more than 100 people are allowed attend a mart at any one time - and they all must be trading customers.
Independent TD Michael Fitzmaurice says it's vital they're not forced to close:
We keep on emphasising the importance of washing your hands to help beat this virus. Here's why! Watch and retweet #coronavirus #COVID19 pic.twitter.com/0Kixb8V5Fj

— Simon Harris TD (@SimonHarrisTD) March 16, 2020
14.45 - Medication:
The HSE is advising anyone with coronavirus to continue taking any medication they were already taking, unless advised otherwise by a healthcare professional.
This includes anti-inflammatories such as ibuprofen, naproxen or diclofenac.
The advise comes in response to false information about anti-inflammatory medicine and COVID-19 which has been shared on social media over the last 24 hours.
The HSE says there is no evidence to stop taking any medication at this time, and says there is no need for people to order more medicines than they need.
Local Volunteer Groups Offering To Help Those In Need During COVID-19 Outbreak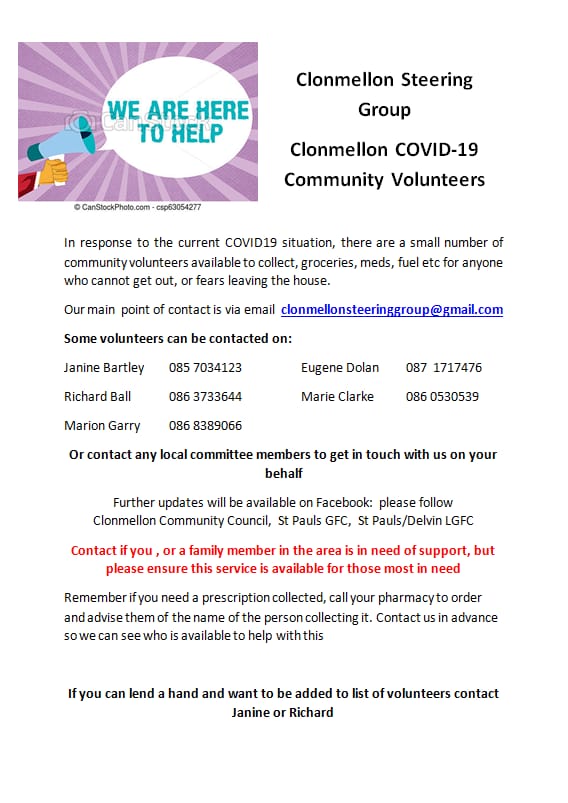 14.40 - Italy
Almost 1,700 healthcare staff in Italy have now tested positive for Coronavirus, according to Médecins Sans Frontières.
The group says doctors and nurses there are struggling to cope the Covid-19 outbreak, mainly due to a lack of protective equipment.
It says there is now an urgent need to send more medical supplies to Italy and has warned that other European countries may face the same issue over the coming weeks
The HSE had bought 1.7 million facemask's in preparation for the outbreak, and said it had "locked down a supply" of protective equipment for staff with its suppliers.
14.32 - Fuel:
There will be no interruption to the supply of petrol, diesel and home-heating oil to consumers or emergency vehicles, throughout the Covid-19 delay period and beyond.
That's the message from the Irish Petroleum Industry Association.
The organisation says health and safety procedures are in place in their service station shops.
Home-heating oil providers are changing how they engage with consumers.
14.01 - Devices:
Coronavirus can survive on lots of things we touch regularly -- including our phones.
Colin Baker from the Laptop Lab in Dublin says there's little danger of damaging them with alcohol wipes:
13.51 - Healthcare Workers:
Almost 1,700 healthcare staff in Italy have now tested positive for Coronavirus, according to Médecins Sans Frontières.
The group says doctors and nurses there are struggling to cope the Covid-19 outbreak, mainly due to a lack of protective equipment.
It says there is now an urgent need to send more medical supplies to Italy and has warned that other European countries may face the same issue over the coming weeks
The HSE had bought 1.7 million facemask's in preparation for the outbreak, and said it had "locked down a supply" of protective equipment for staff with its suppliers.
13.09 - Librariies:
People are being allowed to join the library online while they are closed due to the Coronavirus.
Libraries Ireland says applications won't have to be finalised in person as usually required.
Once a person signs up, they will be able to borrow free eBooks and eAudiobooks straight away.
12.45 - Health Minister:
The Health Minister is appealing to the public to bear with GPs, as the online system for referring patients to get tested for coronavirus has crashed.
Doctors surgeries say their phone lines are jammed with calls, meaning many can't get through.
GPs can now order a test for someone with symptoms online, but so many are using it the system can't cope.
Minister Simon Harris says only people with symptoms should be contacting doctors for tests:
12.43 - Religion:
The Church of Ireland is urging the community not to leave lonely people feeling 'abandoned' during the coronavirus crisis.
The church is concerned vulnerable people could be affected by social-distancing practices.
It's calling on the younger generation to reach out to people affected by isolation.
12.42 - International Cases:
There are 87 thousand cases of Coronavirus outside China - that's 6,000 more than in the country where the disease originated.
US cities - including New York and LA - are closing cinemas, theatres, bars and clubs to prevent the spread of the virus.
In Europe, Germany has closed its borders with five other countries while the state of Bavaria has been declared a disaster zone after 205 cases were confirmed in a single day.
French officials say the outbreak is "deteriorating very fast".
12.21 - Hairdressers:
A hairdressing chain is closing all of its salons on the island of Ireland because of coronavirus.
Peter Mark has decided to shut its outlets in the Republic and the North from today.
It says the health and safety of staff and customers is its top priority.
Nobody is taking any chances in Gorey... #Covid19 #coronavirus #wexford pic.twitter.com/bYLdFy4sb0

— Wexford Weekly (@Wexford_Weekly) March 15, 2020
12.09 - Testing:
The new system for referring patients to get tested for coronavirus has crashed.
GPs says thousands of people have been ringing their practices this morning, meaning many can't get through.
From today, GPs can order a test for someone with symptoms online.
But so many doctors are using it that the system hasn't been able to cope.
Maitiu O'Tuathail is a GP in Dublin - and is encouraging people to be patient:
Westmeath Woman Living In Italy Says Lockdown Has Been Difficult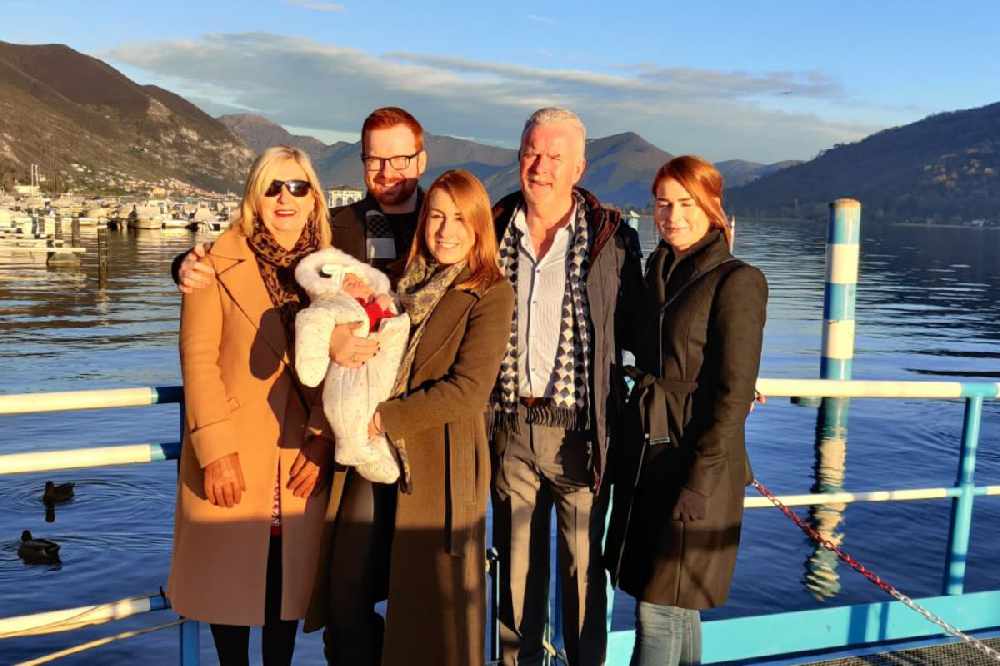 11.56 - Fundraiser:
An online fundraiser set up to fund meals for hard-working healthcare staff has raised over 37 thousand euro.
Over 1,200 people have contributed to the "Feed the Heroes" Go Fund Me page within the past 24 hours.
Campaign organisers are sending food regularly to healthcare staff using local food suppliers.
The likes of pizza, Thai and Indian food has already been sent out to hospitals across the country.
Government Payment Available For Workers Affected By Coronavirus
11.41 - UK:
The British government is to mane an announcement on measures to fight coronavirus today.
35 people are now known to have died in the UK after testing positive for Covid-19.
Prime Minister Boris Johnson is to hold an emergency Cobra meeting before today's televised address.
The British government has been heavily criticised over an apparent lack of transparency in the fight against the disease.
I am urging everyone to please stop sharing unverified info on What's app groups. These messages are scaring and confusing people and causing real damage. Please get your info from official, trusted sources. Follow @HSELive @hpscireland @WHO @merrionstreet @dfatravelwise

— Leo Varadkar (@LeoVaradkar) March 16, 2020
11.00 - Budget:
The Fianna Fáil leader says a second budget may be needed to provide the resources to combat the coronavirus.
Micheál Martin said a stable government needs to be in place in order to make the big decisions around Covid-19.
Talks between Fine Gael and Fianna Fáil aimed at forming a government are due to resume on Wednesday.
Micheál Martin says a new government is needed to make the big decisions:
10.56 - Europe:
European Council leaders will hold a video conference tomorrow on the cross-Europe response to the virus.
Council president Charles Michel has said they'll focus on containing the spread of the virus, providing enough medical equipment and limiting the economic damage of Covid-19.
Met with @HSELive , @paulreiddublin & @AnneOConnorhse & @NasDirector today in their operations centre for #coronavirus. They have worked through the weekend with their teams to prepare for a number of measures this week in Ireland's healthcare response. Very grateful to them pic.twitter.com/WNWQn6m5LS

— Simon Harris TD (@SimonHarrisTD) March 16, 2020
10.53 - Measures:
Tanaiste Simon Coveney says he doesn't anticipate any more "dramatic measures" aimed at limiting the spread of Covid-19 in the immediate future:
10.25 - Hand Sanitiser:
The owner of Louis Vuitton's going to make hand sanitiser to protect people against Coronavirus.
Luxury goods company LVMH will use its perfume production lines at three factories in France to manufacture the gel.
They'll be delivered free of charge to the country's health authorities.
Justice Minister Says New Powers Could Be Sought To Force Pubs To Close
10.23 - Sing-a-long:
We're being asked to sing in unison at midday tomorrow.
It's hoped belting out "Óró Sé Do Bheatha Abhaile" from your doorstep will help combat "isolation blues".
Singer Hillary Bowe came up with the idea for Paddy's Day:
10.05 - Pubs:
While all pubs have now closed, many restaurants across the country remain open.
But Adrian Cummins, the chief executive of the Restaurants Association of Ireland, believes they should be forced to close.
He says up to 70,000 jobs would be affected, but the measure is necessary:
09.45 - Italy:
More than 360 people in Italy died in the past 24 hours after contracting Covid-19.
The country has been in effective lockdown in the past few days.
Ann Beirne has lived in Lombardy for 27 years after growing up in Co Roscommon.
She says people should learn from what has happened in Italy:
09.47 - Testing:
Efforts to test potential cases are also increasing from today, with the rollout of a new online system for GPs.
Dr Kevin Kelleher is the HSE's assistant national director of public health:
GPs can now order tests for #COVID19. People are understandably concerned but please be patient with our GP services this morning. The service is already under pressure and they will be responding to the increasing demand for tests. Thank you for your co-operation. pic.twitter.com/4q7dL65aqW

— HSE Ireland (@HSELive) March 16, 2020
09.31 - Jobseekers:
The government's also to introduce new measures allowing affected employees to be paid a jobseeker's rate, with employers able to claim the payment back at a later date.
Tanaiste Simon Coveney says COVID-19 is a serious illness for the thousands in our society and they must be protected:
08.02 - Taxis:
Taxi drivers say they are at serious risk from the coronaries outbreak and want the Department of Transport to give them guidance on how they can continue to operate.
Many drivers have contracted work, like bringing cancer and dialysis patients to hospital for regular procedures.
Vinny Kearns is CEO on NXT Taxis - he says his drivers might be unwilling to pick up fares from the side of the road:
07.43 - Northern Ireland legal proceedings:
Legal proceedings are being launched by a parent against Northern Ireland's decision to not close schools.
The Departments of Health and Education will be subject of a legal challenge surrounding the Covid-19 outbreak.
The child has sever asthma and other underlying health problems - with her mother saying she could be harmed by attending school.
Solicitor Darragh Mackin is representing family - he says the child wouldn't be at risk if she was born in the Republic of Ireland.
07.34 - Further controls?
Ireland's facing into its first full week of major restrictions, as the country battles against the coronavirus pandemic.
Bars and pubs closed nationwide last night in an effort to limit the spread of the illness.
It follows the closure of schools and creches last week, and the introduction of restrictions on gatherings of 100 people or more.
Professor Sam McConkey, infectious disease specialist at the Royal College of Surgeons, says further controls may be needed in the coming days:
07.21 - Testing increase:
The HSE is expecting to ramp up the number of coronavirus tests being carried out from today.
A new online system is being rolled out so GPs can order tests for their patients.
Out of hours services were flooded with calls over the weekend.
President of the Irish Medical Organisation, Longford's Dr. Pádraig McGarry, says it means there'll probably be a backlog this morning:
06.54 - WhatsApp:
Health officials have had to deny many rumours surrounding coronavirus that have circulated through WhatsApp and other platforms.
The public is being urged to use trusted sources if they are seeking information.
Technology correspondant Jess Kelly says we need to stop and think about what's being spread through WhatsApp:
06.48 - Pubs:
Yesterday, the Health Minister called on publicans to shut their doors until March 29th.
The two main industry bodies for the bar trade are backing the appeal, saying it's just not possible to keep people two metres apart.
CEO of the Licensed Vintners Association, Donall O'Keeffe, says 50,000 hospitality workers face an uncertain future.
06.42 - New cases:
Forty new cases of covid-19 were confirmed yesterday in the Republic.
It was the biggest daily increase in coronavirus cases for the second day in a row.
169 people have now tested positive in the South -- with a further 45 in Northern Ireland bringing the total on the island to 215.
Health Minister Simon Harris there will be a call to action for volunteers to help out across the country this week.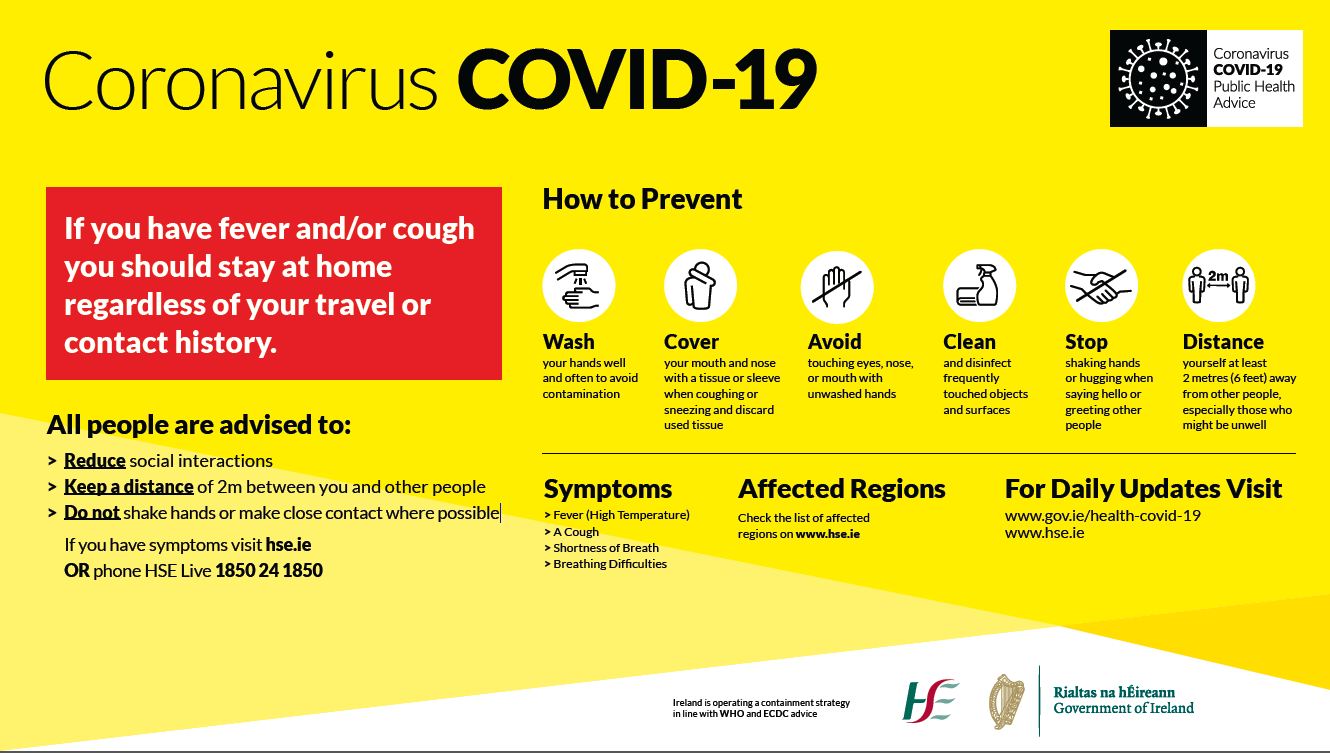 06.30 - Employment:
Employers are being asked to keep paying staff during the covid-19 outbreak -- even if they can only match the dole rate.

The Department of Social Protection's setting up a temporary refund scheme for those tho have to stop trading.

They'll reimburse employers up to 203 euro a week, but that these refunds will take time to process.

All workers, including the self-employed, will also be eligible for a new Pandemic Unemployment Payment equal to the jobseekers allowance rate.