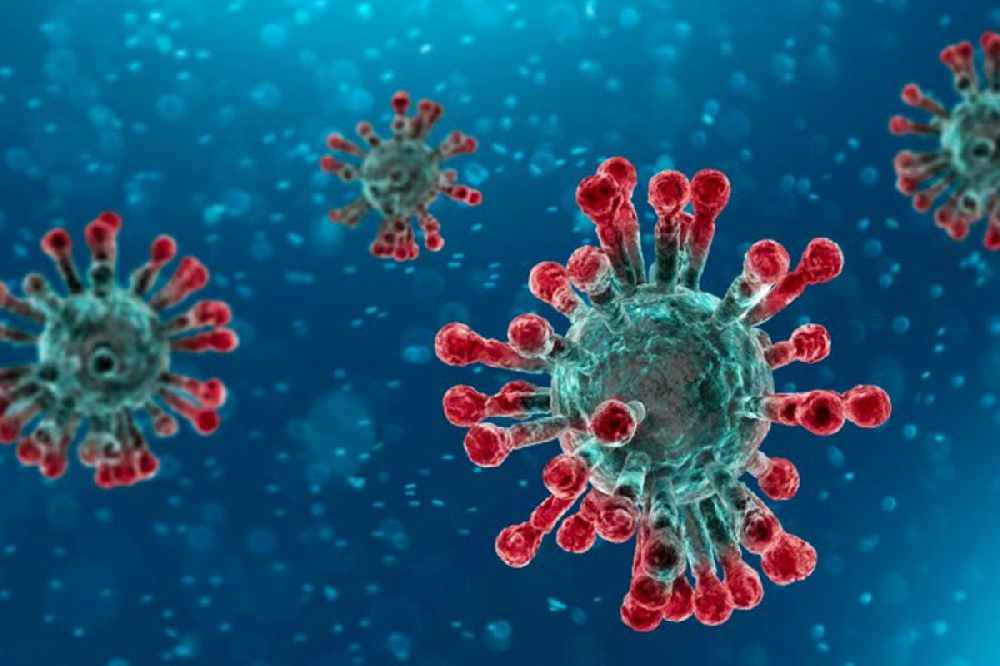 National news update for Friday 19th March 2020.
17.55 - Breaking news:
126 new cases of coronavirus have been confirmed today.
It brings the total number of covid 19 cases in the republic to 683.
12 people diagnosed with the illness have been admitted to intensive care units.
New figures show 12 cases have been confirmed in Westmeath - a jump from 7.
There are less than 5 cases in both Laois and Offaly.
Monaghan is the only county without a case.
Chief Medical Officer Dr Tony Hololan outlines the details;
Counties

Carlow

Cavan

Clare

Cork

Donegal

Dublin

Galway

Kerry

Kildare

Kilkenny

Laois

Leitrim

Limerick

Longford

Louth

Mayo

Meath

Offaly

Roscommon

Sligo

Tipperary

Waterford

Westmeath

Wexford

Wicklow

Source: HPSC 18/3/2020
The HSE is now working rapidly to identify any contacts the patients may have had, to provide them with information and advice to prevent further spread.
The latest data from HPSC, as of midnight Wednesday18th March (438 cases), reveals;
Of the 438 cases notified, 55% are male and 43% are female, with 27 clusters involving 142 cases
Median age of confirmed cases is 44
32% of cases have been hospitalised
2.7% (12 cases) admitted to ICU - representing 8.6% of all cases hospitalised
114 cases are associated with Healthcare workers, 36 of whom are associated with foreign travel
Dublin has the highest number of cases at 51%, followed by Cork 15% and Limerick and Wicklow have 3% of cases each
Of those for whom transmission status is known, community transmission accounts for 40%, local transmission/ close contact accounts for 21%, travel abroad accounts for 39%; 96 cases remain under investigation.
Total number cases

Total number hospitalised

Total number admitted to ICU

Total number deaths

Case fatality rate

Total number healthcare workers

Number clusters notified

Median Age

Source: HPSC 18/3/2020
Dr Tony Holohan, Chief Medical Officer in the Department of Health, said: "Now is not the time for complacency. Every citizen who is practicing social distancing, who is taking precautions to limit the spread of this virus, is doing their country a service.
"The Department of Health has issued outdoor social distancing guidelines for everyone to follow. While we encourage people to exercise outside and maintain a healthy lifestyle, social distancing measures will continue to be paramount."
Gender

Female

Male

Unknown

Total

Source: HPSC 18/3/2020
Dr Ronan Glynn, Deputy Chief Medical Officer, Department of Health, said: "We are aware that the actions we must take as a nation can lead to individuals feeling isolated and anxious. Be mindful of your mental health during this time, try to keep to a routine, maintain a healthy, balanced diet, and remember social distancing doesn't have to mean social isolation – stay in touch with family & friends, use technology to stay connected. There are resources to help you mind your mental health on HSE.ie."
Dr. Breda Smyth, Director of Public Health Medicine, HSE said; "One in four cases relate to healthcare workers. We must reinforce the importance of appropriate personal protection measures in hospitals. A healthcare workers sub-group, established under NPHET, will continue to support frontline healthcare workers."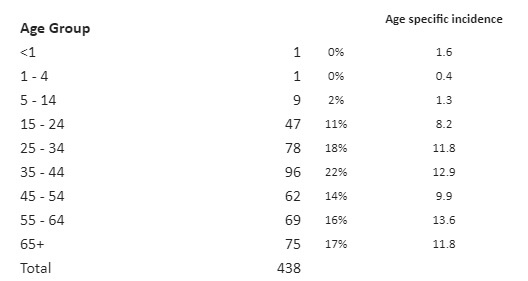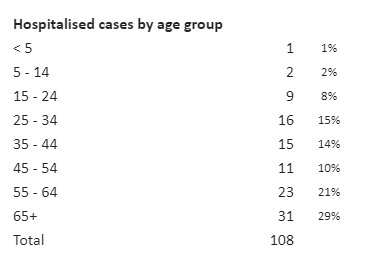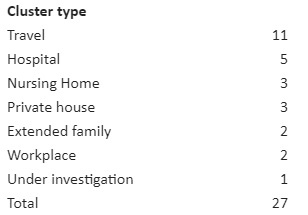 17.40 - Lidl:
Supermarket Lidl is hiring 400 people across it's store and warehouse network.
The company says the positions are being created to help cope with unprecedented customer demand in recent weeks.
In particular the retailer is looking to hear from those in retail, catering or hospitality who may have lost their jobs in recent days.
Applications are available online at www.jobs/lidl.ie.
17.30 - UK:
The number of deaths of patients with coronavirus across the UK has risen to 177, and England's seen its biggest rise in a day.
The figure there increased by 39, and there was one death in Wales.
9 new patients have tested positive for Cornavirus in Northern Ireland in the last 24 hours - bringing the total number of patients to 86.
The British Prime Minister's telling cafes, pubs and restaurants to close tonight to contain Covid-19.
He's also telling nightclubs, cinemas, theatres, leisure centres and gyms to shut.
Earlier it was revealed the number of people who've died after contracting coronavirus across the UK has risen to 177.
In England it's risen by 39 - the biggest increase in a day.
Boris Johnson says people need to take the coronavirus outbreak seriously.
16.53 - Ryanair:
Ryanair is the latest airline to announce pay cuts for staff.
They face a 50 per cent cut to their wages, as the company prepares for a lengthy shutdown in European air travel.
Chief Executive Michael O' Leary's told the Financial Times, airlines and airports are going to have no customers and no revenues for the next two or three months.
He says the pay cuts are being brought in a bid to avoid mass lay-offs.
Senator, Padraig O'Ceidigh, a former head of Aer Arann says Ryanair has substantial cash reserves:
16.50 - Coastguard
The Irish Coast Guard and the RNLI is urging anyone planning a visit to the coast to stay safe and not take any unnecessary risks.
They say that coastal areas may be seen as providing an opportunity to enjoy fresh air and exercise while adhering to the government's guidance of social distancing.
They're expecting an increase in visitors in the coming weeks, and people are being warned to follow water safety advice along coasts and beaches.
16.40 - Rent
Businesses impacted by the coronavirus outbreak will be able to defer paying commercial rates for three months.
The measure is aimed at the sectors worst affected to date, such as retail, hospitality and childcare.
The government has agreed the move with local authorities.
Housing Minister Eoghan Murphy insists they will be given financial support
16.34 - Government
The government faces a potential constitutional crisis amid confusion about whether new laws can be passed after next week.
A new Seanad will be elected at the end of the month - and there's conflicting opinion on whether Senators will be able to meet before a new government is formed.
11 members of the Seanad are appointed by the Taoiseach - but Leo Varadkar can't do this as outgoing Taoiseach.
Some TDs and Senators believe the Seanad can't sit without those members - meaning no new laws could be passed after next week until a government is formed.
16.28 - Rent
Rents are expected to plummet in cities across the country due to the impact of the coronavirus.
There has been a 64 percent increase in rental listings in Dublin since the start of the month, according to Daft.ie.
Thousands of AirBnB lettings are available online, with very few tourists arriving here to use them.
Architect and Assistant Professor at University College Dublin, Orla Hegarty, says it is now a buyer's market
16.20 - US:
The US, Canada and Mexico have ageed to tighten their borders during the coronavirus pandemic.
The countries will no longer accept migrants trying to cross, and instead send them back.
President Donald Trump says they're a threat to public safety:
16.10 - An Post:
An Post is to send five million postcards to households across the country to encourage people to "come together by staying apart".
Householders are asked to put personalised messages on the postage paid cards and send them to family, friends or anyone helping out in the crisis.
An Post hopes the move will keep people connected in the weeks ahead.
15.55 - Counselling:
Those availing of addiction services while in self-isolation are being reminded to ensure they keep in contact with their support network, according to a leading expert.
Some services have moved on line due to the coronavirus outbreak.
Austin Prior is an Addiction Counsellor and former assistant director of the Rutland Centre.
He says sometimes people in recovery are more prepared to face crises:
15.50 - Transport:
Irish Rail says its services are continuing to operate as normal.
Train services are uninterrupted amid the coronavirus pandemic, and management say they are following the cleaning advice given by the health authorities.
Barry Kenny from Irish Rail says social distancing continues on the train:
15.45 - Government
Sinn Féin's calling for money to be released to ensure local radio stations stay afloat during the Coronavirus crisis.
The party wants the Sound and Vision Fund, which is usually reserved for documentaries and drama productions, to be released to all independent radio stations.
Earlier the government announced a six month suspension of the broadcasting levy.
Sinn Féin's Communications Spokesman David Cullinane says more needs to be done:
15.40 - Emergency legislation:
The Health Minister has said regular people can save far more lives during the Coronavirus outbreak than doctors will.
The Dáil and Seanad has passed emergency legislation giving the government the power to detail people with the Coronavirus who refuse to self-isolate.
Further legislation will be brought forward next week to ban evictions and give supports to renters.
Health Minister Simon Harris has said the next few weeks will require effort from everyone
15.25 - Gardaí:
319 Gardaí were sworn in at Templemore this morning to deal with the coronavirus outbreak.
Some of them weren't due to pass out until the summer but have become full members of the force after their training was accelerated.
There are now 14,758 members of An Garda Siochana, the largest number of officers in the history of the State.
Garda Commissioner Drew Harris says these are extraordinary times:
15.20 - GAA:
Three GAA stadiums across the country have followed Croke Park in becoming Covid-19 testing centres.
Páirc Uí Chaoimh in Cork, LIT Gaelic Grounds in Limerick, and Nowlan Park in Kilkenny will all be used to assist the HSE.
It will allow people to get tested for coronavirus using a drive-thru service after they've secured an appointment.
15.15 - North:
Nine new patients have tested positive for Cornavirus in Northern Ireland in the last 24 hours - bringing the total number of patients to 86.
Public transport there is to be reduced from Monday in response to the outbreak.
The Government's advising against non-essential travel to help with social distancing.
Many schools in Northern Ireland are set to close from today, with leavers facing a very different end of year than they expected.
15.05 - Government formation:
Mary Lou McDonald has opened the door on the idea of a government of national unity.
The Green Party has been calling for all politicians to come together to form a temporary government to deal with the Coronavirus.
But Fine Gael and Fianna Fail have both dismissed the suggestion.
Mary Lou McDonald had initially said no, but is now open to the idea
14.48 - Powers of Detention:
The bill granting the government emergency powers of detention during the Coronavirus crisis has been passed in the Dáil and Seanad.
It would allow the government to detain someone with Coronavirus if they refuse to self isolate - and to shut down parts of the country if needed.
It also gives effect to extra social welfare supports for people impacted by the crisis.
Tánaiste Simon Coveney has said thousands of lives can be saved if people practice social distancing:
14.45 - Commercial rates:
Cash-flow support will be made available to local authorities affected by a fall in commercial rates payments.
It's after the government confirmed businesses directly impacted by the coronavirus outbreak, could defer rates for three months.
The measure is aimed at the retail, hospitality and childcare sectors for the moment.
However, Housing Minister Eoghan Murphy says more businesses may be targeted over the coming months:
14.44 - GAA:
The HSE has asked the GAA to help compile a database of volunteers with a variety of skills as it responds to the coronavirus pandemic.
GAA clubs in Dublin, Kildare and Wicklow have contacted their members asking tradespeople, cleaners, teachers and people with experience in crisis management to sign up.
The HSE says it anticipates needing support in local facilities in the coming weeks.
Cormac Kirwan, Operations Manager with Kildare GAA, says they emailed their members yesterday and the response in less than 24 hours has been good:

14.43 - Social Protection:
The Department of Social Protection has temporarily postponed all SAFE registration appointments with immediate effect.
It's to reduce footfall at Intreo offices as the Department has experienced unprecedented levels of demand in recent days.
A person needs to complete the SAFE process to be issued with a PPS number and public services card.
It involves a visit to a Social Protection office and a face-to-face interview with an officer.
14.42 - HSE:
The Head of the HSE says the country is fighting a war against a "silent and dangerous enemy" with the spread of Covid 19.
HSE Chief Executive Paul Reid says measures to tackle the outbreak are particularly tough on grandparents:
14.31 - IBEC:
IBEC doesn't believe the economy post coronavirus will be as bad as the financial crisis.
However, the business group is calling on the government to act as a source of income to households which are currently out of work.
It claims a 4 billion euro investment could help pay most of the wages for around half a million people for 20 weeks.
IBEC CEO Danny McCoy says there are differences between this crisis and 12 years ago: