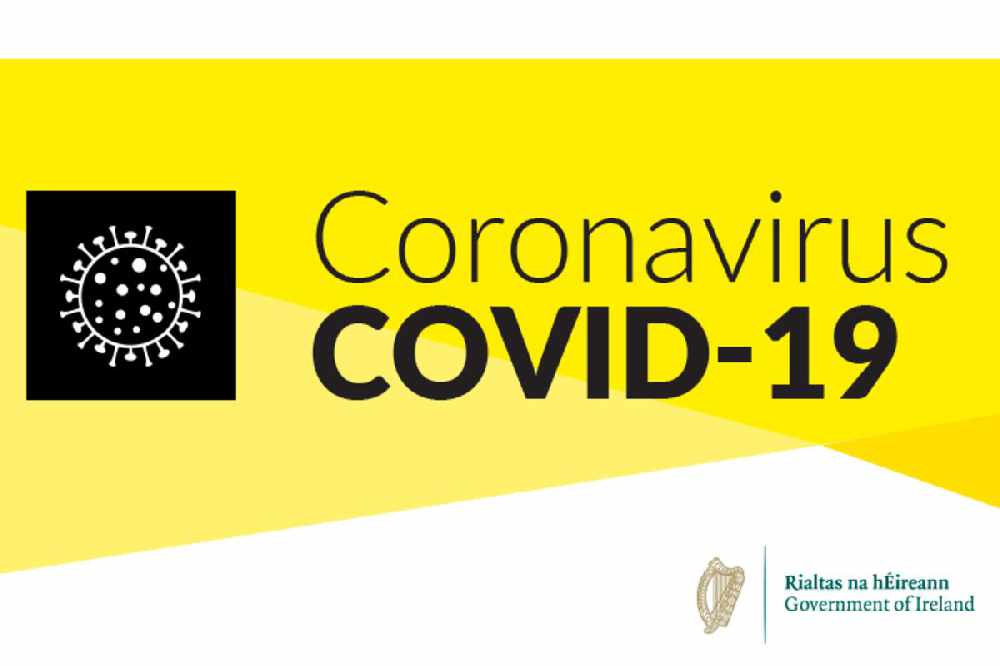 Latest news updates for 25th March 2020.
19.46 - Breaking news:
Two more people have died from Covid-19 here, and a further 235 new cases have been confirmed.

It brings the total number of cases in the Republic to 1,564 and 47 of those patients are in the midlands.

There have now been a total of nine deaths due to the virus.
There are 25 patients in Westmeath and 13 in Offaly.
Nine people in Laois have COVID-19.
Chief Medical Officer, Dr Tony Holohan, confirmed the figures this evening:
Today's data from HPSC, as of midnight, Monday 23nd March (1,164 cases), reveals:
· 55% are male and 45% are female, with 63 clusters involving 289 cases
· The median age of confirmed cases is 45 years
· 305 cases (26%) have been hospitalised
· Of those hospitalised, 39 cases have been admitted to ICU
· 283 cases (24%) are associated with healthcare workers
· Dublin has the highest number of cases at 559, (57% of all cases) followed by Cork with 133 cases (11%)
· Of those for whom transmission status is known: community transmission accounts for 49%, close contact accounts for 23%, travel abroad accounts for 28%
Dr. Tony Holohan, Chief Medical Officer, Department of Health, said; "Our data showed yesterday that only 6% of our tests so far returned positive; so for every 100 people we test we are only finding 6 people with COVID-19. In light of this, our case definition changed.
"Changing case definition is a standard practice in managing pandemics. Ultimately, we want our 6% detected rate to increase, we want to find as many people as possible with COVID-19, isolate them and contain the spread."
Dr. Ronan Glynn, Deputy Chief Medical Officer, Department of Health said; "We are seeking to prioritise those who are to be tested with a focus in the short-term on those who are vulnerable and those who are at the highest risk to exposure."
Dr. Colm Henry, Chief Clinical Officer, HSE said; "There has been ongoing engagement with GPs over the past 24 hours. GPs are best placed to advise individuals with symptoms whether they need a test or not. Ultimately, the test has no impact on the clinical course of this disease and the priority for anyone with symptoms is to isolate themselves."
Information is available on HSE.ie or by calling the HSE helpline 1850 24 1850
The National Public Health Emergency Team will meet again on Thursday 26th March, to review Ireland's ongoing preparedness and response to COVID-19.
Department of Health's COVID-19 Information Dashboard; providing latest case information.
Hospital statistics
Total number of cases
1164
Total number hospitalised
305
Total number admitted to ICU
39
Total number of deaths
7
Case fatality rate
0.6
Total number of healthcare workers
283
Number clusters notified
63
Median age
45
Gender of patients
Gender
Number
% of Total
Female
522
45
Male
624
55
Total
965
*All statistics measured at midnight on Monday 23 March
Age range affected
Age Group
Number
% of Total
<1
3
0
1 - 4
2
0
5 - 14
20
2
15 - 24
94
8
25 - 34
228
20
35 - 44
214
18
45 - 54
229
20
55 - 64
165
14
65+
207
18
Unknown
2
0
Total
1164
*All statistics measured at midnight on Monday 23 March
How COVID-19 is spreading
| | |
| --- | --- |
| Community transmission | 29% |
| Close contact with confirmed case | 15% |
| Travel Abroad | 18% |
| Under investigation | 38% |
Healthcare workers
Travel related
67
25%
No foreign travel
180
64%
Under investigation
36
13%
Total
283
*All statistics measured at midnight on Monday 23 March
Hospitalised cases by age group
| | | |
| --- | --- | --- |
| <5 | 2 | 1% |
| 5 - 14 | 2 | 1% |
| 15 - 24 | 15 | 5% |
| 25 - 34 | 38 | 13% |
| 35 - 44 | 27 | 9% |
| 45 - 54 | 57 | 19% |
| 55 - 64 | 50 | 16% |
| 65+ | 114 | 37% |
*All statistics measured at midnight on Monday 23 March
Cases by county
| | | |
| --- | --- | --- |
| Carlow | ≤5 | 0% |
| Cavan | ≤5 | 1% |
| Clare | 12 | 1% |
| Cork | 133 | 12% |
| Donegal | 11 | 1% |
| Dublin | 659 | 57% |
| Galway | 40 | 3% |
| Kerry | 33 | 3% |
| Kildare | 34 | 3% |
| Kilkenny | 16 | 1% |
| Laois | 9 | 1% |
| Leitrim | ≤5 | 0% |
| Limerick | 19 | 2% |
| Longford | ≤5 | 1% |
| Louth | 18 | 2% |
| Mayo | 9 | 1% |
| Meath | 24 | 2% |
| Monaghan | ≤5 | 0% |
| Offaly | 13 | 1% |
| Roscommon | ≤5 | 0% |
| Sligo | 8 | 1% |
| Tipperary | 20 | 2% |
| Waterford | 15 | 1% |
| Westmeath | 25 | 2% |
| Wexford | 7 | 0% |
| Wicklow | 39 | 3% |
18.37 - Increase in testing:
The Department of Health intends to increase testing for Covid-19 to 15,000 a day.
The criteria for testing has changed to prioritise healthcare workers and those most at risk.
Tens of thousands of people have had tests cancelled as a result.
Chief Medical Officer, Dr Tony Holohan, says they want to detect as many cases as possible:
18.35 - Face masks:
More than 11 million face masks and other personal protective equipment for healthcare professionals is expected to be delivered on Sunday.
Over 500,000 gowns and 1 million sets of goggles are being shipped from China.
The HSE has admitted that the current supply of equipment is very tight, particularly in certain areas.
It expects to spend more than 240 million euro on personal protective equipment this year.
18.30 - Travel:
170 Irish people have left Perth, Australia after efforts by the Irish embassy and consulates in the country to repatriate citizens.
They're on a Qantas flight headed for London and will arrive in Dublin tomorrow.
Tánaiste and Minister for Foreign Affairs, Simon Coveney, thanked all those who played their part in organising the flight.
Meanwhile, Alitalia has put on special flights between Dublin and Rome tomorrow to allow Irish citizens in Italy to return home, and Italian citizens living here to travel back.
18.12 - UK:
A senior British diplomat has died after contracting coronavirus.

The deputy head of mission at the British embassy in Budapest passed away on Tuesday after testing positive for COVID-19.

According to Johns Hopkins University, which is tracking the coronavirus pandemic worldwide, there have been 226 confirmed cases in Hungary and 10 deaths.
18.02 - Showbiz:
Matthew McConaughey has pleaded with his fans to stay indoors as more countries go into lockdown during the crisis.

The Oscar-winning actor shared a video on Instagram - saying being at home is the "greatest weapon to beat this enemy".
17.18 - GPs:
A doctor says it is appalling that changes are being made to the pension scheme for some GPs.
Those operating in the medical card scheme have been told that the lump sum due to their next of kin, should they die in service, will not be payable if they die of Covid 19.
GP Maitiu O'Tuathail is shocked and angered at the move
16.40 - Testing:

The new Covid-19 testing criteria will result in fewer negative results, according to the Chief Medical Officer.

94 percent of all tests have come back negative with up to 20 thousand people a day requesting tests.

From today, patients will only be tested if they have a fever and coughing or are short of breath.

They must also be a healthcare worker, be in an at risk group or have had close contact with a known case.

Dr Tony Hologan says the previous strategy wasn't working;

16.35 - Vaccine:

A leading medical expert says a Covid 19 vaccine could be available by next winter.

Professor John Oxford is a Virologist at Queen Mary's College in London.

He's optimistic there could be a breakthrough:

16.25 - Radio:

Further measures to support local radio stations through the current crisis are being finalised by the Communications Minister.

Richard Bruton says local journalism needs to be supported amid an extreme downturn in advertising revenue.

Local newspapers are also asking for support as outlets are forced to cut staff.

Communications Minister Richard Bruton says he is working on new and additional supports:

16.20 - US:

In the US, there are ten times more cases of coronavirus in New York than the next highest state.

Governor Andrew Cuomo says he's going to try closing the streets of New York City to traffic to fight the outbreak.

16.15 - Banking:

Banks, retailers and tech companies are working to ensure the contactless payment limit on cards is raised to 50 euro at stores nationwide by April 1st.

The Banking & Payments Federation Ireland says the rollout is already well underway and it in place at some shops.

The federation is confident all Irish stores will have the new limit in place by the start of next month.

In recent weeks, the demand for cash has dropped by 20 per cent.

16.10 - UN:

The United Nations is warning the coronavirus could circle back around the world if governments fail to help vulverable countries.

It's launched a global humanitarian response to fight COVID-19 worth 2 billion dollars.

The diesase has killed more than 16,000 people worldwide and there are nearly 400,000 reported cases.

The World Health Organisation's director-general Dr Tedros Adhanom Ghebreyesus (PRON: JE-BRAY-SUS) addressed world leaders directly.

16.00 - Airlines:

Irish citizens living in Italy will be able to travel back from Rome tomorrow on a special flight by the Italian airline Alitalia.

Around 500 Italian citizens will be repatriated on two flights from Dublin tomorrow.

Meanwhile, Ryanair will operate a limited schedule to some European cities and says it's working hard to provide repatriation and rescue flights for many EU governments.

Aer Lingus says it's fully committed to working with the government and all relevant authorities to support the national response to the Covid-19 pandemic.

15.50 - An Post:

Postmen and women will check-in on the elderly during the coronavirus outbreak.

It's just one of a number of ideas An Post workers suggested as a way they could help in local communities.

Workers will see if any elderly people along their delivery route need anything.

An Post CEO David McRedmond says they also want to help them stay in touch with loved ones.

15.35 - UK:

Britain's Prince Charles is said to have just "mild symptoms" after being diagnosed with coronavirus.

He's now self-isolating with the Duchess of Cornwall in Scotland.

15.33 - Traffic:

The number of people using public transport has dropped by 75 per cent during the coronavirus pandemic, according to the National Transport Authority.

Figures from Transport Infrastructure Ireland show there was a drop of a third in the number of people using the M50 in recent weeks, with that figure expected to fall further this week.

Conor Faughnan from the AA says social distancing is difficult on public transport:

15.30 - Banks:

Banks, retailers and tech companies are working closely together to raise the contactless payment limit on cards to 50 euro by April 1st.

The Banking & Payments Federation Ireland says it is confident the new limit will be in place by the start of next month.

In recent weeks, the demand for cash has dropped by 20 per cent.

15.05 - UN:

The UN's launched a humanitarian response plan to fight Covid 19 in developing countries.

The General Secretary of the Organisation is warning that failing to help vulnerable countries could place millions at risk and leave the virus free to circle back around the globe.

António Guterres outines the importance of the 2 billion dollar initiative

15.02 - Mortgages and Rent:

People Before Profit has said people should not have to pay rent, mortgages or utility bills for the next three months.

The party will attempt to amend new legislation tomorrow to bring in a blanket amnesty.

TD Richard Boyd Barrett says it's needed to help people who have lost income.

14.52 - Travel:

The Government's trying to help over 2,000 Irish people return home from 86 countries around the world.

The Department of Foreign Affairs says most of them are in Australia and New Zealand, with the rest in small groups in other countries.

A spokesperson said we're witnessing the biggest shutdown in aviation history - with entire regions closed off at short notice.

She says officials understand the stress people stranded abroad are under and will leave no stone unturned in getting them home.

14.48 - Construction:

Some construction sites may be closed in the coming days in response to COVID19.

All non-essential work places were ordered to close overnight, but it didn't include building sites.

Builders have raised concerns about how difficult it is to socially distance from one another.

Taoiseach Leo Varadkar says they will look at which construction sites are essential and which are not.

14.45 - China:

In recent days China has reported few or no new cases of coronavirus.

Some cities are returning to normal after weeks of being in lockdown.

14.40 - Employers:

Businesses will be able to apply for the Temporary Wage Subsidy from tomorrow.

Employers will be able to claim 70 percent of workers wages for 12 weeks - capped at 38 thousand euro per year.

They'll have to go through the Revenue, but business group Ibec says the systems in place will hopefully mean it can be done quickly.

Director of Public Affairs Fergal O'Brien says the Government's move is the right one:

14.37 - Deaths:

Seven people have now died from Coronavirus in Northern Ireland.

That's an increase of two since yesterday.

There's now a total of 209 positive cases of the disease in the region.

14.31 - Tests:

Patients who have been given an appointment for a Covid-19 test will still be swabbed.

But under new priority measures issued last night, people who were still waiting for an appointment have had their tests cancelled.

From now on people will only be tested if they have a fever and coughing or breathlessness, they must also be either at risk, a healthcare worker or a close contact of a confirmed case.

Dr Dennis McCauley from the Covid-19 GP group says tens of thousands of patients have had their test cancelled:

14.21 - Blood:

The Irish Blood Transfusion Service is asking donors to make appointments before going to clinics from this Monday.

It's being done to ensure maximum social distancing at upcoming clinics, while donors will be pre-assessed before giving blood.

The service says in spite of the covid-19 crisis it still needs to collect around 80 per cent of its usual blood supply.

It says cancer patients, transplant cases and others with conditions that require ongoing support are relying on blood donors as much as ever.

14.08 - Flights:

Two flights from Dublin to Rome will operate tomorrow to repatriate over 500 Italian citizens stranded in Ireland.

One of the return flights operated by Alitalia will bring Irish people back from Italy.

Meanwhile, Ryanair's revealed a limited schedule to a number British and mainland European cities over the coming days.

The budget airline says they are working hard to provide repatriation and rescue flights for many EU Governments.

Aircraft is also being offered for emergency medical flights, including to and from China.

14.00 - Taoiseach

The Taoiseach no longer thinks there will be 15 thousand confirmed cases of the coronavirus in Ireland by the end of the month.

Leo Varadkar made the prediction less than 10 days ago.

There are currently 1,329 cases here resulting in seven deaths.

The Taoiseach says the estimate was based on a 30 per cent daily increase:

13.51 - Leaving Cert:

Thousands of students across the country are calling for the Leaving Certificate to be cancelled.

A proposal and petition have been put together which aims to replace the exams with an estimated grades system.

A similar approach is being taken by the regulator in the UK.

Winner of the BT Young Scientist Exhibition, and 6th year student at Skerries Community College in Dublin, Adam Kelly, says there needs to be clarity on when schools will reopen:

13.37 - UK Death:

A 21 year old woman has died after testing positive for coronavirus in the UK.

Chloe Middleton, from High Wycombe, apparently had no underlying health conditions and is thought to be the youngest victim.

Her family posted a message on social media saying they're going through "unimaginable pain" and are "shattered beyond belief".

13.17 - UL:

All on-campus exams at the University of Limerick have been cancelled.

They were due to take place at the end of this semester, in early May.

UL has replaced them with remote assessments instead.

Details will be sent to students by April 6th.

12.29 - Coughing:

The Health Minister says he's been coughed at as part of a prank being reported around the country.

A man in his late teens has been arrested in Waterford for allegedly coughing at people in Dungarvan.

While a healthcare worker in Dublin and an elderly couple in Co. Kildare were also targeted this week.

Simon Harris says people seem to think it's a joke:

12.26 - Testing:

Tens of thousands of people have had their tests for Covid-19 cancelled after new criteria for testing was introduced.

From now on, people will only be put forward for a test if they have a fever and a cough or breathlessness.

They must also be either close contacts of a confirmed case, healthcare staff or in a vulnerable group.

Dr Tony Holohan, the Department of Health's Chief Medical Officer, says people who have symptoms have to self isolate:

Assistant Professor of General Practice at Trinity College Dr Brendan O'Shea says the measures will prioritise those at risk:

12.06 - Taoiseach:

The Taoiseach has asked everyone in the country to read the Covid-19 Public Information Booklet to combat the spread of misinformation.

The booklet is going to be delivered to every home in Ireland.

It explains what the country is doing to tackle to spread of coronavirus and brings together the best advice from our public health experts.

Taoiseach Leo Varadkar says it's vital people take in the correct information about Covid-19 when so much misinformation is being shared.

11.57 - Spain:

Spain now has the second highest number of coronavirus deaths in the world, with more then 3-thousand-400.

Another 738 fatalities have been reported today.

Italy still has the largest number - at almost 7,000.

11.43 - Traffic:

Traffic levels on some of the country's busiest roads have dropped by a third due to the coronavirus pandemic.

There have been major reductions in the number of cars on busy commuter routes as people work from home or self isolate.

On Friday 20th February, Transport Infrastructure Ireland recorded 168,000 vehicles on the M50.

Last Friday, that figure stood almost 114-thousand.

Conor Faughnan from the AA says they have never experienced anything like this before:

11.37 - Coughing:

An older couple subjected to a coughing incident in Co. Kildare say they are now afraid to go out.

They were coughed-at on Thursday afternoon by an alleged assailant is in his late twenties or early thirties.

Gardai are investigating.

John, who is using an assumend name, to protect his identity, says he has been afraid to go out since:

11.29 - Construction:

The government is defending the decision to allow construction and factory employees to continue working despite health concerns.

They are among a list of people who are still at work despite the latest coronavirus restrictions.

The Construction Industry Federation says it's absolutely critical that HSE guidlines are implemented and enforced on building sites.

But this apprentice builder says it's not happening:

11.23 - Jobs:

More than 1,000 workers at manufacturing plants in Limerick and Cork have been laid off due to the Covid-19 crisis.

German auto part maker Kostal has temporarily closed in Abbeyfeale and Mallow since 8am this morning.

The company says its supply chain, and demand for products across Europe have been impacted by the coronavirus.

The closure is for an initial period up to the 27th of April and will be reviewed thereafter depending on developments.

11.19 - Children:

A children's charity is making an urgent appeal for help in dealing with vulnerable kids during the Covid-19 crisis.

Mary Gamble, from Barnardos, claims children are at risk because of social-distancing rules:

11.05 - Coughing:

A teenage boy has been arrested in Waterford in connection with an investigation into people coughing on others on purpose.

He was picked up for a public order offence in Dungarvan on Monday.

Separately, a nurse says a group of teenagers surrounded and coughed on her while she was out for a run in Clontarf in Dublin.

And gardai are investigating reports of a man coughing into the face of an elderly couple in Co Kildare.

Justice Minister and Laois Offaly TD Charlie Flanagan says gardai have the power to act on this so called 'corona challenge':

10.55 - Social Welfare:

The Social Protection Minister says no one who is impacted by the coronavirus crisis will be left behind.

The government yesterday announced a €3.7 billion package of welfare supports for people that have lost work.

Minister Regina Doherty is urging anyone who is not sure whether they are covered to get in contact with her department:

10.47 - UK:

Britain's Prince Charles has tested positive for coronavirus.

Clarence House says he's been 'displaying mild symptoms' but is otherwise in good health.

The Duchess of Cornwall has also been tested, but doesn't have it, and the couple are self-isolating at their home in Aberdeenshire.

10.39 - An Post:

A Covid-19 Public Information Booklet is to be delivered to two million homes across the country.

Taoiseach Leo Varadkar, Health Minister Simon Harris and An Post will launch the initiative later this morning.

It will explain the services in place to tackle the coronavirus pandemic.

10.27 - Construction goes on:

The government has defended the decision to allow construction sites and factories to remain open despite health concerns.

All non-essential retail shops are closed from today, with thousands of people who were in work yesterday now spending it at home.

People are also no longer allowed to gather in groups of more than four people and there will be extra gardaí patrolling parks and other areas.

Finance Minister Paschal Donohoe has defended the decision to keep construction sites open - despite fears from some workers that they can't social distance properly:

(Support for Businesses Impacted by COVID-19) has been published on Laois County Council - https://t.co/HCYh7mpYKt pic.twitter.com/a4wD2KetSe

— Laois County Council (@LaoisCouncil) March 25, 2020

9.48 - BBQ:

In the UK, a crowd of people at a barbecue refused to disperse yesterday evening, despite police efforts.

Police attended the gathering in Coventry, where they found up to 20 people mingling and standing shoulder to shoulder, despite the introduction of new measures to prevent the spread of coronavirus.

Police say the crowd refused to leave even when they were informed of the guidelines.

Officers had to knock the barbecue over to put an end to the gathering.

9.35- Small Businesses:

New financial supports for businesses will bring some much needed confidence to the sector, according to the Small Firms Association.

Last night government upgraded payments to workers who've lost their job due to Covid-19 to 350 euro a week.

It also committed to temporarily pay 70 percent of workers salaries up to 410 euro a week - equivalent to a 38,000 euro salary after tax.

Director of the SFA, Sven Spollen-Beherns says the hundreds of businesses, including the self-employed, with benefit:

9.32 - Greta Thunberg:

Greta Thunberg and her father say they're self-isolating after showing signs of coronavirus.

The campaigner recently toured Europe before restrictions were put in place.

Neither of them have been tested yet.

The 17 year old says she doesn't feel ill but is coughing a lot and feels unusually tired.

Never thought I'd get to play for Ireland. I retired from sport aged 9 after I was put in goals during the summer mini league! Let in 13 goals!But now we all have a chance to play for Ireland & save lives and keep us all safe. Good gif from @storywisedotie pic.twitter.com/aoaVBWFpcg

— Simon Harris TD (@SimonHarrisTD) March 25, 2020

9.27 - Theory Tests:

Driver theory tests are being suspended.

The Road Safety Authority has been informed by the provider of the service that it's suspending providing tests in light of the Covid-19 restrictions.

Prometric says it's no longer in a position to provide a normal level of staffing that maintains the integrity of the service while adhering to HSE guidelines on social distancing.

The suspension takes effect immediately and is subject to ongoing review.

Candidates who have a driver theory test scheduled will be contacted.

9.26 - Coughing:

An incident involving a group of teenagers, purposely coughing on pedestrians in Clontarf in Dublin, has been described as stupid and dangerous.

Nurse Susan Nutley says she was surrounded while out for a run on Monday evening, and stopped from being able to get by.

Gardaí say they're aware of social media reports of similar incidents, which they say could amount to an offence.

7:15 - Tougher measures:

Last night 204 new cases of coronavirus were announced, along with one death, bringing the total fatalities to seven.

Dublin has over half the number of cases, followed by Cork with 13 per cent.

There are now 1,329 confirmed cases of Covid-19 in the Republic of Ireland.

Chief medical officer Tony Holohan isn't ruling out introducing more stringent measures for specific regions:

6.52 - Childcare solution:

Childcare providers are being asked to stop charging parents for creche places during the coronavirus crisis.

In return, the department's offering the industry a substantial 12-week rescue package.

Many parents have continued paying high fees despite creches being closed, over fears of losing their place once the outbreak ends.

Marian Quinn from the Association of Childcare Providers outlines the new measures being offered by government:

06.50 - Thousands more staying at home:

Thousands more people will stay at home from work today after new restrictions on the retail sector.

Factories and construction sites remain open, but are being asked to put in place measures to allow social distancing.

Theatres, clubs, marts and bingo halls are among a list of businesses are now closed.

Extensive new restrictions mean all non-essential shops should be closed from today.

Those remaining open include food shops, pharmacies and hardware stores.

There's been some criticism of the decision to keep construction sites and factories open - with some parties saying it means thousands of people will be heading into dangerous workplaces this morning.

Construction sites where safe distancing cannot be practiced are being advised to close.

Away from the measures introduced, efforts to form a new government will continue today.

Fine Gael and Fianna Fail will meet to exchange policy papers.

The Coronavirus has changed the nature of these talks.

On one hand all sides know it's not ideal to have an interim government making massive decisions on behalf of the country.

On the other, they're calls that need to be made now and are largely above politics.

Either way there's an expectation that negotiations between the two parties need to speed up soon.

06.00 - Local figures:

Westmeath has the highest number of confirmed cases in the midlands with 21 people diagnosed.

There are 13 people in Offaly with the illness and 8 in Laois.

A seventh person has died from COVID-19 in Ireland.

The patient is a male and in the east of the country, with an underlying health condition.

The Health Protection Surveillance Centre has been informed of 204 new confirmed cases of COVID-19 in Ireland, as at 1pm, Tuesday 24 March.

There are now 1,329 confirmed cases of COVID-19 in Ireland.