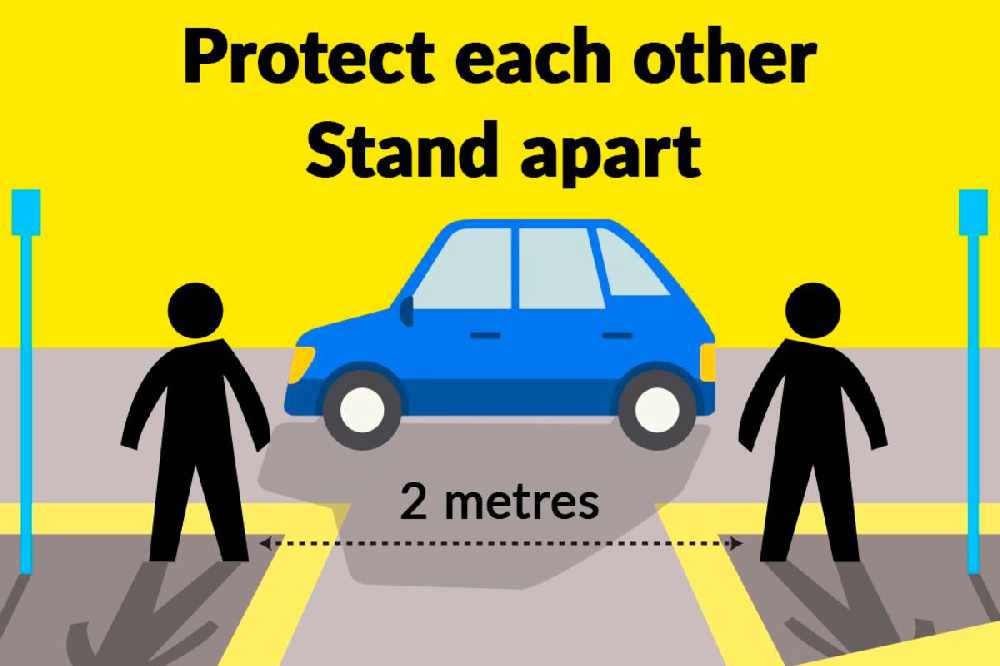 Westmeath has the third highest incidence rate in the country.
Latest figures:
There have been no new deaths reported to the Health Protection Surveillance Centre today.
There has been a total of 1,882 COVID-19 related deaths in Ireland.
As of midnight Saturday 24th October, the HPSC has been notified of 1,025 confirmed cases of COVID-19. There is now a total of 57,128* confirmed cases of COVID-19 in Ireland.
Of the cases notified today;
508 are men / 506 are women
71% are under 45 years of age
The median age is 31 years old
255 cases are in Dublin, 147 in Cork, 77 in Galway, 54 in Kildare, 53 in Donegal and the remaining 439 cases are spread across 21 counties.
19 of the new cases are in Laois, Westmeath has 16 new confirmed cases and there are 15 in Offaly.
Westmeath still has the third highest incidence rate in the country. 395 cases have been confirmed in the county in 14 days.
Laois has an incidence rate of 232, while it's 224 in Offaly.
As of 2pm today, 315 COVID-19 patients are hospitalised, of which 38 are in ICU. There have been 16 additional hospitalisations in the past 24 hours.
The COVID-19 Dashboard provides up-to-date information on the key indicators of COVID-19 in the community.
Dr Tony Holohan, Chief Medical Officer, Department of Health said: "If you're a confirmed case, have had a test or have symptoms of COVID-19, you must self-isolate for 10 days. If you live with a case or have been told you're a close contact, you must restrict your movements for 14 days. Everyone else should stay at home, unless for essential reasons or for exercise within 5km of where you live."
County

Today's cases

(to midnight 24OCT2020)

14-Day incidence rate per 100,000 population

(11OCT2020 to 24OCT2020)

New Cases during last 14 days

(11OCT2020 to 24OCT2020)

IRELAND

1,025

307.5

14,644

Cavan

23

966.2

736

Meath

50

657.3

1,282

Westmeath

16

445.0

395

Sligo

22

427.3

280

Monaghan

19

374.7

230

Galway

77

373.6

964

Cork

147

347.6

1,887

Donegal

53

322.3

513

Wexford

15

313.2

469

Kildare

54

303.4

675

Limerick

45

295.0

575

Kerry

41

291.8

431

Carlow

16

291.6

166

Louth

25

285.5

368

Longford

9

281.4

115

Roscommon

13

274.2

177

Clare

21

264.3

314

Dublin

255

256.9

3,461

Mayo

16

246.0

321

Leitrim

<5

243.4

78

Laois

19

232.6

197

Offaly

15

224.5

175

Waterford

22

204.9

238

Kilkenny

8

175.3

174

Wicklow

16

146.0

208

Tipperary

26

134.8

215
Supervalu:
A drive-thru grocery service is being rolled out at 135 SuperValu stores around the country.

Supermarket group Musgrave is planning to build special drive-thru booths, in the style of the model used by fast-food chains.

The Business Post reports that the service will aim to give customers a contactless option to pick up groceries.

Musgraves say the demand for online shopping increased by 400 per cent during the peak of the pandemic.
GP:
A GP says she's deeply concerned about patient access to non-covid care over the winter period.

Dr Illona Duffy says GPs are seeing a 'rapid rise' in non-virus related presentations.

But she says many of the vital services they need have either been closed or severely curtailed due to the pandemic.

Dr Duffy says GPs are worried about the outcomes for these patients:
Maternity:
The HSE has confirmed that partners will be allowed to attend births during Level Five of Covid restrictions.

However, pre and post birth scans and all follow up appointments must be attended alone under the guidelines.

This follows ongoing calls to allow partners to attend maternity appointments and scans throughout the pandemic.
Contract tracing:
The head of the HSE admits the collapse of the contract tracing system last weekend shouldn't have happened.

Paul Reid says a surge in demand and a lack of required resources led to thousands of people who tested positive for Covid-19 being asked to do their own contact tracing.

He says follow-up calls are being made to those affected this weekend to assess the outcome of their calls.

Paul Reid says he regrets what happened:
Figures:
An expert says it's very positive that coronavirus figures are lower than they've been for the last few weeks.

There are 859 new cases of Covid 19, slightly higher than the 777 infections on Friday.

4 more patients with the virus have died and 62 per cent of the new cases are under the age of 45.

DCU Professor of Health Systems Anthony Staines thinks people may be changing their behaviour for the better:
Sanitiser:
The HSE's confirmed it's distributed over a million ViraPro products to health services across the country.

It's issued a second recall notice for all unused stocks of the sanitiser to the entire health care system.

It comes as Labour TD Aodhan Ó Riordain's asking why it took the Department of Education two days to tell schools to recall the faulty hand sanitiser.

He says children shouldn't have been using it when the Department knew it was defective:
SIPTU is calling for an urgent meeting with the HSE over the ViraPro sanitiser recall.

The Union wants to know where replacements will be sourced, as it has around 40,000 members working for the HSE.

SIPTU Deputy General Secretary John King says workers have used the products regularly, in line with hand cleaning rules:
Local figures:
859 new cases of Covid 19 have been confirmed in the Republic and 4 more people have died.
24 of the confirmed cases were in the midlands.

There are 192 new infections in Dublin, 148 in Cork, 58 in Donegal, 55 in Galway, 54 in Meath, with the rest spread across 21 counties.

315 covid -19 patients are in hospital of which 37 are in ICU, with 16 more hospitalisations in the past 24 hours.

Cavan still has the highest 14 day incident rate, with 981 per 100 thousand population, compared to 302 per 100 thousand for the whole country.
Westmeath has the third highest incidence rate in the country at 448, 14 cases were confirmed in the county yesterday.
Laois had seven new cases reported and it has an incidence rate of 219, while Offaly had three cases and a rate of 214.