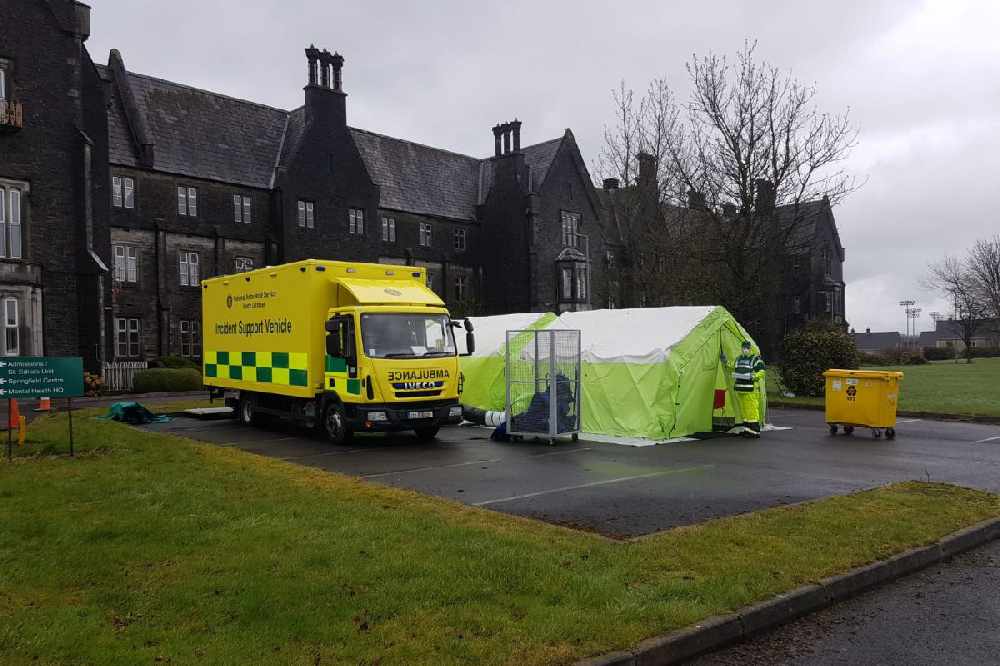 Latest news updates for March 26th 2020.
Breaking news:
10 more people have died from COVID-19 in Ireland.
The patients are 3 female and 7 males. 9 patients in the east of the country and one in the south.
There are 255 new cases including 54 in the midlands region.
Westmeath now has 29 people with the illness, with 16 cases in Offaly and nine people have been diagnosed in Laois.
The median age of patients diagnosed with COVID-19 who have died is 79 years, 68% are male and 32% are female.
There have now been 19 COVID-19 related deaths in Ireland.
The Health Protection Surveillance Centre has been informed of 255 new confirmed cases of COVID-19 in Ireland, as at 1pm, Thursday 26 March.
There are now 1,819 confirmed cases of COVID-19 in Ireland.
The HSE is now working to identify any contacts the patients may have had to provide them with information and advice to prevent further spread.
Today's data from HPSC, as of midnight, Tuesday 24th March (1,383 cases), reveals:
· 55% are male and 45% are female, with 66 clusters involving 295 cases
· The median age of confirmed cases is 46 years
· 340 cases (25%) have been hospitalised
· Of those hospitalised, 47 cases have been admitted to ICU
· 321 cases (23%) are associated with healthcare workers
· Dublin has the highest number of cases at 774, (56% of all cases) followed by Cork with 154 cases (11%)
· Of those for whom transmission status is known; community transmission accounts for 51%, close contact accounts for 22%, travel abroad accounts for 27%
Research conducted on behalf of the Department of Health shows that while 35% of people are worried about their personal health, 77% of people are worried about the health of their family and friends.
The nationally representative online survey of 1,270 adults conducted today, which is conducted twice weekly, reveals:
· 66% of people say they are coughing into their elbow
· 81% say they are physical distancing when they are in a queue
· 65% of people are worried about the economy
· 32% of people are worried about their employment status
Dr. Tony Holohan, Chief Medical Officer, Department of Health, said; "We are only at the beginning of the curve. We need every citizen to heed the advice and measures put in place to protect all of us."
Dr. Ronan Glynn, Deputy Chief Medical Officer, Department of Health, said; "We are aware COVID-19 is impacting and reshaping daily life for everyone. We can see from the data that people are most concerned about their family and friends. If you look after yourself, restrict movement and follow advice, you will ultimately protect them."
Dr. Breda Smyth, HSE Director of Public Health, said; "Protection from COVID-19 is literally in our hands. It is important that we continue to wash our hands and practice cough and sneeze hygiene constantly."
Dr Colm Henry, HSE Chief Clinical Officer, said; "While the HSE is engaged in extensive preparations for COVID-19, the more we as individuals take personal responsibility to interrupt the spread of the virus, the greater impact we can have on protecting our vulnerable people and saving lives."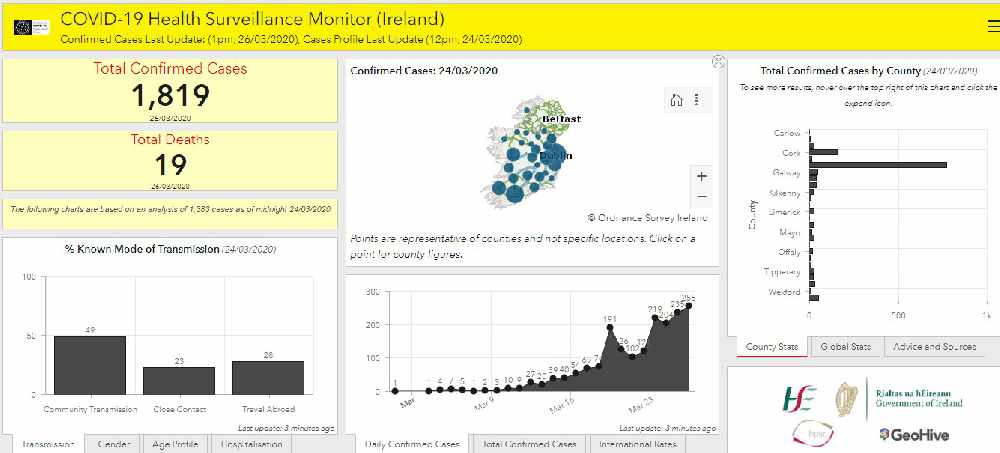 08.08 - Dail:
The Dáil paused its debate this evening to give an extended applause to frontline heathcare staff.

People across the country took time out to applaud out vital health staff at the front line of dealing with the Coronavirus crisis.

TDs halted the debate on emergency legislation in the last few moments to do the same.
19.02 - Risk assessment:
Five thousand people have used a site which gives a personalised risk-assessment for Covid-19.
CovidMedBot was launched two days ago by an Irish start-up, and uses HSE, WHO and CDC advice to determine people's exposure and risk to the disease.
The software is free and the creators say it takes 90 seconds to take a test.
18.29 - Construction:

Contractors have been given 48 hours to comply with social distancing guidelines.

The Construction Industry Federation met yesterday after building sites were not ordered to close.

Many construction workers feel maintaining social distancing on sites is impractical.

Senior Government Official Elizabeth Canavan outlines what was agreed by the CIF

18.20 - Peru:

An Irish citizen is being quarantined in a hostel in Peru after authorities there closed the country's borders.

Two people have tested positive for Covid-19 in the same hostel where the Irish citizen is staying in Cusco.

The Department of Foreign Affairs is putting arrangements in place with Aer Lingus to bring people home.

The 'UK and Irish Stuck in Peru group' claim they are confined to their rooms for 23 hours a day, and may be quarantined for months.

18.14 - Economy:

Ireland's economy could contract significantly as a result of the impact of the coronavirus crisis.

The ESRI says that could be in the region of 7.1 per cent by the end of the year.

Unemployment could go up to 18 per cent by the middle of 2020.

Chief Executive of the ESRI Alan Barrett says the country's ability to recover will depend on how long the shutdown lasts

17.30 - Homelessness:

The Dublin Region Homeless Executive says there's no indication that students are entering homelessness.

Its announced that over 350 living spaces will be made available for self isolation.

It will include 197 hotel rooms and 160 apartments.

However, housing charities say it won't be enough, as they're reporting a jump in the number of rough sleepers lately.

But Eileen Gleeson from the DRHE disagrees:

17.25 - Moneylenders:

The Dáil has also heard claims that moneylenders are going door-to-door offering struggling people money at more than 100 per cent interest.

Business Minister Heather Humphreys says people should not go down that route even if facing financial difficulty:

17.20 - Healthcare workers:

The Dáil has heard calls to urgently make sure healthcare workers have the personal protective equipment they need to keep themselves safe while dealing with people with the Coronavirus.

There's also been calls for construction sites to close where social distancing can't be guaranteed.

TDs are debating an omnibus bill of legislation that covers six government department and their responses to the crisis.

Fianna Fáil's Health Spokesman Stephen Donnelly says more needs to be done to provide protective equipment for healthcare workers:


17.15 - Student Nurses:

Student nurses will be paid for the duration of the Covid-19 crisis.

The Health Minister has confirmed that all 4000 student nurses and midwives will be offered a contract as a Healthcare Assistant and will be paid accordingly.

This will allow students to complete their placement in a HCA role and continue to complete their course.

A Healthcare Assistant earns 28 thousand euro a year.

17.08 - Intensive care:

Ireland has half the number of ICU beds and staffing compared to other EU countries, according to a leading expert.

The issue has been brought into sharp focus as the country prepares for a surge in coronavirus cases.

The European Centre for Disease Control is warning that ICU facilities may not be able to manage rising numbers of serious cases.

Dr Tom Ryan is an Intensive Care Consultant at St James' Hospital in Dublin.

He says additional equipment is needed so the health service can cope with the expected surge in Covid 19 cases:

16.46- School meals:

The school meals scheme is set to continue from next week despite all schools remaining closed.

The programme funds food services for disadvantaged children with more than 1,500 schools and organisations taking part.

However, serious concerns had been raised about how it would be able to operate while all schools remain closed until at least April 19th.

Schools have also been given updated guidance to allow them continue to operate the programme despite the ongoing restrictions.

16.10 - Construction:

The Dáil's heard claims that 600 construction workers could die if sites are left open during the Coronavirus crisis.

TDs have been debating the new emergency legislation the government wants to bring in to support people who lose work.

Opposition parties have been raising plenty of issues with the government's response to the Coronavirus crisis.

RISE TD Paul Murphy has called on all construction sites to close.

He says if the spread of the virus elsewhere is replicated in that industry many people could die.

The issue of personal protective equipment for healthcare workers has also been raised

Fianna Fáil Longford Westmeath TD Robert Troy one of those who says more needs to be done.

Finance Minister Paschal Donohoe gave a scale of the financial impact of the response from the government.

The Dáil is expected to sit late tonight - but business will stop briefly at 8pm to applaud healthcare workers across the country.

16.05 - Late Late Show:

Frontline workers will be honoured on tomorrow night's Late Late Show.

Viewers will be asked to join in with a round-of-applause to thank people trying to stop the spread of Covid-19.

Former Irish rugby captain Brian O'Driscoll and comedian Dara O'Briain will be on Skype talking to Ryan Tubridy as well as the cast of Mrs Brown's Boys.

Music will be performed by Hozier who will launch an ISPCC appeal.

16.00 - Irish Citizens:

Over 2,000 Irish citizens have asked the Government for help getting home in the wake of the COVID-19 crisis.

Officials have described the situation as fast-moving and volatile.

Irish citizens across 86 countries are seeking assistance to return to Ireland.

Senior Government Official Elizabeth Canavan describes the challenging situation.

170 Irish citizens were repatriated from Perth on a flight yesterday afternoon.

The group includes a number of Irish medics returning home to work in the health service.

The Government says its working around the clock to help a number of citizens trapped in Peru.

15.55 - Gardai:

Controversial spit hoods that will be deployed to front line Gardai during the current crisis could cost the state up to 50 thousand euro.

16 thousand of them will be issued to protect Gardai from being coughed at or spat on by suspects.

Gardai say a number of investigations are underway into a number of incidents where Gardai and healthcare workers have been deliberately targeted.

But Doireann Ansbro from the Irish Council for Civil Liberties say spit hoods are degrading and unnecessary:

15.50 - Northern Ireland

Three more people have died from Coronavirus in the North , bringing the total there to 10.

32 new positives cases were reported, the total number of cases in Northern Ireland now stands at 241.

Belfast has the most number of cases according to Public Health Agency figures.

15.49 - Radio:

Independent Galway Roscommon TD Denis Naughten says the government needs to provide supports for local radio stations to keep the doors open during this crisis:

15.48 - Homeless:

The Dublin Region Homeless Executive says it has protocols in place to deal with any prisoners being temporarily released over virus fears.

It comes as more than 350 living spaces and 300 single occupancy beds in hostels will be available for those in need.

But charities have warned that prisoners up for temporary release will add to the numbers on the streets.

Director of the DRHE Eileen Gleeson says there are measure there for them:


15.44 - Blood Donations:

The Irish Blood Transfusion Service still requires donations during the coronavirus outbreak.

It's making some change to how it operates, including an appointment system, but still needs to maintain its supply levels.

Anyone feeling unwell or who has been in contact with someone who has Covid19 symptoms is urged not to attend.

There's been a slight drop in demand due to the cancellation of elective surgeries, but Andy Kelly Chief Executive of the IBTS says the need for blood donations is ongoing:

15.43 - Work:

People who are now working from home are being advised to check their surroundings before taking part in video conference calls and know when their camera is on.

Due to the coronavirus outbreak, more and more people are working remotely with meetings taking place online.

But some participants are forgetting to check when their camera is active, with videos of workers taking calls on their toilet seat emerging on social media in recent days.

Louise McKeown, Marketing Director of Magnet Networks, says it's important people know when they're being watched:

15.41 - Employment;

Unemployment could soar and the economy is likely to shrink because of the coronavirus crisis, according to a new report.

The ESRI is warning the unemployment rate could increase drastically to 18 percent by the middle of the year.

And it says the economy could contract by as much as 7.1 percent by the end of 2020.

Kieran McQuinn from the ESRI says the labour market will have one of its biggest shocks in living memory.

15.40 - Mental Health;

There's been a 400 percent increase in demand for supports from an Irish mental health charity since the pandemic began.

Jigsaw is now providing online services for young people, after temporarily suspending all face-to-face service meetings.

More than 500 teachers across the country have also signed up to the charity's eLearning Programme in the past 10 days.

A free phone service for young people to speak to a Jigsaw clinician is being launched next week.

15.35 - Construction;

The Dáil's heard claims that 600 construction workers could die if sites are left open during the Coronavirus crisis.

TDs have been debating the new emergency legislation the government wants to bring in to support people who lose work.

Finance Minister Paschal Donohoe has warned it will cost around 300 million euro a week to provide support for the hundreds of thousands of people who will lose their jobs.

RISE TD Paul Murphy has called on construction sites across the country to close amid concerns some are unsafe:

15.30 - Babies:

Researchers say three newborns with coronavirus may have got the disease from their mothers during pregnancy or childbirth.

A study looked at 33 children born to mums with Covid-19 in China.

Experts think it's possible the babies were infected shortly after birth.

None of the infants died.

Andrew Whitelaw is Professor of Neonatal Medicine at the University of Bristol, and says we're learning more about it all the time:

15.12 - Construction:

Building contractors are being given 48 hours to follow the Covid 19 guidelines for the workplace.

Every site is to have a designated person responsible for overseeing social distancing.

Employees and subcontractors with concerns are asked to engage with this person directly.

The Construction Industry Federation says its number 1 priority is implementing the guidelines.

15.02 - Voucher:

A voucher worth €2,500 is being made available to businesses that employ up to 50 people, to help them develop strategies during the emergency.

The Business Continuity Voucher is available through Local Enterprise Offices and will allow those firms meet third party consultancy costs.

The goal is to help business owners make informed decisions about what immediate measures should be taken to protect staff and sales.

14.40 - Hospitals:

Acute paediatric services at Tallaght Hospital will be relocated to Temple Street and Crumlin Children's hospitals from midnight tomorrow.

The decision was taken by Children's Hospital Ireland to free up the beds to deal with the COVID-19 crisis.

Concerns have been raised about three specific beds in the hospital which are used for cystic fibrosis patients.

CEO of CF Ireland Philip Watt says staff at Tallaght will be transferred as well:

14.30 - Coughing:

Fianna Fail says people found guilty of deliberately coughing or spitting on anyone during the current crisis should receive a tough conviction.

The party is calling for new legislation to be introduced to tackle the issue.

16 thousand spit hoods are being issued to Gardai to protect them - while investigations are underway into a number of incidents of deliberate coughing and spitting.

Fianna Fail TD James Lawless says an amendment could be made to current legislation:

14.25 - Mortuaries:

Temporary mortuary facilities are being arranged in anticipation of a surge in fatalities from COVID-19.

In the almost four weeks since the first confirmed case here, and nine people have died.

The Government says decisions around temporary mortuary facilities will be made as compassionately as possible.

Senior Official Elizabeth Canavan says they're getting the country ready for a major increase in cases.

14.15 - Doctors:

121 doctors have rejoined the Medical Register in the just over a week.

According to the Medical Council, just over half are returning to Ireland, while 45 per cent are retired doctors re-joining the register.

The Medical Council has also launched a dedicated COVID-19 webpage for doctors with useful information.

14.10 - Homeless:

Over 350 single bed rooms have been put in place for self-isolation for homeless people.

Inner City Helping Homeless says they've seen a jump in the number of rough sleepers.

CEO of the Peter McVerry Trust, Pat Doyle says their staff are doing everything they can to help:

13.53 - Donations:

A number of companies are backing initiatives to support older people and vulnerable groups during the coronavirus crisis.

Vodafone Ireland's donated 1,000 smartphones to the charity ALONE and a cash donation to Women's Aid.

Meanwhile, Tesco Ireland made donations of 50,000 euro each to ALONE, Age Action and Family Carers Ireland.

Separately, the company says a €120,000 donation will be made available to over 450 community-based local causes.

13.40 - Spain:

655 people have died in Spain in the last 24 hours after testing positive for Covid-19.

It's down a little on yesterday's figure of more than 700.

It means the total number of deaths in the country is now more than 4-thousand.

13.39 - Government:

It will cost at least 300 million euro a week for the government to deal with the Coronavirus crisis.

The Dáil is debating emergency legislation to support the hundreds of thousands of people who are expected to lose their jobs.

The ESRI has warned unemployment could reach 18 per cent - higher than the economic recession of the last decade.

Finance Minister Paschal Donohoe says the government will spend a massive amount of money to supplement incomes

13:25 - Trolleys:

Just 11 people are waiting on hospital trolleys across the country.

The Irish Nurses and Midwives Organisation say they are all in Emergency Departments.

The Midlands Regional Hospital in Mullingar has the second highest figure on the list with 3 patients waiting.

Today's figures represent the lowest number since 2004, when the INMO started monitoring the numbers.

13:20 - Construction:

The Unite Trade Union has written to Taoiseach Leo Varadkar calling for all building sites in Ireland to close immediately.

Its members are extremely concerned that they could potentially be exposing themselves to COVID-19.

Around 150,000 construction workers are currently working at sites across the country.

Unite says a significant number of them are working in limited space where social distancing is impossible, while noting that most sites have very limited hygiene facilities.

13.00 - Health:

The National Public Health Emergency Team is meeting to consider how intensive care units will cope with a surge in critical covid-19 patients.

It's examining establishing specific Coronavirus hospitals, which would deal exclusively with the illness.

The country's most senior health officials began meeting at 10 to look at how we'd cope if hospitals become overwhelmed with critical Covid 19 cases.

A European Centre for Disease Control warning that ICU facilities may not be able to manage rising numbers of serious cases is dominating their discussions.

The risk of severe Covid-19 for older people and those with chronic conditions is almost four times higher than for the general population.

They'd need specialised care, for more than 2 weeks, and hospitals may not cope.

Health officials are considering if some of our hospitals could turn into Covid-19 facilities, treating only those with coronavirus.

They're also looking at what else to do if social distancing and business closures just isn't enough.

The meeting is due to end shortly.

The National Public Health Emergency Team may then make recommendations to the Health Minister.

12.46 - Pride:

Dublin's Pride Festival is the latest event which has been forced to postpone due to the Covid-19 crisis.

The LGBTQ+ Parade will now take place on the 12th of September rather than in June.

Organisers say after decades of asking people to come out they're now asking people to stay inside.

12.39 - Gardaí:

A human rights group has condemned the use of spit hoods by Gardai.

16,000 will be deployed to front line officers during the public health crisis to protect them from being spat or coughed at by suspects.

The average spit hood is around 3 euro meaning a cost to the state of up to 50 thousand euro.

However the Irish Council for Civil Liberties says the devices are humiliating and potentially dangerous.

Spokesperson Doireann Ansbro says their use is unnecessary:

12.34 - Prince Charles:

In the UK, Clarence House says Prince Charles is 'working at his desk as usual' - despite being diagnosed with coronavirus.

It was announced yesterday that the Prince of Wales had tested positive and was self-isolating at home in Aberdeenshire.

The 71 year-old's also received hundreds of get well soon messages.

12.21 - FBI:

The FBI has arrested a man in southern California who claimed to have invented a cure for coronavirus.

He was detained as he delivered pills to an undercover agent.

Hundreds of thousands of Instagram users have watched videos in which he claims his medicine can prevent people catching it, and treat those who are already ill.

12.14 - Blood:

The Irish Blood Transfusion Service is introducing an appointment system for its blood donation clinics during the coronavirus pandemic.

It says it needs to maintain supply, but is introducing changes in order to implement safe social distancing.

Cancer patients, trauma cases and newborn babies will still require transfusions.

However only 80 per cent of the normal supply is required due to the cancellation of many hospital procedures and surgeries.

Andy Kelly Chief Executive of the IBTS says only people who are feeling fit and well should attend a clinic:

12.06 - Mortuary:

The government is looking at establishing temporary mortuary facilities in the event of a surge in deaths due to coronavirus.

To date nine people have died as a result of covid-19, while there are now 1,564 confirmed cases.

The government says it is now preparing to put the necessary medical infrastructure in place to cope with the expected surge in cases.

Chair of the Senior Officials Group for the Covid-19 Emergency Response, Liz Canavan, says this includes setting up temporary mortuary facilities:

11.56 - Dail:

The Dáil will also stop all business at 8pm this evening to applaud healthcare workers across the country.

A debate on emergency measures will be paused to recognise what health workers are doing.

The measure was proposed by People Before Profit TD Brid Smith.

@irishrurallink The limits of broadband in rural areas are serious. I know everyone is contributing to the national effort aimed at fighting the disease. Therefore it would be good to see a combined effort from all broadband providers.

— Seamus Boland (@smsboland) March 26, 2020

11.38 - Taoiseach:

The Taoiseach is suggesting some of the emergency legislation being passed by the Dáil today will last beyond the Coronavirus crisis.

Leo Varadkar has said increased childcare supports they had intended to phase in may stay - along with faster access to sick pay.

The Dáil is debating the Coronavirus Emergency Measures bill which includes wide-ranging measures to tackle the crisis.

The Fine Gael leader says it's important politicians across all parties work together over the next few weeks:

Answering Ireland's call. Thank you so much. We will prevail - together #coronavirus #Covid19 https://t.co/FqqgwKx8X5

— Simon Harris TD (@SimonHarrisTD) March 26, 2020

11.23 - The North:

A man's been charged with attempting to cause grevious bodily harm in the North claiming to have coronavirus, and coughing on two police officers in Belfast.

The 39-year-old was detained following a domestic incident at a house yesterday.

He then claimed to have covid-19 before coughing on the officers.

He's due in court later, although it's likely the incident will be dealt with via video.

The Justice Minister in the North has ordered people not to attend courts today, as cases will be adjourned without their presence.


11.03 - Funeral:

A funeral is being held in Dublin this morning for Ann O'Rourke, one of the nine people who have died from the virus in Ireland.

Her son Ciarán says he didn't get to see his mum before she passed away:

10.51 - Carparks:

The government's moved to clarify that only caravan parks related to tourism need to close as part of Covid-19 emergency measures.

It's after a number of local authorities contacted the housing department over concerns about people who live in caravan parks.

The owners of those parks are asked to ensure people residing permanently are allowed to remain.

10.34 - Olympics:

Rescheduling the Tokyo Olympics presents an "unprecedented challenge", according to the president of the local organising committee.

A task force has met for the first time this morning to begin preparations for moving the Games from this summer to 2021, due to the coronavirus pandemic.

The group will work with international sports federations to come up with a suitable date to host the event.

10.14 - TV:

A new RTE show which will document how households are coping with the Covid 19 crisis is receiving criticism.

'Operation Covid Nation' is a spin-off of 'Operation Transformation' and will see cameras installed into four participants' homes.

Applications are now open and participants will be paid a fee.

However, many have criticised the programme as 'tone-deaf' and say it's 'cashing-in' on the current crisis.

09.46 - Labour market:

The Irish labour market is set for 'one of the largest one-quarter shocks in living memory', according to the ESRI.

The research institute believes unemployment will rise to 18 per cent by the end of June - as over 350,000 people lose their jobs.

They're forecasting the economy to shrink by 7.1 per cent by the end of the year, should Government measures stay in place for 12 weeks.

Research Professor with the ESRI Kieran McQuinn says it's a shock of unprecedented measures:

09.31 - Children's Hospital:

Acute paediatric services at Tallaght University Hospital are to close from midnight tomorrow night, in order to support the adult hospital system.

Children's Health Ireland says services will be relocated to Crumlin and Temple Street, as well as Connolly Hospital during the covid-19 pandemic.

09.22 - The North:

Thousands of people in Northern Ireland may already have the coronavirus, according to the region's chief medical officer.

There are 209 confirmed cases in the North and seven deaths.

Stormont's Health Minister, Robin Swann, says lives can be saved by following official advice:

09.01- Health service:

There are warnings our health system may be overwhelmed by critical coronavirus cases.

The European Centre for Disease Control says Ireland can cope with 5.6 critical patients in every 100 thousand, which is the lowest level in Europe.

1,564 people now have Covid 19 here and nine people have died.

Consultant in Infectious Diseases, Dr Arthur Jackson, says the critical cases are a worry:

08.50 - Shops:

Currys has reported surging demand for TVs and laptops, as people prepared to spend more time at home.

Sales at Dixons Carphone were up 35 per cent in the first three weeks of the month.

Online purchases rose 72 per cent over the same period, with its physical shops now shut.

08.38 - Finances:

It's claimed households could save up to 7,000 euro by reviewing their finances during the outbreak.

Darragh Cassidy, from Bonkers.ie, says the savings can be made across the board:

08.36 - School:

There are calls on phone companies to provide unlimited data for school children during the coronavirus crisis.

Many secondary school students are using their phones to log into online classes which takes up a lot of data.

Deputy Principal in Presentation De La Salle In Bagnelstown, Co Carlow, John Cullinane, says it should be made free for the time being:

08.32 - Deaths:

Nine people have now died from the coronavirus here while 1,564 people have the infection.

The Taoiseach no longer thinks there will be 15-thousand confirmed cases of Covid 19 by the end of the month.

Galway GP Brian Higgins says that's because social distancing is working:

08.18 - Property:

There will always be a need for physical real estate, despite the majority of office staff working from home.

That's according to a leading expert, amid the coronavirus pandemic.

There have been suggestions the crisis will change the way we work forever with people opting to work remotely.

But Robert Murphy from BNP Parisbas says that's not the case:

08.03 - Gardai:

Gardai are investigating an incident at Blanchardstown Hospital in Dublin where a healthcare worker was spat at deliberately.

Her alleged attacker has since tested positive for Covid-19.

Gardaí are calling on people to report any instances where they have been threatened or intimidated by people deliberately coughing and spitting at them.

Members of the force are to be issued with 'spit hoods' to place over suspects faces during the coronavirus crisis.

It's understood the gardai have ordered 16,000 spit hoods, which cover the entire face of the detainee and stops them spitting at, coughing on or biting officers.

They are to be distributed to frontline members in the near future.

There have been several reports incidents of people coughing on members of the public and gardai while claiming to have coronavirus in recent days.

07.58 - Working from home:

People working from home and using conference calls during the coronavirus pandemic are being warned to pay attention.

It turns out there's a feature on Zoom that tells the person running the meeting if you're paying attention or not.

The 'attention tracking' feature highlights if participants have clicked away from the app for more than 30 seconds.

Users can disable this - but administrators can make it mandatory.

07.43 - Hospitals:

Hospitals in cities like Dublin and Galway could become special Covid-19-only facilities.

The National Public Health Emergency Team is meeting later to discuss how best to segregate patients with coronavirus.

One area being discussed is establishing covid-19 and non-coronavirus hospitals to stop the spread among healthcare staff and patients.

Chief medical officer Tony Holohan says they haven't decided yet where coronavirus-specific hospitals would be located:

07.27 - Cost:

There are concerns about how we're going to cover the cost of the coronavirus crisis.

CEO of the National Treasury Management Agency Conor O' Kelly believes we're in a good position:

07.13 - Homeless:

Evicted students and prisoners being released temporarily are adding to the numbers in the homeless system, according to a Dublin charity.

Inner City Helping Homeless says there are still up to 90 people sleeping rough each night despite increased bed capacity.

CEO Anthony Flynn says days services have been cut because of the threat of Covid-19, with many unable to shower or even wash their hands.

07.01 - Showbiz:

James Corden's bringing celebrities from around the world together for a special TV show during the pandemic.

The host will present a Late Late Show Special called Homefest from his garage on Monday.

Big names will perform including BTS in South Korea, Dua Lipa from London, and Billie Eillish and John Legend from LA.

Meanwhile, the Tony Awards have been postponed because of the coronavirus.

The annual ceremony celebrating the best in Broadway theatre was scheduled to take place in New York in June.

06.47 - Healthcare staff:

Health Minister Simon Harris insists healthcare staff will have enough personal protective equipment for the coronavirus crisis.

He says a huge amount of gear will arrive in the next few days - and address the current shortage:

06.41 - US:

The number of Covid-19-related deaths in the US has now topped a thousand.

There have been a total of 68,500 cases of the virus in the States.

President Donald Trump's been outlining the steps he's taking:

06.33 - Homecare:

There's been a 216 percent increase in the number of homecare providers self-isolating in the past week due to Covid-19.

That's according to Home and Community Care Ireland, which's calling on government to review its current policy on payments for the duration of the pandemic.

It says the number of service users self-isolating has also increased by 163 percent in the past week.

CEO of the HCCI, Joseph Musgrave, says government needs to step in:

06.21 - Dail:

The Dáil meets today to pass emergency laws to deal with the impact of the Coronavirus.

All stages of the omnibus bill are expected to pass during a 10 hour sitting with reduced attendance.

The vast package of measures being passed today was revealed by the government earlier this week and covers multiple government departments.

The 3.7 billion euro social welfare package will see payments provided to people who lose work because of the crisis.

New laws temporarily banning evictions and rent increases are also to be debated alongside justice, defence and health measures.

A reduced number of TDs will meet in order to allow for social distancing in the Dáil chamber and the Leinster House complex.

The Dáil will also elect a Leas Ceann Comhairle - likely to be Independent TD Denis Naughten.

These may be the last laws the Oireachtas can pass some time.

The Ceann Comhairle has warned it will lose the power to legislate from midnight on Sunday.

The new Seanad will be elected next week - but won't be able to sit until there's a new government, putting extra pressure on the efforts from Fine Gael and Fianna Fáil to form one.

06.18 - Trade union:

SIPTU's calling for all healthcare workers to be routinely tested for Covid-19, even if they don't have symptoms.

The union says the measure's needed due to the concerning numbers contracting the virus.

24 percent of all cases in the Republic are healthcare workers, according to the latest figures from the Department of Health.

SIPTU Divisional Organiser, Paul Bell, says it's a huge worry:

06.00 - Local figures:

The National Public Health Emergency Team will meet this morning to consider establishing covid-19 specific hospitals.

Latest figures show there are 1,564 confirmed cases of coronavirus, with a further two deaths, bringing the total death toll to 9.

47 of those cases are in the Midlands, 25 in Westmeath, 13 in Offaly and 9 in Laois.

26 per cent of patients have been hospitalised, with 39 cases being admitted to ICU.

Dr. Colm Henry, HSE Chief Clinical Officer, says they're considering designating hospitals specifically for covid-19: