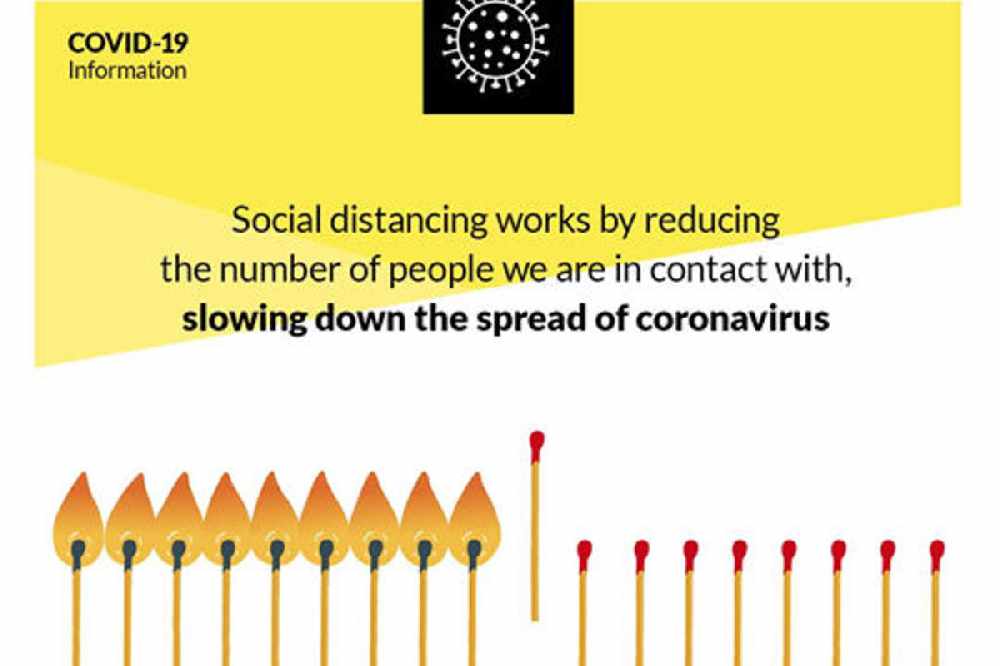 National News 7th May 2020.
Latest figures:
The Health Protection Surveillance Centre has today been informed that a total of 29 people with COVID-19 have died.
There have now been a total 1,403* COVID-19 related deaths in Ireland.
As of 11am Thursday 7 May the HPSC has been notified of 137 new confirmed cases of COVID-19. There is now a total of 22,385 confirmed cases of COVID-19 in Ireland.
The HSE is working to identify any contacts the patients may have had to provide them with information and advice to prevent further spread.
Today's data from the HPSC, as of midnight, Tuesday 5 May (22,186 cases), reveals:
· 57% are female and 43% are male
· the median age of confirmed cases is 49 years
· 2,891 cases (13%) have been hospitalised
· Of those hospitalised, 376 cases have been admitted to ICU
· 6,498 cases are associated with healthcare workers
· Dublin has the highest number of cases at 10,840 (49% of all cases) followed by Kildare with 1,302 cases (6%) and then Cork with 1,197 cases (5%)
· Of those for whom transmission status is known: community transmission accounts for 62%, close contact accounts for 35%, travel abroad accounts for 3%
Dr. Tony Holohan, Chief Medical Officer, Department of Health, said; "The reproduction number is between 0.5 -0.6. We have achieved our goal of suppressing the spread of the disease, it was not easy for anyone but there is no question that our collective effort has saved lives.

"Now we look to the pattern of COVID-19 going forward, as we attempt to ease restrictions. These weeks are just as important as the first weeks of our response. Our behaviours are crucial in maintaining our progress and keeping the reproduction number below 1."

Professor Philip Nolan, Chair of the NPHET Irish Epidemiological Modelling Advisory Group, said; "The number of ICU admissions, new cases and deaths is now falling and has been for over a week. This is driven by a reduction of transmission of the virus in the community and reinforces the importance of our behaviours going forward."

*Validation of data at the HPSC has resulted in the denotification of 1 death. The figure of 1,403 deaths reflects this.
The midlands has recorded a further 83 confirmed cases of the virus.
In Westmeath, there are now 627, jumping from 554 yesterday.
There are 346 cases in Offaly, up by seven from yesterday.
And Laois recorded an increase of three, bringing the total there to 243.
Chief Medical Officer, Dr Tony Holohan has more details on the settings where the deaths occurred:
UK:
British Prime Minister Boris Johnson will announce an easing of lockdown measures on Monday, but it will be very limited.
Scotland's first minister has extended restrictions for another three weeks, but said they could be changed during that time.
Nicola Sturgeon wants all of the UK to keep to the same rules.
The impact of coronavirus on the British economy means it's facing the deepest recession on record.
The Bank of England's forecasting a 14 per cent fall in GDP - the biggest slump in 300 years.
Concerns over young people:
The country's chief medical officer has raised concerns about the number of young people getting the coronavirus.
There are now over 22 thousand confirmed cases here and 1,375 people have lost their lives.
There's no doubt Covid 19 has impacted people over the age of 65 the hardest.
They account for 27 percent of all cases and 93 per cent of the deaths.
But young people aren't immune and the Country's Chief Medical Officer has raised concerns about the number of them being infected.
114 people under the age of 5 have gotten the virus to date – including 39 babies.
230 children aged between 5 and 14 and almost 15 hundred aged between 15 and 24 have also contracted the virus.
Two people aged between 15 and 24 have lost their lives and five aged between 25 and 34.
The median age of those getting the virus is 49.
Dublin remains the country with the highest number of cases followed by Kildare and Cork.
While Cavan is the country with the highest number of infections per one hundred thousand of the population followed by Dublin and Monaghan.
Tony Holohan is hopeful restrictions can begin to be eased in two weeks but is warning these current figures show we're not there yet.
Payment extended:
The COVID-19 unemployment payment and wage subsidy scheme will be extended beyond mid-June.
Taoiseach Leo Varadkar has said no decision has been made on how long it will last for or if there will be a rate reduction after next month.
He has also told the Dáil it is possible that the Coronavirus arrived in Ireland late last year or early this year, earlier than first thought.
Leo Varadkar has said that the payments being made to support businesses and people who've lost their jobs because of the virus will continue:
COVID-19 payment:
There are calls for Covid-19 welfare payments to remain in place until at least Christmas time.
Sinn Féin says the payments will still be needed in December by up to a quarter of a million people who have been impacted by the coronavirus.
It comes as the Finance Minister indicated that the schemes cannot continue indefinitely.
Sinn Fein's finance spokesperson, Pearse Doherty, says ceasing the payments too soon is unacceptable:
Tougher Laws Need To Ensure People Are Honest With Airport Authorities https://t.co/O1C3Be1Esh

— Midlands103 (@Midlands103) May 7, 2020
Leaving Cert:
Talks are continuing today in an effort to reach a definitive decision on whether the Leaving Cert should go ahead.
The Education Minister met with officials and teaching unions yesterday to discuss whether exams could be safely held.
The feasibility of teachers predicting students grades was also discussed.
There's an expectation in political circles there will be an announcement sooner rather than later.
Fianna Fail's education spokesperson, Thomas Byrne, thinks the exams should, and will, be cancelled:
Gardaí:
The Association of Garda Sergeants and Inspectors has expressed disappointment at the lack of priority testing for members.
The AGSI says management previously told the Policing Authority priority testing would happen after its meeting on April 20th.
Gardaí have been spat or coughed at 52 times during the coronavirus restrictions between April 8th and May 2nd.
General secretary of the AGSI, Antoinette Cunningham, says even gardai who are spat it - still have to wait to get tested:
Gigs:
The coronavirus crisis means the days of packed music venues could be a thing of the past.
Angela Dorgan from First Music Contact, which supports the music industry in Ireland, doesn't think we'll be enjoying festivals again until we've all been vaccinated for Covid-19.
She was also asked about when we'll be back in busy music venues:
WHO:
The World Health Organisation's warning countries they'll be forced to return to lockdown if they don't lift restrictions carefully.
It comes as the total number of Covid-19 cases across the world approaches 3.8 million.
263,000 people have died - including more than 30,000 in the UK.
WHO director-general, Tedros Ghebreyesus, is urging countries to be cautious about lifting restrictions:
Airports:
A third of people arriving in Ireland over the past six weeks refused to give details of where they'd be self-isolating.
The Irish Independent says hundreds of people who flew into Dublin Airport didn't fill in forms detailing where they'd be staying.
The forms asked for information about the address where the person would stay for two weeks after they arrived.
Anyone arriving in Ireland is asked to sign a passenger location form when they arrive at the airport, to stop the spread of Covid-19.
Trump latest:
The US president claims the coronavirus outbreak is worse than the 9/11 terror attack.
The total number of cases of Covid-19 in the States has risen to 1.2 million.
More than 73,000 people have also died of the disease in America.
And Donald Trump says the crisis will do lasting damage to the country:
Iconic Closure:
Bewley's Cafe in Dublin's to close with the loss of 110 jobs.
Staff at the Grafton Street cafe have been informed by management and a consultation process is now underway.
The economic impact of Covid-19 is believed to have contributed to the decision.
Garda testing:
Gardaí have been told they will not be given priority Covid-19 testing, according to the Association of Garda Sergeants and Inspectors.
The AGSI says it's deeply disappointed at the decision after management told the Policy Authority on April 20th that there would be priority testing.
The AGSI represents almost 2,500 mid-ranking Gardaí and its General Secretary, Antoinette Cunningham, says its members have been deliberately targeted during the Covid-19 crisis:
Annual Leave:
A new survey of employers shows that nearly 50 percent of them are unsure how to handle the issue of annual leave during Covid-19 restrictions.
77 percent also have no firm idea when flexible working arrangements will end.
The survey, by global advisory firm Willis Towers Watson, was carried among nearly 1000 employers across Europe.
No Guarantees:
The Chief Medical Officer says the country isn't yet in a position to ease some Covid-19 restrictions in 10 days time.
1,375 people with the virus have died after a further 37 fatalities were confirmed last night, while there are now 22,248 diagnosed cases.
From May 18th, the gradual lifting of measures is due to begin, with the return of outdoor workers, and the reopening of DIY stores and garden centres.
But Dr. Tony Holohan says that's not guaranteed:
Latest Figures:
The number of confirmed cases has risen to 1,133.
Westmeath has recorded an increase of seven from yesterday/Wednesday, rising to 554.
Offaly jumped by 22, to 339.
And there are two more cases in Laois - bringing the total there to 240.