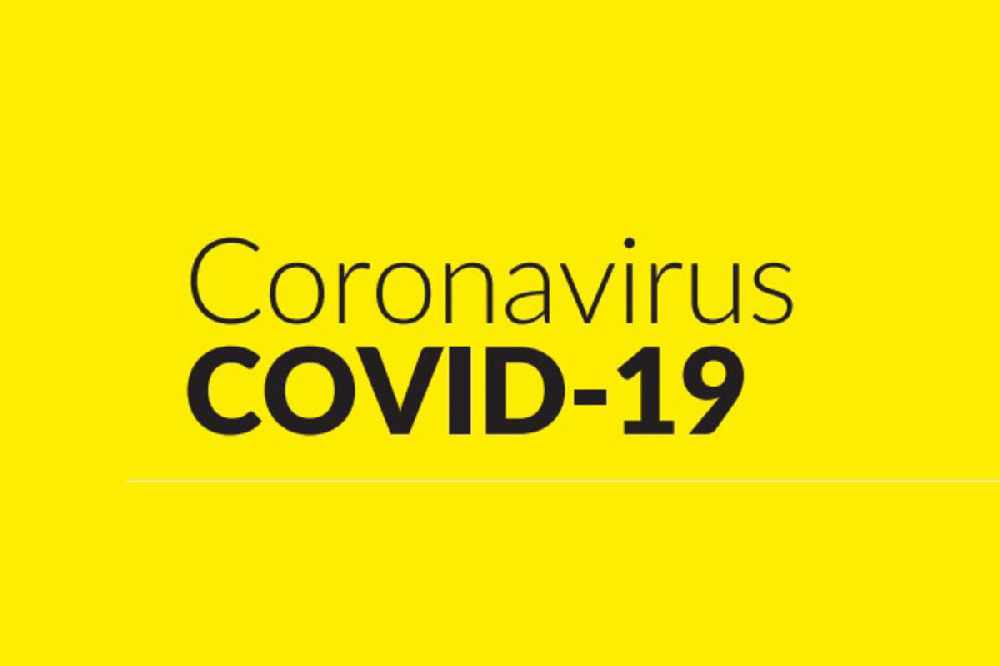 20 more cases have been confirmed in the midlands.
17.34 - Latest figures:
A further 25 people are confirmed to have sadly died from Covid19 in the Republic.
365 new cases confirmed today too. It now brings the death toll to 235 while the number of confirmed cases stands at 6,074.
In the midlands,
Westmeath now has 134 confirmed cases, a jump of 13 from yesterday's figures.
In Offaly, that stands at 77, up 4 from yesterday.
And there have been 34 covid-19 cases in Laois to date, compared to 31 yesterday.
Chief Medical Officer Dr. Tony Holohan had the details on the deceased;
16.20 - Bottlebanks:
A glass recycling company says it's preparing for an unprecedented increase in bottles at bring banks nationwide this weekend.
It's due to a combination of lockdown and a long weekend.
Glassco Recycling is reminding people to adhere to social distancing guidelines while using bring banks.
David Farrelly, General Manager at Glassco, says there's been an increase in the use of bring banks since lockdown began:
15.48 - New supports for business:
Extra supports for businesses hit by the Coronavirus have been announced.
Two loan schemes will get an extra 450 million euro to provide immediate liquidity and longer term loans.
There will also be smaller loans to help retailers develop their online presence to keep trading.
Business Minister Heather Humphreys says it brings the total pot of supports to 1 billion euro:
15.20 - Latest Northern Ireland figures:
Another five people have died in Northern Ireland from the Coronavirus.
That brings the total number of deaths there to 78.
84 new positive cases were reported in the last 24 hours, which means there are 1,339 confirmed cases in the North.
14.28 - Lack of nurses:
A new report is recommending an eight per cent increase in the number of nursing graduates each year to 2030.
It's follows the finding that there's a global shortage of 5.9 million nurses.
The report from the World Health Organisation, Nursing Now and the International Council of Nurses also says high-income countries like Ireland have an 'excessive reliance' on international nursing mobility.
Dr Edward Mathews from the Irish Nurses and Midwives Organisation says a wide range of action is needed:
Repeat offenders could face jail sentence under new Garda powers ⬇️ #midlands103 #COVID19ireland https://t.co/yev2xoVncA

— Midlands103 (@Midlands103) April 8, 2020
14.07 - Boris Johnson:

The British Prime Minister remains in a stable condition, is responding to treatment and is in good spirits.

A spokesman also says he's not working but can contact those he needs to.

Meanwhile, a health minister in the UK has suggested it's still too soon to start lifting coronavirus lockdown measures.

13.43 - Medical cards:

There are calls for the Medical Card prescription levy to be suspended for the duration of the crisis.

The Irish Pharmacy Union and Age Action say people who are advised to cocoon are turning up in pharmacies to pay for medicines.

The IPU says this is because patients currently need to pay the prescription levy, and that it is 'impossible' for volunteers to do it for them.

It says eliminating this charge would be a compassionate gesture, and a benefit to the most vulnerable patients.

13.16 - State exams:

The government says it hopes there will be clarity on what will happen with the state exams in the coming days.

Contingency plans for the Junior and Leaving Cert are being examined.

Liz Canavan from the Department of the Taoiseach says there should be an update later this week:

If you need these numbers or know someone who needs them, please share or tag people below, so that everyone has the information they need. #ItsInOurHands pic.twitter.com/JfK1BCNVdp

— Midlands103 (@Midlands103) April 8, 2020

13.05 - Holiday homes:

The Garda Commissioner says anyone in a holiday home now must stay there for the duration of the COVID-19 restrictions.

It comes as Gardaí have been given the power to arrest anyone who refuses to comply with the regulations.

Any member of the public who is found to be on an unnecessary journey could face a 2,500 euro court fine or six months in prison.

Commissioner Drew Harris is warning that travel to a holiday home for the Easter break is not allowed.

12.34 - Irish man in Wuhan:

Chinese authorities have lifted a two month lockdown in Wuhan, where the coronavirus pandemic began.

It led to over 2,500 deaths in the city.

Travel restrictions have now been eased as the outbreak's been brought under control, and thousands of people have started to leave.

Greg McDonough, who's originally from Listowel in Co. Kerry, now lives in a city close to Wuhan.

He says a lot of places remain closed and life is still quite restrictive:

12.00 - Restrictions:

New emergency powers to restrict people's movement will expire after the weekend.

People continually flouting the social distancing laws could face a fine of 2,500 euro or a six month jail sentence.

Senior official at the Department of the Taoiseach Liz Canavan says people need to stick to the 2km restrictions:

If you have #covid19 #coronavirus symptoms, such as a fever or cough, you should self-isolate immediately in your home.

But what exactly is self-isolation, and how do you do it? Watch this explainer to learn more. #ItsInOurHands #FlattenTheCurve #StayHomeSaveLives pic.twitter.com/lnNR0pfd5H

— Department of Health (@roinnslainte) April 8, 2020

11.47 - Post Office:

Post offices will be closed on Saturday to give staff a break.

An Post says it's putting special measures in place for Easter Weekend, and post offices will be open until 1pm on Good Friday.

Management says staff are due a well-earned break over the Easter bank holiday so they can resume services on the front-line next Tuesday.

11.37 - Easter Eggs:

Mars Ireland has donated 6-thousand easter eggs to a Dublin homeless charity.

Inner City Helping Homeless says it will be delivering eggs to children in emergency accommodation as part of its "Operation Easter Bunny" campaign.

The charity says it's had to increase its food distribution service during the covid-19 crisis and is now feeding up to 2-thousand people each day.

11.11 - GPS:

GPs are appealing for people to continue to contact their doctors around non-Covid 19 health issues.

The Irish Medical Organisations says there has been a decline in 'routine' consultations during the pandemic.

GPs are concerned many people are ignoring warning signs and risking larger health problems.

10.57 - Restrictions:

The Irish Council for Civil Liberties doesn't want Gardaí to use the new enforcement powers.

Executive Director Liam Herrick says people have largely been complying with the restrictions:

10.41 - ICU:

The intensive care unit in the Mater Hospital in Dublin is full.

A consultant at the hospital says most of the patients in the 18 ICU beds are Covid-19 patients.

Dr John Lambert, a consultant in infectious diseases at the Mater, says some intensive care patients are being moved to the High Dependency Unit:

10.23 - Boris:

Boris Johnson has spent a second night in intensive care as he's treated for coronavirus.

The British Prime Minister is under close observation but hasn't needed a ventilator.

Political Editor of the Financial Times George Parker says that's seen as a positive sign:

Want to get updated information and help on #coronavirus? We have lots of information here (https://t.co/AZvY0KGZ13) and @NALAIreland has many words explained here (https://t.co/5YPiy3EYnv) in plain English #COVID19 @roinnslainte @slaintecare @healthyireland #itsinourhands pic.twitter.com/hUNRIvWCa9

— HSE Ireland (@HSELive) April 8, 2020

10.01 - Butter:

The company that owns Kerrygold says people's spending habits have changed overnight because of the coronavirus crisis.

Ornua says people are baking more and doing a big shop instead of a few small ones.

The company has become the first 1 billion euro Irish food brand in 2019.

09.53 - ALDI:

Aldi has announced measures to ensure priority access for frontline staff.

From tomorrow, any frontline staff with relevant ID will be allowed in store as soon as social distancing guidelines allow.

It means that frontline workers won't have to queue outside stores before going in.

09.41 - Cyclists:

A Dublin cycling group says there's an opportunity to create a "green revolution" post Covid-19, allowing more people to cycle and walk in our towns and cities.

Louise Williams, vice chairperson of the Dublin Cycling Campaign, says a reduction in car traffic should be continued:

09.28 - Northern Ireland:

Almost 80 per cent of businesses in Northern Ireland plan to furlough some or all employees over the next week - as revenues plummet and cash reserves are severely hit.

A survey has found three quarters of firms reported a serious decline in sales or income, over a very short period of time, following the pandemic.

Chris Morrow, from Northern Ireland Chamber of Commerce and Industry, says more state support is needed:

09.11 - Garda Powers Update:

Gardai now have new powers to enforce coronavirus restrictions.

The Health Minister signed them into law last night.

It's been almost two weeks since an effective nationwide lockdown was put into place and so far gardai have been relying on existing public order powers to enforce the rules.

There are now concerns more and more people may be tempted to break social distancing and the 2km rules over the long weekend and with the recent good weather.

Last night the Health Minister signed new laws into effective to give gardai more powers.

These regulations will allow for powers to detain and fine people for specific breaches.

It comes as gardai are to launch a nationwide policing operation to discourage people from travelling over Easter.

Garda checkpoints are to be stepped up at routes into and out of cities and there will be extra patrols at parks and beaches.

08.59 - Wuhan:

The Chinese city where the epidemic first broke out has ended a two-month lockdown with a huge party.

The event in Wuhan was broadcast over state media - with skyscrapers lit up in bright colours.

2-and-a-half thousand deaths were registered there - around 80 percent of the country's official count.

People leaving still have to pass a health check - and many shops remain closed.

Wow... Tickets for both of our shows for the HSE & NHS @3arenadublin all went in less than 30 mins, with the 1st nit going in 3 mins... 24,000 of ye!! Overwhelming!!! We'll see all of you guys on Feb 8th and 9th. Thank you to all staff for your continued efforts 🙏🏻💚💙 #hse #nhs pic.twitter.com/YEb5l4vBzR

— Glen Power - THE SCRIPT - (@glenofthepower) April 7, 2020

08.41 - Possible Vaccine:

The World Health Organisation says efforts to develop a vaccine for the coronavirus are developing at 'incredible speed'.

More than 82,000 people have died of Covid-19 so far, while 1.4 million have got the virus.

Tedros Ghebreyesus, director-general of the World Health Organisation, is confident a vaccine will be developed soon:

08.30 - British Prime Minister:

Boris Johnson's spent a second night in intensive care because of the coronavirus.

Downing Street says the British Prime Minister's in 'good spirits' and doesn't need a ventilator.

Dr Joe Cosgrove is a consultant in intensive care medicine.

He explains why a patient would still be there for that length of time:

08.16 - Tickets:

Tickets for The Script's two free gigs at the 3Arena have been snapped up.

The band will play to frontline healthcare staff next February 8th and 9th.

The likes of nurses, doctors and porters subscribed to all 24-thousand tickets in less than half an hour.

08.03 - Rates:

Rates paid to Dublin City Council are down 20 million euro for March, as the coronavirus outbreak hits the local authority's cash flow.

Councillor Daithí Doolan says the council faces a very difficult future, with a further 22 million euro in arrears owed from 2019.

The council's finance department says the retail, hospitality and leisure sectors have been significantly impacted.

07.53 - Heart conditions:

A new support network has been launched for people living with heart conditions throughout the Covid-19 pandemic.

They have been advised by the government to cocoon for the next couple of months as they are among at risk groups.

The Irish Heart Foundation has set up a nurse-manned phone line, and a closed Facebook group for people to get advice.

07.35 - Landlords:

Private landlords in Limerick say they won't refund student rents until University of Limerick does the same.

The third level institution says the on-campus accommodation has remained open at the facility, with 600 out of around 2,800 beds filled.

However, they are not refunding pre-paid rents to students due to operating costs.

Jack Scanlon is UL's students union president - he says the issue has gone beyond the college now:

07.28 - Emergency powers:

The Health Minister has signed regulations giving Gardaí emergency power to enforce restrictions during the coronavirus pandemic.

It'll see people found not following health advice being forced to return home.

Yesterday saw the largest daily rise in the number of deaths here since the outbreak began - 36 people died, bringing the total to 210.

345 new cases were also announced, with the total number now standing at 5,709.

07.16 - Testing issues:

People with suspected Covid-19 are still waiting 10 days for their results, despite a ramping-up of testing.

It's hoped 15,000 tests will be processed daily by the end of the month.

But Dr. Cillian De Gascun, Director of the National Virus Reference Laboratory, says there are still delays with the backlog of cases:

7.01 - Banking:

Dedicated phone-lines are being set up by five of the country's retail banks to help cocooning and vulnerable customers during the pandemic.

The new service will be provided by AIB, Bank of Ireland, KBC, Permanent TSB and Ulster Bank.

The phone-lines will give banking support on things like payments and lodgements, and tips on keeping money safe.

06.53 - Farmers:

Farmers are being reminded to exercise safety while working throughout the pandemic.

Earlier this week, a five-year-old boy was killed in county Roscommon after falling from a trailer.

Embrace, a group for people who lose loved one's in farming accidents say they don't want new members to have to join.

Norma Rohan is from the organisation - she says it is very difficult to recover after losing someone in a farming accident:

06.42 - Study:

People are being encouraged to take part in a major new study aimed at documenting the impact of Covid-19 on daily life across the country.

The study's being carried out by Dublin City University and NUI Galway, and will look at the affect the restrictive measures have had on things like work, childcare and mental health.

People can access the survey for the next 24 hours via the NUI Galway website.

06.30 - Latest figures:

A further 36 people have died from Covid19 in the Republic, the largest number of fatalities in a single day.

It brings the death toll here to 210.

345 new cases have also been confirmed - the total number of cases of the coronavirus now stands at 5,709.

There are 225 in the midlands region.

Westmeath has 121 patients with the illness a rise of 14 since yesterday's figures were published.

73 people in Offaly have COVID-19 which increased from 66.

Meanwhile, Laois has the lowest in the region with 31 confirmed cases - a jump of 6.