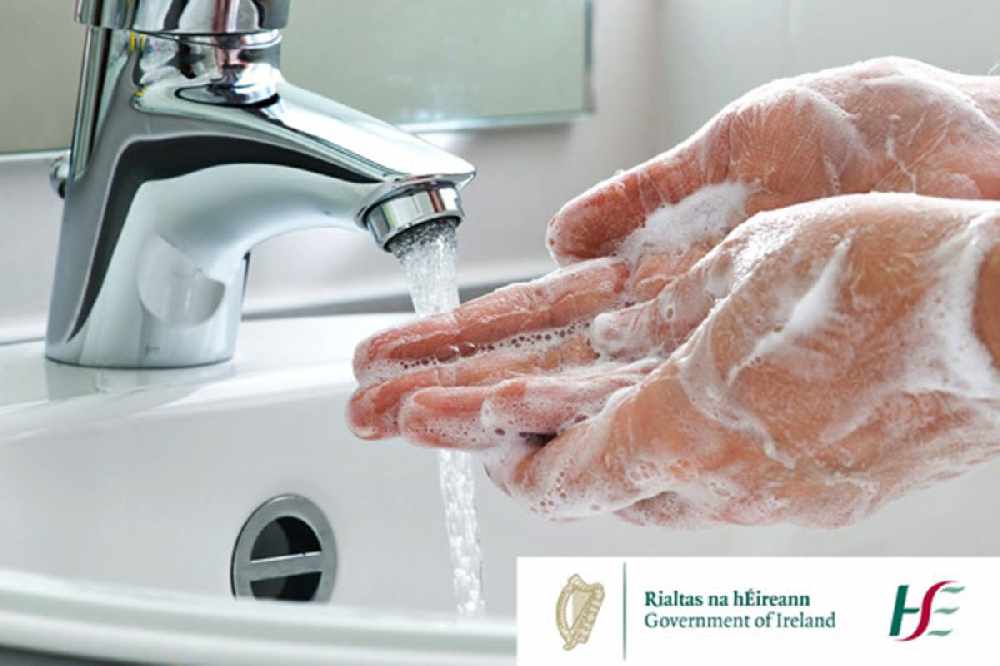 National news updates on Friday 22nd January 2021.
Latest Figures:
The Health Protection Surveillance Centre has today been notified of 52 additional deaths related to COVID-19.
50* of these deaths occurred in January.
The median age of those who died is 82 years and the age range is 39-99 years.
There has been a total of 2,870 COVID-19 related deaths in Ireland.
As of midnight, Thursday 21st January, the HPSC has been notified of 2,371 confirmed cases of COVID-19. There is now a total of 184,279** confirmed cases of COVID-19 in Ireland.
Of the cases notified today:
1,129 are men / 1,194 are women

57% are under 45 years of age

The median age is 40 years old

757 in Dublin, 237 in Cork, 154 in Waterford, 123 in Wexford, 114 in Louth, and the remaining 986 cases are spread across all other counties***.
As of 2pm today, 1,931 COVID-19 patients are hospitalised, of which 219 are in ICU. 78 additional hospitalisations in the past 24 hours.
Dr Tony Holohan, Chief Medical Officer said: "We know that the ongoing restrictions are very challenging for people but, through the hard work and sacrifice of the vast majority of people, we are starting to see the first signs of a lower prevalence of the disease in the population. Strictly adhering to the public health measures is the key to making real progress in terms of flattening the curve and lowering the current trends in our hospitals and ICUs.
"The 'COVID-19 find-test-trace-isolate' process is vital to our efforts. Our data is telling us that for a third of people, it's 4 days or more from the time they first experience symptoms of COVID-19 to the time they get tested. We all need to contact our GP as soon as symptoms occur, so we can trace our contacts and prevent further infections.
"This weekend, we need everyone to stay the course with hand washing, covering coughs, wearing face coverings and keeping a 2m distance. In order to take care of each other, we need all to stay at home, except for essential reasons, to minimise the spread of COVID-19 to ourselves and our loved ones."
The COVID-19 Dashboard provides up-to-date information on the key indicators of COVID-19 in the community.
ENDS//
*There are 2 deaths where the date of death is under investigation.
**Validation of data at the HPSC has resulted in the denotification of 14 confirmed cases. The figure of 184,279 confirmed cases reflects this.
***County data should be considered provisional as the national Computerised Infectious Disease Reporting System (CIDR) is a dynamic system and case details are continually being validated and updated.
Today's cases, 14-day incidence rate per 100,000 population and new cases in last 14 days (as of midnight 21 January 2021) (incidence rate based on Census 2016 county population)
County

Today's cases***

(to midnight 21Jan2021)

14-day incidence rate per 100,000 population (to 21Jan2021)

New Cases during last 14 days

(to 21Jan2021)

Ireland

2,371

1,017.1

48,433

Monaghan

90

1,974.4

1,212

Waterford

154

1,567.4

1,821

Louth

114

1,540.1

1,985

Wexford

123

1,529.5

2,290

Mayo

68

1,465.8

1,913

Carlow

31

1,461.4

832

Limerick

96

1,221.7

2,381

Dublin

757

1,087.1

14,647

Cork

237

1,002.8

5,444

Donegal

32

975.6

1,553

Galway

103

968.8

2,500

Cavan

30

962.2

733

Clare

35

914.0

1,086

Meath

96

892.6

1,741

Kilkenny

28

830.4

824

Tipperary

67

829.2

1,323

Kildare

95

782.0

1,740

Roscommon

6

773.1

499

Laois

17

763.9

647

Offaly

15

676.0

527

Wicklow

59

591.9

843

Kerry

35

580.2

857

Sligo

21

491.3

322

Westmeath

32

478.8

425

Longford

22

452.6

185

Leitrim

8

321.4

103
Remote working:
More than half of Irish business leaders say remote working has caused productivity to increase.
A new study from Expleo found that 53 percent are also worried about how the lack of face to face contact will impact on their teams.
While 12 percent are on the hunt for additional staff, and have increased their head count since the pandemic started.
Managing Director at Expleo, Phil Codd says companies have to balance remote working with the ability to disconnect:
House building:
The Central Bank is expecting 23 thousand fewer homes to be built between 2020 and 2022 due to the covid-19 pandemic.
It's also projecting that unemployment will rise to an average of 9.3 per cent this year.
Building sites have already been closed twice in order to tackle the spread of covid-19.
Central Bank Director of Economics and Statistics Mark Cassidy says this is having a significant impact on house completions:
England:
Everyone who tests positive for Covid-19 in England could automatically be given around 550 euro.
The Guardian newspaper says it's seen a document which shows UK ministers think it could help motivate people to quarantine.
A poll's found just one in four people there stick to isolation rules.
Variant:
The European Union say all member states need to check five percent of positive Covid-19 tests for different variants.
Currently Ireland is sequencing one percent.
European Commission President Ursula Von Der Leyen says the European Centre for Disease Control will help with capacity, if needed:
Northern Ireland:
Northern Ireland's First Minister has defended the extension of its fourth lockdown saying the war against Covid-19 isn't won.
The restrictions which were imposed on St Stephen's Day will now run until at least March 5th.
A review of the measures will take place on February 18th.
Arlene Foster says people in the North need to keep complying with public health measures:
Northern Ireland's Education Minister is calling for all teachers and school staff there to get priority vaccinations against Covid-19.
Speaking to the BBC, Peter Weir says he will talk with Ministers across the UK to try and achieve a UK-wide policy in getting students back to the classroom.
He also believes those who work with children who have special education needs should be very high up in the queue.
The North's Department of Health announced yesterday that over 166,000 vaccine doses have been administered there so far.
Our website is regularly updated with information on how the health service is responding to the global spread of #COVID19. It has daily update reports, partner resources and other sources of information here: https://t.co/ILzhIakjAF pic.twitter.com/TrDKbxE6ea

— HSE Ireland (@HSELive) January 22, 2021
Quarantine for travellers to Ireland:
The Transport Minister says the open border with Northern Ireland is the main reason the Government will not consider mandatory quarantine for people arriving into the country.
It comes as the European Union says Non-essential domestic and international travel should be "strongly discouraged".
It is proposing a more co-ordinated approach to travel restrictions across the bloc due to the emergence of Covid-19 variants.
Minister Eamon Ryan said the Government has approached Downing Street to look for cooperation on certain restrictions:
The Rural Independent Group has slammed the Government for it's 'juvenile' excuses for not imposing mandatory travel quarantine.
It says 33,000 foreign travellers arrive into the country a week, which will 'inevitably' carry more Covid cases into Ireland.
Similar systems are in place in other nations like Australia, South Korea, New Zealand and Canada.
The Group's leader, Deputy Mattie McGrath, says it makes a 'laughing stock' of the Irish public:
Public Health Specialist Professor Anthony Staines says introducing mandatory quarantine is key to preventing the reintroduction of the virus if Covid numbers are brought under control:
The Chief Medical Officer is criticising ads encouraging people to book summer holidays - describing them as not very responsible.
Ryanair have been running a campaign with the tagline "jab and go" as part of efforts to sell seats.
Dr Tony Holohan says he'd welcome "every possible deterrent" to stop people travelling in and out of Ireland - and urged people to do the responsible thing:
Bond:
The new James Bond film has been delayed AGAIN - because of Covid-19.
No Time to Die was originally meant to be released last April but we'll have to wait until the 8th of October to see it now.
It will be Daniel Craig's final outing as 007.
Schools:
An infectious disease expert says classes for children with special educational needs could reopen relatively safely.
The reopening was pushed back twice this month, after unions and the Department of Education failed to come to an agreement.
Many parents of children with special educational needs have reported regression due to the closure of schools.
Professor Sam McConkey of the Royal College of Surgeons says it would be safe to reopen the classes if they operate as bubbles:
The Higher Education Minister's urging all sides to 'dig deep' to find a solution to get special schools reopened.
He says engagement is taking place 'in good faith' between unions and the Department of Education.
He believes a lot of progress was made during the week.
Minister Simon Harris says the Education Minister Norma Foley will brief the cabinet on the latest situation next week:
However Dr Tony Holohan says transmission levels need to be reduced further to allow a full re-opening of schools:
EU travel rules:
The European Union is considering tougher travel restrictions to prevent the spread of Covid-19 variants across the bloc.
The Commission has said restrictions around travel across the EU should be co-ordinated, and allow for essential workers to cross borders freely.
It also wants more testing and sequencing for variants, saying there should be a check on 5 percent of all swabs - currently Ireland is checking around one percent.
Speaking last night, Commission President Ursula Von Der Leyen says they are proposing a 'dark red' zone within the bloc's traffic light travel system:
Hospital system:
The agreement between the HSE and the Private Hospitals allowed over 50,000 outpatient appointments to go ahead.
Over 54,000 non covid day cases can now go ahead, with almost 86,000 diagnostic tests.
Those are some of the figures a HSE representative will present to the Oireachtas Health Committee later.
People Before Profit TD and Committee member Gino Kenny says he will be asking how the system's coping:
Progress:
Health officials say the country has made "significant progress" in reducing the spread of Covid-19, but it's going to be tougher to keep up the level of compliance.
2,608 new cases confirmed last night along with 51 additional deaths.
The reproduction number, measuring the rate of infection to other people, is estimated at between 0.5 and 0.8.
The UK strain now accounts for over 60 per cent of recent cases here.
Professor Philip Nolan from NPHET's modelling advisory group says it could take a while for the numbers to come down: