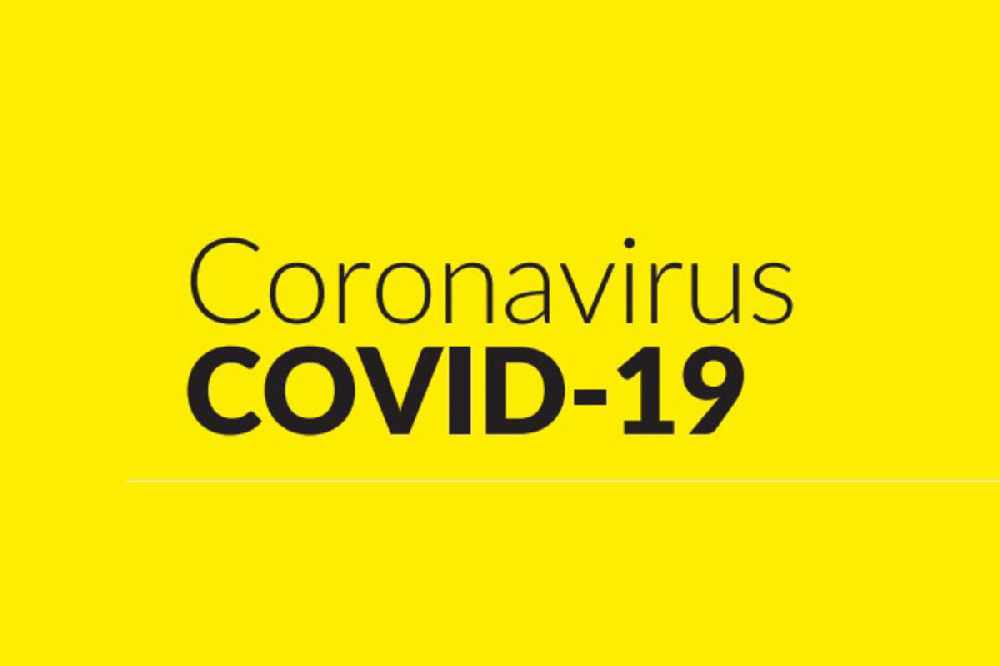 National news updates on Tuesday 16th February.
Latest figures:
The Health Protection Surveillance Centre has today been notified of 33 additional deaths related to COVID-19.
31 of these deaths occurred in February and 2 in January.
The median age of those who died was 81 years and the age range was 42-105 years.
There has been a total of 3,980* COVID-19 related deaths in Ireland.
As of midnight, Monday 15th February, the HPSC has been notified of 744 confirmed cases of COVID-19. There is now a total of 211,113** confirmed cases of COVID-19 in Ireland.
Of the cases notified today:
373 are male/ 366 are female

68% are under 45 years of age

The median age is 31 years old

301 in Dublin, 77 in Galway, 37 in Waterford, 36 in Offaly, 32 in Kildare and the remaining 261 cases are spread across all other counties.***
As of 8am today, 861 COVID-19 patients are hospitalised, of which 159 are in ICU. 51 additional hospitalisations in the past 24 hours.
As of 13th February, 268,551 doses of COVID-19 vaccine have been administered in Ireland:
176,926

people have received their first dose

91,625

people have received their second dose
The COVID-19 Dashboard provides up-to-date information on the key indicators of COVID-19 in the community including daily data on Ireland's COVID-19 Vaccination Programme.
*Validation of data at the HPSC has resulted in the denotification of 1 death. The figure of 3,980 deaths reflects this.
**Validation of data at the HPSC has resulted in the denotification of 33 confirmed cases. The figure of 211,113 confirmed cases reflects this.
***County data should be considered provisional as the national Computerised Infectious Disease Reporting System (CIDR) is a dynamic system and case details are continually being validated and updated.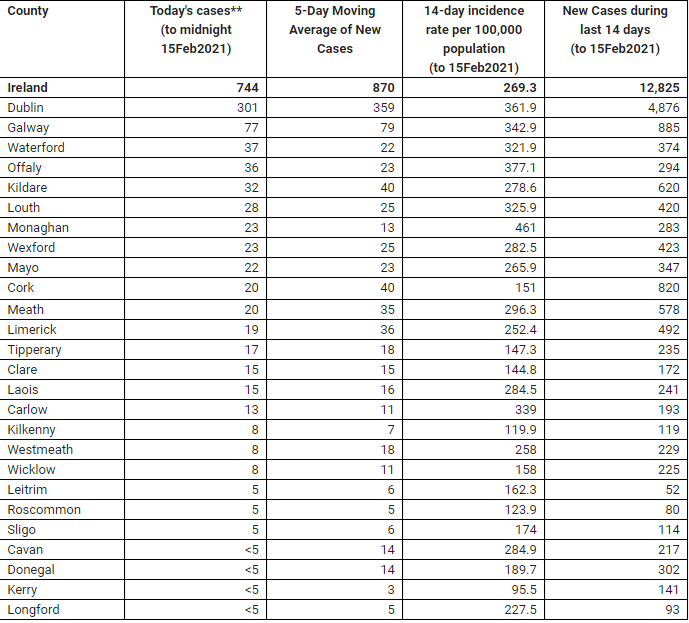 Scottish Measures:
Scotland's first minister will set out later how schools will begin to reopen next week after forced closures due to Covid-19.
Nicola Sturgeon's expected to confirm four to seven-year-olds will be back in classrooms after their mid-term break.
Some secondary pupils could also be allowed teaching time as part of a phased return.
NZ Measures:
The New Zealand Prime Minister says the decision to impose a fresh three-day lockdown was correct, as three cases of the UK variant have been detected there.
It's the third time Auckland has been placed under strict restrictions, while the rest of the country has less tight measures.
The lockdown is due to run until Wednesda - however it is unclear whether it will be extended.
Hotel Quarantine:
Legislation to allow for mandatory hotel quarantine for some people arriving into the country will go before the cabinet this morning.
Under the plans anyone arriving from a list of 20 countries deemed high risk will have to isolate at a state facility.
While plans for this had been announced a number of weeks ago the legislation has taken some time to draft and will be considered by Ministers later.
It will allow them to add countries to a list for mandatory quarantine.
People coming from those countries will have to quarantine for two weeks at their own expense in a state nominated hotel, which will be policed by private security.
It's expected the bill will be around 2,000 euro per adult for the stay.
At present 20 countries are on the high risk list including Brazil, South Africa, Austria, the UAE and many sub-Saharan African countries due to fears about new variants.
Hotel quarantine will also apply to people who arrive here without a negative PCR test and refuse to take one.
Cabinet is also expected to consider legislation that will increase fines for going on holiday from 500 euro to 2000 euro to clamp down on unnecessary journeys.
The cabinet will also be updated this morning on plans for this year's Leaving Cert, but no announcement is expected until later this week.
Forests:
Visitor numbers at the country's forests tripled after the pandemic started.
New figures from Coillte show that 2.2 million people took a trip to a forest between March 2020 and the end of the year.
It's an increase of 38 percent on 2019, with Dublin's forests the most popular ones in the country.
Coillte's Communications Manager Pat Neville says anyone heading out for a hike should still follow public health advice though:
Restrictions:
The Deputy Chief Medical Officer says people will likely have to avoid crowded areas for at least the next six months.
NPHET yesterday reported 821 new cases of the virus, but no new deaths.
Despite this, Dr Ronan Glynn says some significant restrictions will have to remain in place for the foreseeable future to continue to drive down cases: