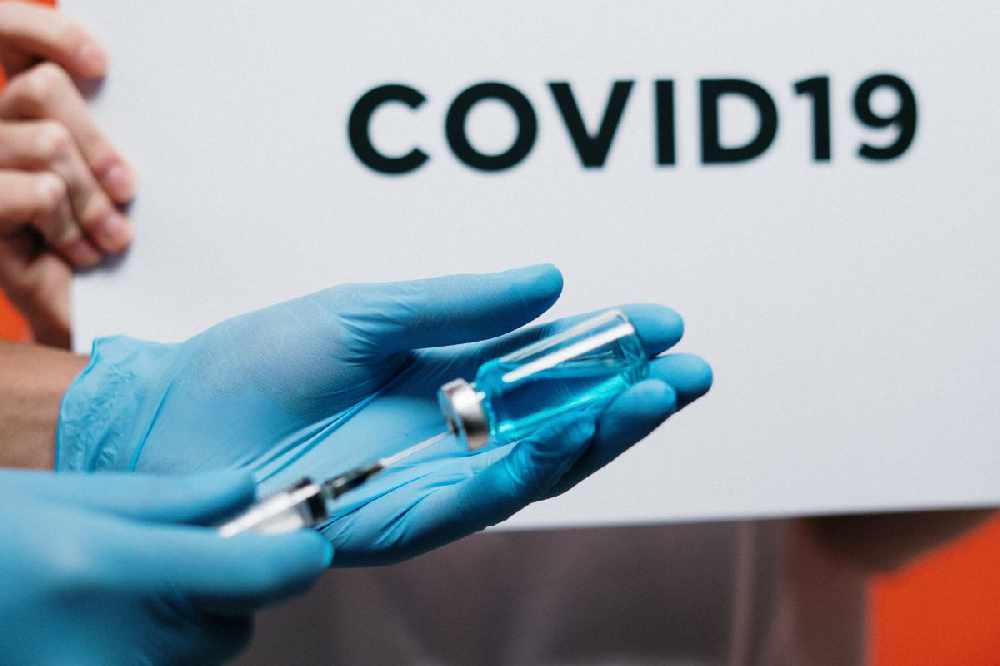 National news updates on Wednesday 3rd February.
Latest figures:
The Health Protection Surveillance Centre has today been notified of 25 additional deaths related to COVID-19.
5 deaths occurred in March,13 occurred in February and 6 in occurred January or earlier*.
There has been a total of 4,357** COVID-19 related deaths in Ireland.
As of midnight, Tuesday 2nd March, the HPSC has been notified of 566 confirmed cases of COVID-19. There is now a total of 221,189*** confirmed cases of COVID-19 in Ireland.
Of the cases notified today:
280 are men / 284 are female

68% are under 45 years of age

The median age is 34 years old

233 in Dublin, 37 in Kildare, 30 in Meath, 25 in Donegal, 24 in Westmeath and the remaining 217 cases are spread across all other counties****.
As of 8am today, 489 COVID-19 patients are hospitalised, of which 114 are in ICU. 29 additional hospitalisations in the past 24 hours.
As of 28th February, 439,782 doses of COVID-19 vaccine have been administered in Ireland:
• 297,899 people have received their first dose
• 141,883 people have received their second dose
The COVID-19 Dashboard provides up-to-date information on the key indicators of COVID-19 in the community including daily data on Ireland's COVID-19 Vaccination Programme.
Dr Ronan Glynn, Deputy Chief Medical Officer, Department of Health said: "Through the hard work and sacrifice of the vast majority of people, key disease indicators continue on a positive trajectory. However, we are still seeing outbreaks in the community, including those linked to extended families, workplaces and funerals. We need to keep up our guard against the B117 variant of COVID-19, which we know is dominant in Ireland at present and highly transmissible.
"Our willingness to stick with the public health advice in our daily routine has brought us the progress that we can see today. Together, through staying at home as much as possible, social distancing, hand washing and wearing face coverings, we can continue to drive down the spread of COVID-19."
*There is one death where the date of death is under investigation.
**Validation of data at the HPSC has resulted in the denotification of 1 death. The figure of 4,357 reflects this.
***Validation of data at the HPSC has resulted in the denotification of 7 confirmed cases. The figure of 221,189 confirmed cases reflects this.
****County data should be considered provisional as the national Computerised Infectious Disease Reporting System (CIDR) is a dynamic system and case details are continually being validated and updated.
Today's cases, 5-day moving average of new cases, 14-day incidence rate per 100,000 population and new cases in last 14 days (as of midnight 02 March 2021) (incidence rate based on Census 2016 county population)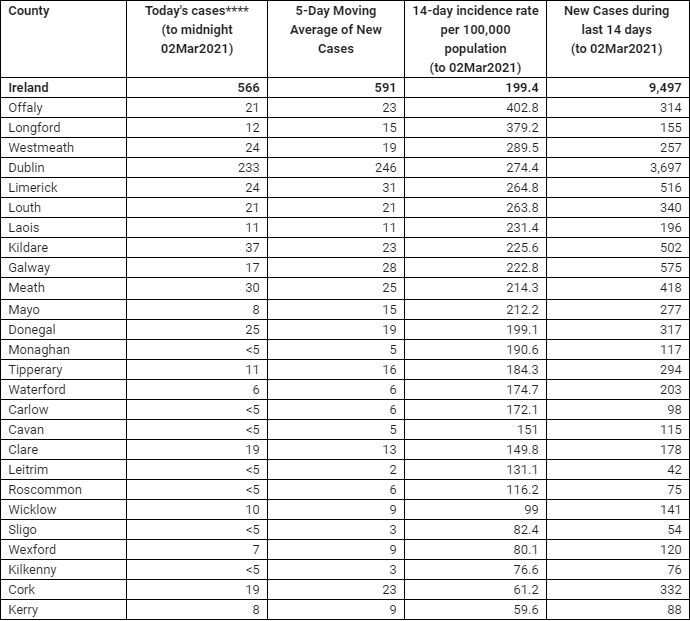 ~The 5-day moving average of the number of new cases provides an appropriate indicator of current daily case numbers within a county. It takes account of any validation of cases for previous days and smooths out daily/weekend fluctuations in case numbers.
7-day incidence 91.2

5-day moving average 591
North approach:
Northern Ireland will reopen click and collect services, as well as churches in its first step to lifting lockdown.
Strict Covid-19 restrictions have been in place there since December 26th.
A five-step plan was announced by the Stormont Executive yesterday with First Minister Arlene Foster describing it as cautious.
Public Health expert Professor Gabrial Scally says it's very strange that schools wasn't prioritised:
Incidence Rate:
Ireland's 14-day incidence rate has fallen to its lowest rate since Christmas.
It comes as 359 new infections have been reported - the lowest daily number of cases since mid-December.
14 additional deaths have also been recorded.
475 patients are receiving treatment in public hospitals, while the total in ICU is now 115.
Dr. David Nabarro, the World Health Organisation's special envoy on Covid-19, says the number of cases in Ireland is still concerning:
Vaccine:
Dolly Parton has received a dose of her own medicine after she received the Covid vaccine she helped to fund.
The country star has got her first dose of the Moderna injection, and is appealing to others to take one.
She says it would be a great first step to getting back to normality.
Dolly has adapted one of her hit songs to suit the occasion:
Research:
Researchers are going to look more closely at how patients with suppressed immune systems react to the Covid-19 vaccine.
The Medical Research Council will focus mostly on people with conditions like cancer and kidney disease - and those most at risk of complications from Covid.
Some scientists think the current injections may not be the most effective for people with underlying health conditions.
US Plan:
The US plan to have enough Covid-19 vaccines for every American adult by the end of May.
President Joe Biden made the announcement last night, accelerating his previous commitment of enough injections by the end of July.
Some are suggesting it could allow the US to begin donating vaccines to other countries by the summer.
US President Joe Biden outlined the timeline last night: