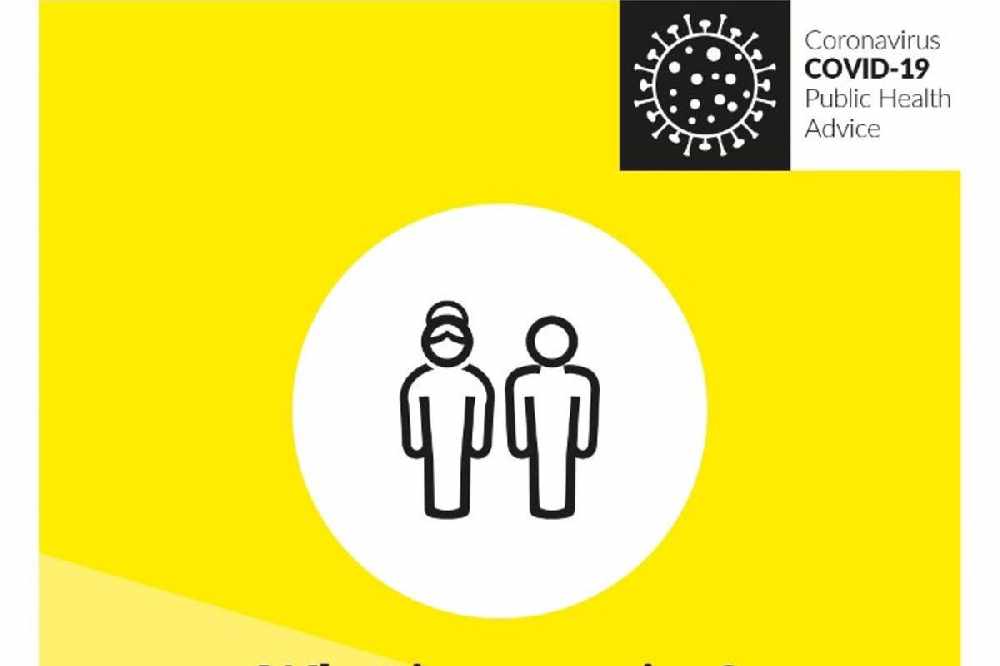 National news May 6th 2021.
Latest figures:
The Health Protection Surveillance Centre has today been notified of 8 additional deaths related to COVID-19.
Of the deaths notified today 3 occurred in May, 2 occurred in March and 3 occurred in February or earlier.
The median age of those who died was 79 years and the age range was 55 – 97 years.
There has been a total of 4,921* COVID-19 related deaths in Ireland.
As of midnight, Wednesday 5th May, the HPSC has been notified of 393 confirmed cases of COVID-19. There is now a total of 251,474** confirmed cases of COVID-19 in Ireland.
Of the cases notified today:
175 are men / 211 are women
79% are under 45 years of age
The median age is 28 years old
173 in Dublin, 42 in Cork, 34 in Kildare, 26 in Donegal, 15 in Meath and the remaining 103 cases are spread across 20 other counties***.
As of 8am today, 131 COVID-19 patients are hospitalised, of which 36 are in ICU. 16 additional hospitalisations in the past 24 hours.
As of Tuesday 4th May, 1,655,866 doses of COVID-19 vaccine have been administered in Ireland:
1,201,373 people have received their first dose
454,493 people have received their second dose
Dr Tony Holohan, Chief Medical Officer, Department of Health said: "We all want the easing of restrictions next week to be a significant turning point in this pandemic. We have worked so hard to reduce the spread of this disease. More than 30% of adults have now been vaccinated with one dose of COVID-19 vaccine in Ireland and it is time to feel hopeful and to start planning our summer.
"The choices we make now are vital to minimise the incidence of COVID-19 throughout May and June. Prioritise being outside and avoid crowds. Know the symptoms - self-isolate immediately and phone your GP if you have them. By protecting yourself, you are protecting everyone you know from infection."
The COVID-19 Dashboard provides up-to-date information on the key indicators of COVID-19 in the community including daily data on Ireland's COVID-19 Vaccination Programme.
* Validation of data at the HPSC has resulted in the denotification of 2 deaths. The figure of 4,921 confirmed deaths reflects this.
** Validation of data at the HPSC has resulted in the denotification of 6 confirmed case. The figure of 251,474 confirmed cases reflects this.
*** County data should be considered provisional as the national Computerised Infectious Disease Reporting System (CIDR) is a dynamic system and case details are continually being validated and updated.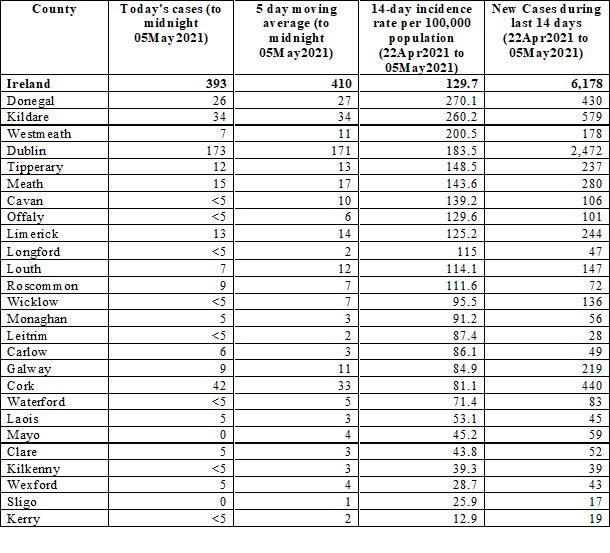 Vaccine:
A new study suggests two doses of the Pfizer Covid vaccine can provide more than 95 percent protection against infection, severe illness and death.
The research from Israel found a single dose offers 58 percent protection against infection.
Israel's leading the world in vaccinations with more than half of the population jabbed with two Pfizer doses.
J&J:
The Johnson and Johnson vaccine has been administered in public for the first time.
Homeless people in Dublin are the first to receive the one shot jab.
700 doses of the vaccine should be administered to homeless people by the end of next week.
Dr Austin O'Carroll is the HSE Clinical Lead for the Covid Homeless Response in Dublin.
He says the single shot vaccine is hugely beneficial for vulnerable groups.

India:
India's hit another grim milestone, recording 400-thousand daily confirmed Covid-19 cases for the second time since the surge began last month.
That pushes the total number of infections to more than 21 million.
As the health service struggles to cope with the number of patients, the demand for oxygen's increased seven times what it was last month.
Wedding:
The Pavee Point Traveller and Roma Centre says it's disappointed over 100 people attended a wedding in Longford.
They attended celebrations in a marquee in the town yesterday.
It's understood gardai spoke to the organisers of the event and made them aware of Covid 19 restrictions.
Martin Collins from the Pavee Point Traveller and Roma Centre says it's a worry.
Slower Recovery:
The Association of Irish Professional Conference Organisers is anticipating a second year without getting any business due to ongoing restrictions.
The body believes it could also be slower to return that most sectors, due to the reliance on business travel.
Nicola McGrane from the Association of Irish Professional Conference Organisers says they have faced a difficult year, that doesn't look like recovering until at least 2022:

Extra Holidays:
The Irish Nurses and Midwives Organisation says it's still awaiting a response from government on its claim for extra holidays for staff.
The union says it submitted a request for 10 additional days last November as workers are "exhausted" dealing with the pandemic.
The issue of compensation will be discussed at its annual conference, which kicks off today.
The two day online event will also hear calls for better supports for healthcare workers dealing with 'long covid'.
General Secretary of the INMO, Phil Ni Sheaghdha , says government needs to address the issue of extra annual leave:
Hospitalisation:
The number of Covid-19 patients in public hospitals is now at the joint lowest level in over seven months.
It dropped to 122 last night, and it hasn't been any lower since October 2nd.
37 Covid patients were in intensive care yesterday, the lowest this year.
Dr Shane McKeogh is from GP Buddy, which tracks calls to surgeries nationwide - he says doctors are still referring lots of patients for testing.
"On Track":
The Taoiseach insists the country remains 'on track' for the widespread easing of restrictions in the coming weeks.
Nationwide travel will be allowed from next Monday, while all retail outlets can fully reopen seven days later.
Micheál Martin also told his parliamentary party last night he wants to restore international travel as soon as it's safe to do so.
418 new cases of Covid-19 were reported yesterday and seven deaths.
Dr David Nabarro, from the World Health Organisation, is warning of a spike in cases as restrictions ease here.
Sputnik:
The Russian Ambassador to Ireland says his country's Covid-19 vaccine could be authorised for use here by mid-summer.
The European Medicines Agency's carrying out a review of the Sputnik jab - but a formal application for approval hasn't been lodged yet.
Russian Ambassador Yuriy Filatov says the Irish government hasn't made contact with Russia about rolling out the jab here.
But he's confident it will get EMA approval soon - giving Ireland access to a fifth injection.
Treats:
Almost half of parents say their children are eating more treats since the outbreak of Covid-19.
A similar number also admit they're finding it difficult to limit the amount their kids consume, according to new Safefood research.
It comes as new START campaign launches today to encourage parents to re-start healthier habits.
Safefood nutritionist, Joana DaSilva, says small changes can make a big difference: