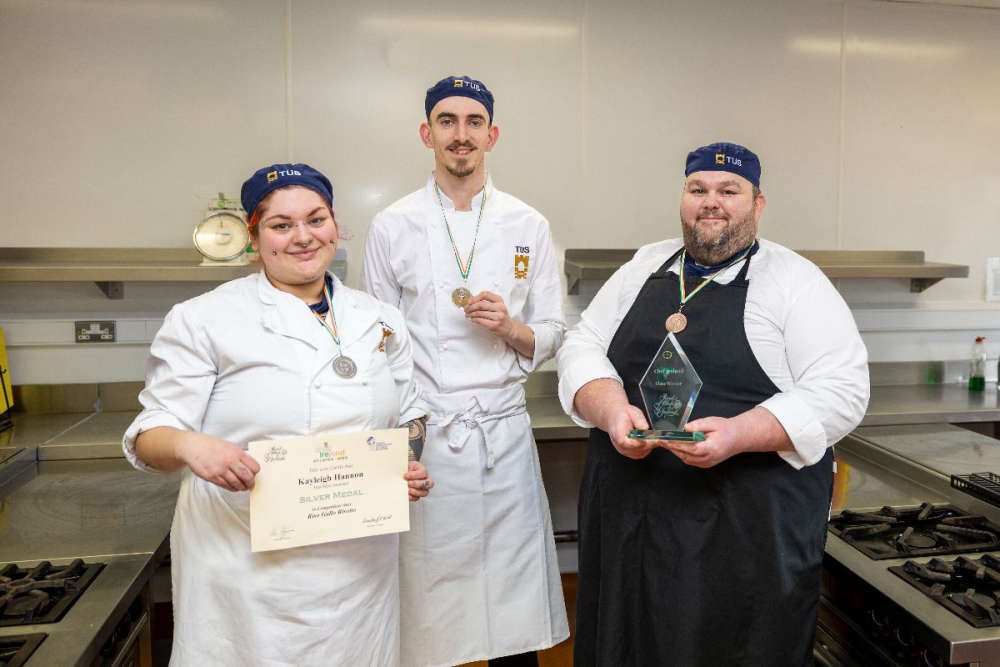 The student showcased their culinary talents at Ireland's largest foodservice and hospitality expo.
Midlands university students brought home gold and silver medals after a showcase at the Chef of Ireland competition in the RDS.
TUS students Martin Duffy, Liam Martin, and Kayleigh Jade Hannon competed against student chefs from across the country to win the coveted prizes.
Martin Duffy, who has 25 years culinary experience and is the head chef of the 4-star Athlone Springs Hotel, is now in his first year of a BA in Culinary Arts.
He went on to win gold in the Chocolate Sculpture category for his chocolate windmill sculpture, which he created as part of his Advanced Pastry module.
"It was a lot of work, a lot of preparation, but it was really, really worth it," he said, explaining that he'd put at least "150-200 hours" in behind the scenes preparing for his first ever culinary competition.
The Ferbane native, now living in Athlone, returned to education last year on a part-time basis to fulfil his dream of earning a degree and going on to become a culinary lecturer.
Culinary arts lecturer Kevin Ward, himself an award-winning chocolatier, mentored Martin throughout the competition process and called CATEX a hugely "positive experience" for the students.
"All of our students and their mentors have put in hours of work outside of class time in order to hone skills to a level required for international competition. This includes attending extra technical sessions in their discipline areas. Competitions like this give students an opportunity to experience the culinary practice far removed from the usual routine - giving students a chance to learn self-management, practice flexibility and build teamwork skills."
Liam Martin, currently in his second year of a Higher Certificate in Culinary Arts, also enjoyed huge success at this year's CATEX competition, claiming a silver medal for the second time in a matter of weeks with his contemporary take on Sole a la Polanaise.
The chef, who competed in the Fish category, also represented TUS on the national stage at the 25th Knorr Student Chef of the Year competition in Dundalk recently.
Talking about the benefits of getting that real-word experience before heading out into the hospitality industry, Liam said it's "absolutely crucial" for student chefs.
"You learn so much from doing these competitions. It's just a completely different experience, and I'd recommend anyone to do it," the Athlone native said.
Liam's mentor culinary lecturer John Killeen explained how partaking in competitions gives students a huge amount of confidence.
"Student chefs get the rare opportunity to experience being on a level playing field with more experienced peers, helping to give them a new level of confidence to take forward in their careers," he said.
"Just interacting with participants and the jury helps a student chef get their name out to industry professionals and helps them learn how to carry themselves as professionals while networking."
Kayleigh Hannon, from Roscommon town, is working as a chef in the Darkhorse Bar and Restaurant in Athlone and she is currently pursuing a Certificate in Culinary Arts at TUS via Springboard.
Kayleigh took home a silver medal for her unique sage-infused butternut squash prawn risotto.
On receiving the silver, she agreed it gave her great confidence and said aside from being "great fun", the competition "makes you see your own ability".
"It gives a clearer vision of what your strong points and weaker points are and what you can do to improve yourself," Kayleigh explained, adding that she's looking forward to heading back next year to try for the gold.

Department of Hospitality, Tourism and Leisure head Dr Emma Reardon said she was "thrilled" for the students' successes at the CATEX Chef of Ireland competition and congratulated staff who were "involved in this triumph".
"This exemplifies the Department of Hospitality, Tourism and Leisure's commitment to active learning, where students learn by doing. This hands-on approach to learning ensures TUS culinary graduates are among the most sought-after in the country with the relevant knowledge and skills employers are looking for."