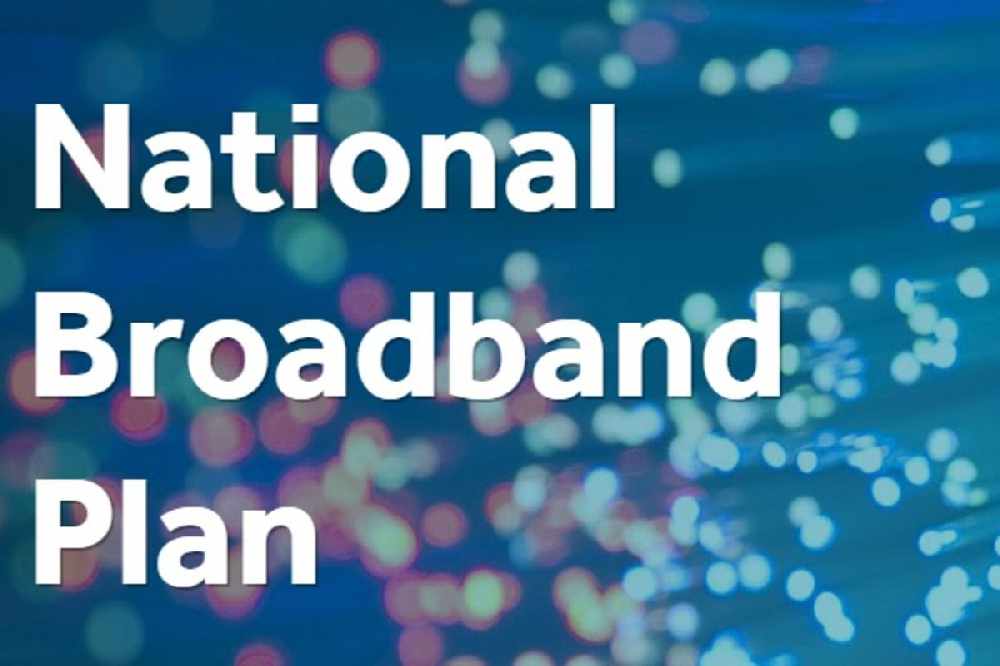 The Government signed the contract for the plan this morning.
There will be penalties if targets are not met in the rollout of the National Broadband Plan, according to the Communications Minister.
The Government signed the contract for the plan this morning, which will see 1.1 million people connected to high-speed broadband.
The roll-out of the plan will cost in the region of €3 billion - with €49m going to Laois to connect 12,385 premises, a further €48m will be used in Offaly to bring broadband to 12,108 buildings, while 11,631 premises will benefit in Westmeath from the €46m investment.
Communications Minister Richard Bruton says the Department will be monitoring their progress while it's being established:
Work on the project is set to begin in the next 8 weeks.
Niall Brennan Principal at Loughegar National School in Westmeath is hoping facilities like theirs will have access as a priority:
The Government has published a list of approximately 300 community centres, schools, library hubs and local GAA halls in every county that will be connected to high speed broadband during 2020, to enable communities to quickly get free public access to high speed broadband.
The Minister for Rural Affairs says a child in Belmullet, Co Mayo is as entitled to have broadband as the child in Blackrock Co Dublin.
Michael Ring made the remarks following the signing of the National Broadband Plan contract this morning.
Minister Michael Ring says rural communities are already paying a high price for not having access to it:
In Laois the locations are:
An Post, Bilboa Post Office, Ardough, Bilboa, Carlow, Co. Laois, R93WN35
Ballyadams National School, Ballyadams, Co. Laois, R14E225
Emo National School, Emo Park, Emo, Co. Laois, R32DX52
Gaelscoil An Tslí Dála, Ballaghmore, Borris-In-Ossory, Co. Laois, R32TN62
Heywood Community School, Heywood Demesne, Ballinakill, Co. Laois, R32FE04
Killadooley National School, Killadooley, Ballybrophy, Co. Laois, R32A726
Knock National School, Spink, Abbeyleix, Co. Laois, R32PT62
Rossmore Killeshin Development Association, Uisean Park, Rossmore, Carlow, Co. Laois, R93W825
Saint Mary's College, Knockbeg, Carlow, Co. Laois, R93RP78
Shanganamore National School, Shanganagh More, Barrowhouse, Co. Laois, R14K659
Vicarstown Community Hall, Mulen, Vicarstown, Co. Laois, R32RX67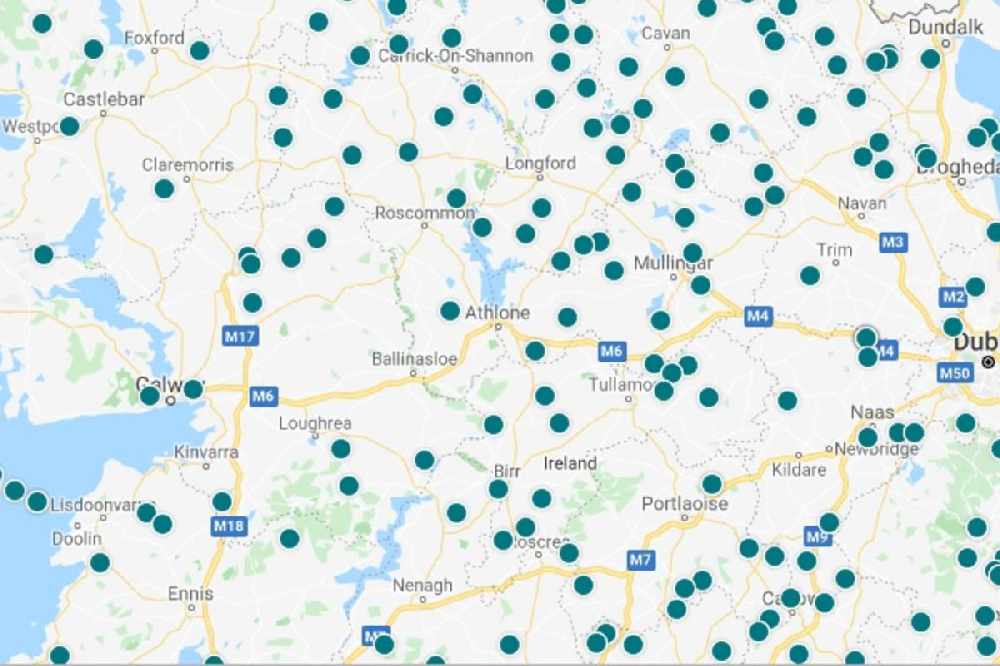 In Offaly the locations are:
Ballycommon Telework And Training Centre, Ballycommon, Co. Offaly, R35V124
Bord Na Móna, Lea Beg, Blueball, Co. Offaly, R35P304
Coolderry Community Hall, Coolderry, Birr, Co. Offaly, R42DH05
Croghan Community Hall, Cannakill, Croghan, Rhode, Co. Offaly, R35VR66
Kilclonfert Community Centre, Kilclonfert, Rhode, Co. Offaly, R35T684
Mountlucas Windfarm, Mountlucas, Daingean, Co. Offaly, R35RX00
Primo Coaches, Ballydaly, Ferbane, Co. Offaly, R42AX58
Seir Kieran Church, Bellhill, Clareen, Birr, Co. Offaly, R42KP60
Shannon Harbour, Co. Offaly, R42Y421
Shinrone National School, Roscrea Road, Shinrone, Birr, Co. Offaly, R42XE30
Today is a historic day for rural Ireland. The government are signing the National Broadband Contract, which will bring High-speed broadband to the 1.1M people across Ireland who can't get access #NationalBroadbandPlan #Ireland2040

— Richard Bruton (@RichardbrutonTD) November 19, 2019
In Westmeath the locations are:
Scoil Bhríde, Emper, Ballynacargy, Westmeath, N91 PP71
Milltown Emper Community Centre, Milltown Emper Community Centre, Sean Doolin Park, Westmeath, N91 VA06
The Downs National School, Greatdown, The Downs, Westmeath, N91 T229
Clonkill Hurling Club, Clonkill, Monilea, Westmeath, N91 HX78
Ringtown GAA Club, Whitehall Community Centre, Whitehall, Westmeath, N91 T85V
Streete Parish Park And Community Centre, Kilmore, Streete, Westmeath, N91 RC43
Dalystown National School, Dalystown, Mullingar, Westmeath, N91 W207
Moyvoughly Community Centre, Moyvoughly, Co. Westmeath, Westmeath, N37 FW50
Castledaly Community Centre, Kilcleagh, Castledaly, Westmeath, N37 YF54
Rahugh National School, Rahugh, Kilbeggan, Westmeath, N91 XF20
Saint Michael's National School, Castletown Lower, Finea, Westmeath, N91 FN29
Ballycomoyle GAA Club, Robinstown, Castlepollard, Westmeath, N91 VY92
An Taoiseach Leo Varadkar said: "Some people try to divide our country - urban v rural, east coast v west coast, Dublin v the rest of the country. The Government is all about bringing Ireland closer together, ensuring that all parts of the country benefit from our prosperity. That requires investment in roads, broadband, higher education and enterprise and it's happening. This contract means that every home, school, farm and business in Ireland will get access to high speed broadband. No part of the country will be left behind in securing the jobs and opportunities of the future. And as we know, the future is already here in our daily lives with online access offering ever more opportunities for living and working.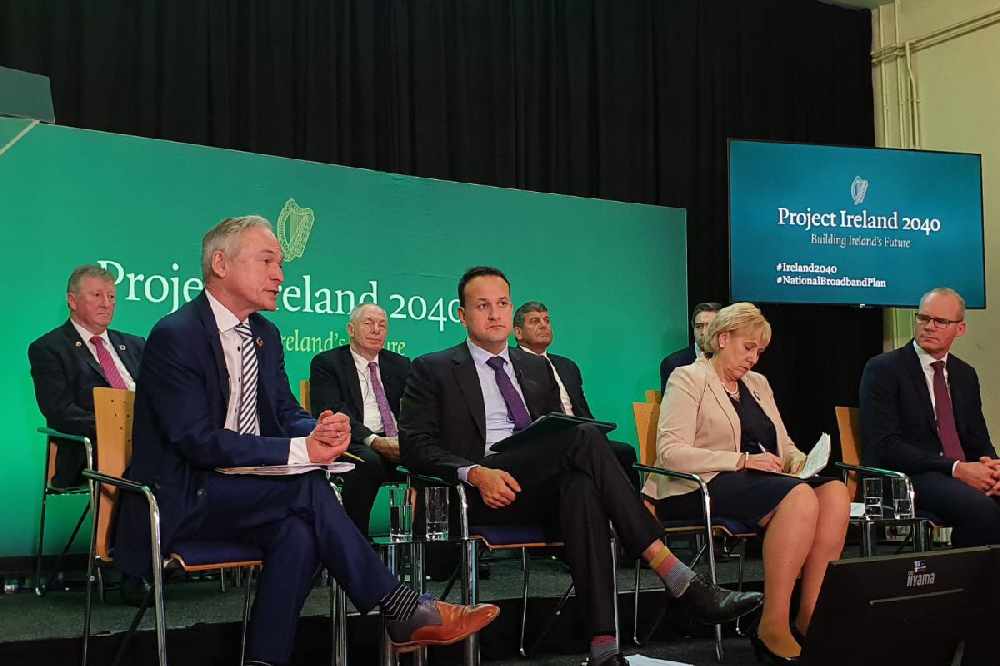 Photo credit: Twitter - @Dept_CCAE
Minister Bruton said: "Today is a historic day for rural Ireland. By guaranteeing high speed broadband for every home, business and farm in the country, we are ensuring no one is left behind. This will have a transformative impact on rural Ireland, opening up opportunities in enterprise, health, smart farming to name a few – high speed broadband is increasingly becoming a vital utility and today the government is securing access for every person in the country. Without high speed broadband it will be significantly more difficult to attract new jobs to rural areas and develop new enterprise opportunities and it will be more difficult to retain the jobs that currently exist in these areas. With high speed broadband, we can ensure that people in rural Ireland are able to take advantage of the opportunities that are presented by the digital economy, from health care to farming, and from education to agriculture, rural development and tourism. We will not leave rural Ireland and one quarter of our country behind.