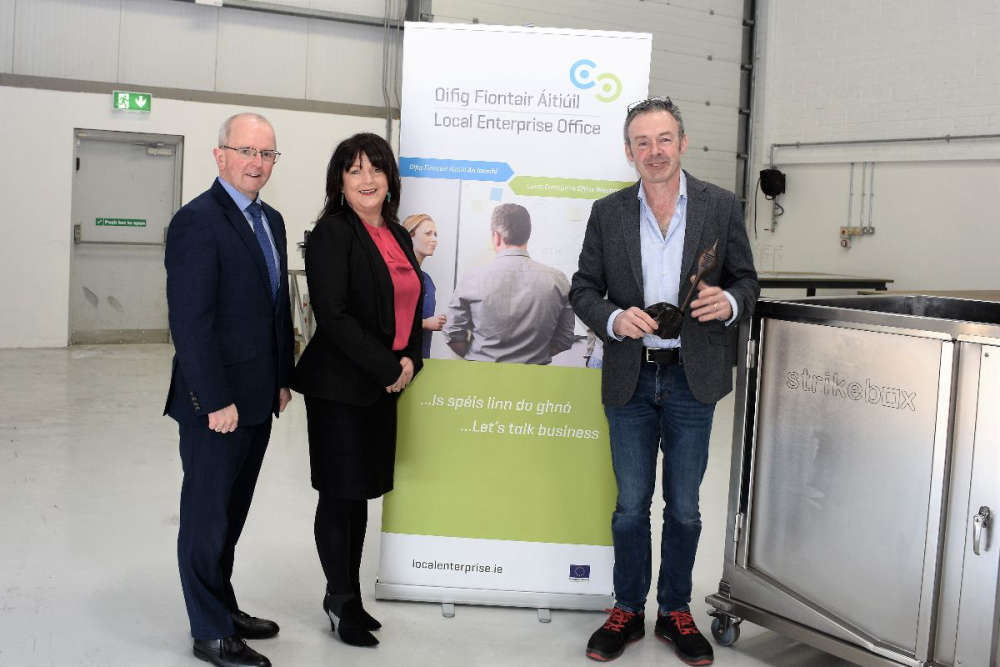 It comes with a prize of €3,000.
An engineering business from Mullingar is this year's winner of the Westmeath Enterprise Award for 2022, Local Enterprise Office Westmeath has announced.
Strikebox Engineering took the top prize of €3,000 and will now represent Local Enterprise Office Westmeath at the 22 nd National Enterprise Awards at the Mansion House in Dublin on the 2nd June.
John O'Reilly established Strikebox Engineering in late 2014, the focus of which is on the pharmaceutical /clean room sector producing high finished stainless-steel products such as chutes, hoppers, ducting and guarding. The business also focuses on the biotech, brewing, beverage, chemical, food, dairy and process sectors. In addition, the business offers CAD design services, prototyping, fabrication, fitting services and consultancy. Now employing eight people, the directors of the business are John & Maria O'Reilly.
Strikebox Engineering will now be competing against 30 other finalists from every local authority area for a share of the €35,000 winner's prize fund as national judging gets underway in May. Categories this year include 'Best Export Business,' 'Best Start-Up' and 'Innovation,' in addition to eight regional awards. There are also two new National Enterprise Awards this year with a "One to Watch" award and a "Sustainability / Green" award.
Companies from Westmeath have enjoyed success in the National Enterprise Awards in the past.
In 2021, Bevcraft Group, supported by Local Enterprise Office Westmeath, were named overall winners at this year's National Enterprise Awards. A mobile craft canning company, Bevcraft, who are headquartered at Mullingar Business Park, took home the top prize at the prestigious event – after facing stiff competition from 30 finalists nationwide. Established in 2016 by friends
Ciaran Gorman and Darren Fenton the company has gone from strength to strength. They now work with over 250 brands to can their produce using their mobile canning technology. They are operating across 5 European countries with two facilities in Ireland (Mullingar), two in the UK (Merseyside & Cambridgeshire) and one in Breda in the Netherlands.
In 2003, Grouse Lodge Recording Studio based in Rosemount won the National Title and subsequently went onto win the World Title. Grouse Lodge is a state of the art residential recording studio owned by Paddy and Claire Dunning. The Studio not only hosts recording and screening facilities but also up market accommodation and leisure facilities.
The Westmeath Enterprise Awards took place as part of a very successful Local Enterprise Week programme of events. There were over 220 physical and virtual events taking place across the country, run by the 31 Local Enterprise Offices from March 7th to 11th .
Speaking during Local Enterprise Week Christine Charlton, Head of Enterprise LEO with Local Enterprise Office Westmeath said:
"The National Enterprise Awards are a great barometer for what the Local Enterprise Offices are doing and every year the standard is getting better and better and we are delighted to have Strikebox Engineering representing us in the National Enterprise Awards final.
They are an extremely progressive company and we wish them well. It is great to see a local company do so well."