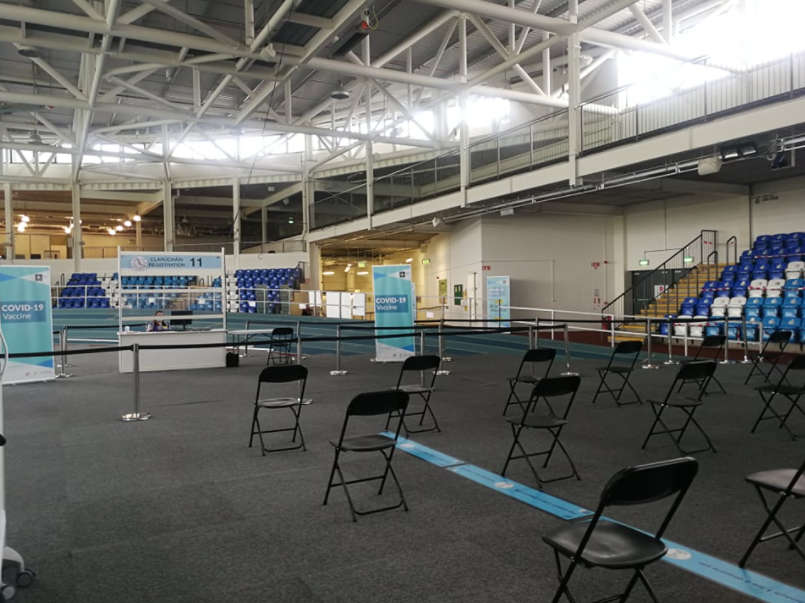 Students and staff, who haven't already received their vaccine, are invited to come forward.
The HSE has confirmed the details of a new pop-up vaccination centre at Athlone IT.
A walk-in clinic is opening in the college's Sports Arena this Wednesday from 10am to 4.30pm, to provide first and second doses of a covid vaccine.
The aim is to maximise vaccine uptake in those who have not yet availed of vaccination, including international students.
AIT Students' Union is encouraging students to avail of the service.
Susan Temple, Co-Ordinator of the Westmeath Vaccination Centre says;
"Our aim is to provide a visible and accessible site for any student who has not yet received a vaccination to attend our pop-up clinic to avail of a vaccine.
"We have made great progress with our community vaccination programme and we want to build on these gains and ensure our student population is vaccinated as the new term starts.
"We would like to thank the staff of AIT and the students' union for their help in establishing and promoting this important service for everyone at the college."
Dr Una Fallon, Director of HSE Public Health Midlands says;
"The bottom line is that vaccines are providing very effective protection from severe illness.
"Therefore, it is important that all of us receive our COVID-19 vaccine as soon as it is available to us. That way we can protect ourselves, our loved ones and our wider community.
"It is also important that we all continue to wear masks, observe hand and respiratory etiquette, ventilate inside spaces and practice social distancing.
"If you display cold or flu-like symptoms like cough, fever, headache, sore throat and blocked or runny nose, self-isolate immediately and arrange a PCR test through the HSE as soon as possible."
Áine Daly, President of the Technological University of the Shannon Midlands Midwest Students' Union says;
"The Students' Union is delighted for the pop-up centre to be available to our students on campus. Accessibility always presents as the largest barrier for students seeking out treatment for their health. Having this centre on campus, ensures students have easy access to vaccinations, which have accelerated us out of lockdowns endured throughout this pandemic.
"Our return to campus has only been achieved by everyone doing their part, by getting vaccinated, wearing their mask, and maintaining good hand hygiene to reduce the spread and keep everyone safe.
"We encourage the uptake with our students who may not have had the opportunity and are medically able to do so, to avail of this service and to thank them for doing their part in keeping our campus community safe."
What to bring:
If you have already registered online, bring photo ID that shows your date of birth.
· Your photo ID can be your:
· passport - book or card
· driving licence
· Public Services Card
· travel pass
· National Age Card - issued by the Gardaí
· school or college ID
· If your ID does not have your date of birth on it, then also bring a copy of your birth cert or some other documentation that has your date of birth.
If you have not registered online, we can register you at the walk-in clinic.
You will need your:
· Personal Public Service (PPS) number - if you have one
· Eircode
· mobile phone number
· email address
· photo ID that has your date of birth - this can be a passport, driving licence, Garda age card, school ID
More details on walk-in centres can be accessed here.