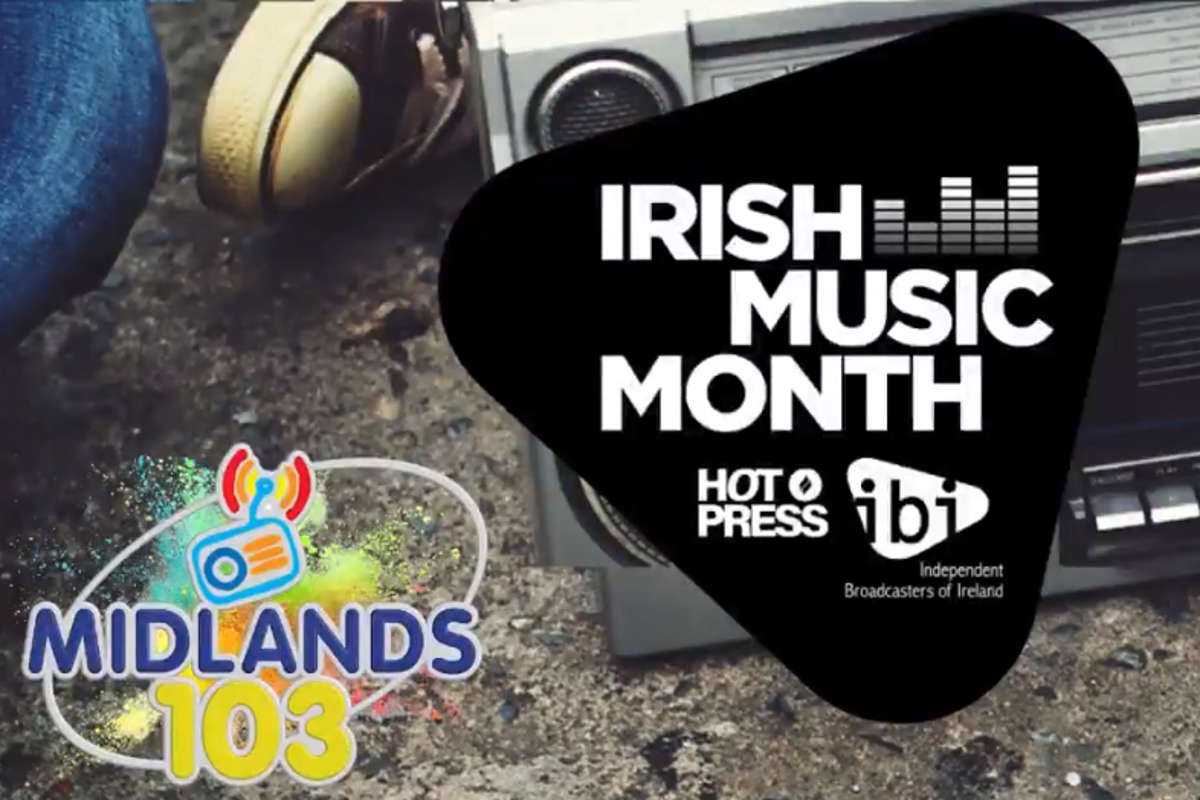 The new campaign will include increased radio play and free on-air advertising.
Midlands 103 is among 25 independent radio stations joining forces to promote homegrown talent this Irish Music Month.
A new initiative from Independent Broadcasters of Ireland and Hot Press will promote up-and-coming Irish artists throughout the month of October.
It'll involve a significant increase in radio play for Irish music and free on-air advertising.
A major national talent search is getting underway too, which will involve €100,000 going directly to Irish artists.
Midlands 103 Head of Music, Roy Jennings also has this request for you:
President Michael D. Higgins has also been voicing his support for Irish Music Month.
You can listen to his address here or see the full text below.
May I send my best wishes to all of those who are participating in, and supporting, Irish Music Month.
This initiative is the biggest ever co-operative action taken by independent radio stations in Ireland and as such it is genuinely historic. A major statement of support for Irish music from 25 independent Irish radio stations, working with Hot Press, and supported by the Broadcasting Authority of Ireland, it is to be welcomed with open arms.
The role and significance of music to life in Ireland cannot be over-stated. Irish musicians are among our most talented and best loved performers. They are also, as it happens, among the finest practitioners of their art in the world.
The popularity of our musicians, bands and performers extends far beyond Irish shores. Not only do these artists bring our rich musical tradition to countries across the globe, but they also ensure that this extraordinary living tradition – powerful and resonant in its own right – remains open to the influence and enrichment of other cultures, and of other artistic perspectives. This is how Irish music evolves, and develops, constantly reflecting, in this powerful dynamic, the changing society with which it engages.
As we begin to slowly emerge from the COVID-19 pandemic, which threw such a dark shadow across so many aspects of our lives, including the cultural, we will, I hope, be fuelled with a deeper appreciation of the invaluable contribution that the arts, and culture, make to our shared lives.
Along with all our artists, the musicians of Ireland offer to us, as a society, an enriching and often very beautiful and inspiring creative vision. But they do more, also challenging the status quo, in a way that is in itself courageous and liberating.
Throughout this difficult, most recent chapter of our shared lives, which endangered the cultural space, and the livelihoods of those who work within it, in a unique and troubling way, I have been greatly inspired by the many imaginative and inventive ways in which our artistic community has continued to forge a positive path, working at the daunting task of expressing the fears and the anxieties, as well as the hopes and the dreams of our people.
It has also been deeply encouraging to witness the generous and enthusiastic support from our citizens, which has been such a significant testament to the importance of artistic work during particularly challenging and worrying times.
Irish Music Month takes that testament on to the next level. It is yet another profound statement of the central role of culture in our lives; of the commitment of so many dedicated people within the artistic community to ensuring access to that culture; and of the support that is there for them from the media, which is so important to nurturing and encouraging our artistic talent.
I have no hesitation in saying that we owe a great debt of gratitude to every single one of the 25 independent radio stations, spread as they are around the country – and providing as they do a special connection to the citizens of this country and to music fans across all genres – for supporting this important event; and to Hot Press, who have made such a valuable, lasting contribution to Irish music across so many years.
I thank them, and all those involved in Irish Music Month, and wish you every success with this very valuable and imaginative initiative.
Gach rath ar an tógra samhlaíoch tábhachtach seo.
Go raibh míle maith agaibh go léir.