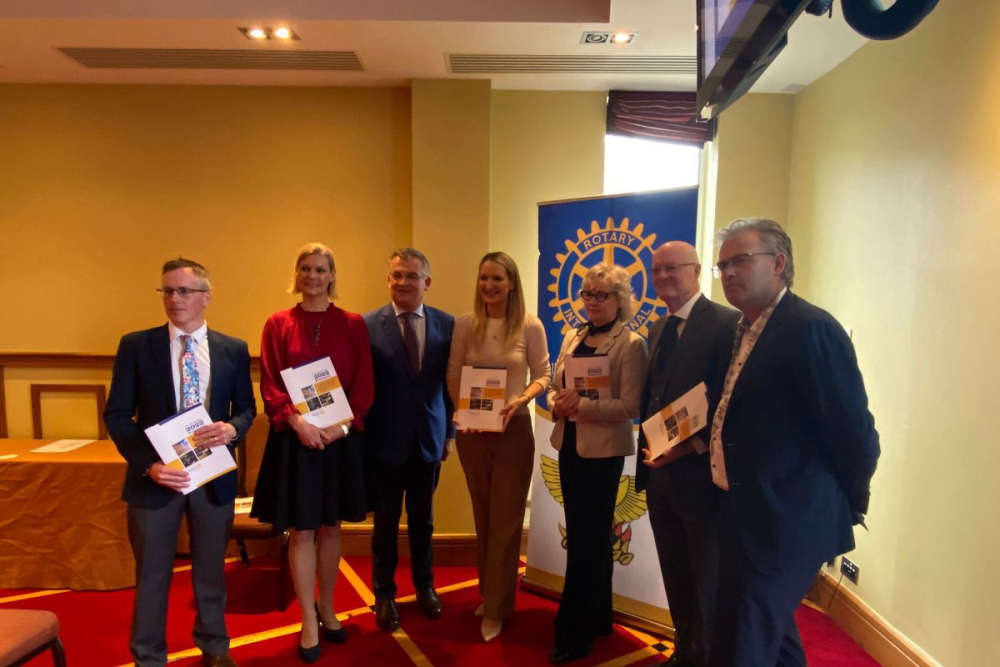 Submissions were made by 51 local organisations.
The Justice Minister has been presented with a response to the National Strategy on Domestic, Sexual and Gender Based violence by a midlands club.

Tullamore Rotary have gathered feedback from the local community for the strategy, and outlined the details to Helen McEntee in Tullamore yesterday.

Submissions were made by 51 local organisations, including sporting clubs, religious groups and law enforcement.
Minister McEntee has been speaking with Midlands 103's Kamron Clarke and says it's great to see such a comprehensive submission, representing thousands of people:
Club President Professor Eoin Sheehan says, "Our club recognises and acknowledges that there is a need for major change to ensure an end to incidences of domestic, sexual and gender based violence, and for a strategy that will be delivered quickly and effectively.
Committee Chair Ronan Berry says, "This response is a true representation of the voice of our community. Our community wants to be front and centre in ensuring that the third National Strategy on Domestic, Sexual and Gender Based Violence works and creates a safer society for women. Issues relating to gender based violence, in particular violent and aggressive behavior towards women, are unfortunately continuing to dominate news headlines on a daily basis. This strategy needs to be the sea change in attitudes and behaviours in Irish society."
This group's response calls for the establishment of a cross-Departmental High Level Implementation Committee. This approach will ensure effective delivery of the strategy by ensuring coordination between the myriad state bodies and groups focused on this critical area.
In addition, Tullamore is proposed as a pilot town for key initiatives agreed within the strategy. The response recognises that this issue cannot be solved by policy alone and dozens of groups in the town have agreed to participate in real ways, be it a community-based project or national awareness campaign.
We are deeply honored to have the Minister for Justice come to Tullamore to launch our submission. We are the only group to submit a community response to the draft strategy on DSGBV.
About the project:
Tullamore & District Rotary Club is committed to bringing about real change with regard to gender-based violence. In recent times the Club has become aware of the impact gender based violence has in our community, locally and nationally. There must be zero-tolernace of DSGBV and of unequal power relations resulting in coercive control and sexual violence, against women in particular.
Main findings:
These findings show strong support (70.6%) in favour of a blend of measures focused on prevention and protection. The view of the group is split as to whether the proposed strategy has the correct blend of actions currently, indicating how difficult this balance will be to find. Due to the importance of the issue, this group felt that an awareness campaign aimed at the broadest spread of target audiences is essential; however a focus on the next generation would be desirable and should be prioritised.
In the protection pillar, the outstanding finding was that more should be done for victims, both male and female, that come forward. This necessitates more training and resources for those involved in engaging with victims. This process must be streamlined and benchmarked so victims are dealt with sensitively and as a result, others are more likely to step forward.
In pillar 3, prosecution, there was strong agreement amongst groups with the majority agreeing that existing legislation around sexual violence and domestic violence is inadequate.
In summary, we see this strategy as a once in a generation opportunity for this generation to support the next generation. This is our chance to make society safer and more caring for people and we should take it.