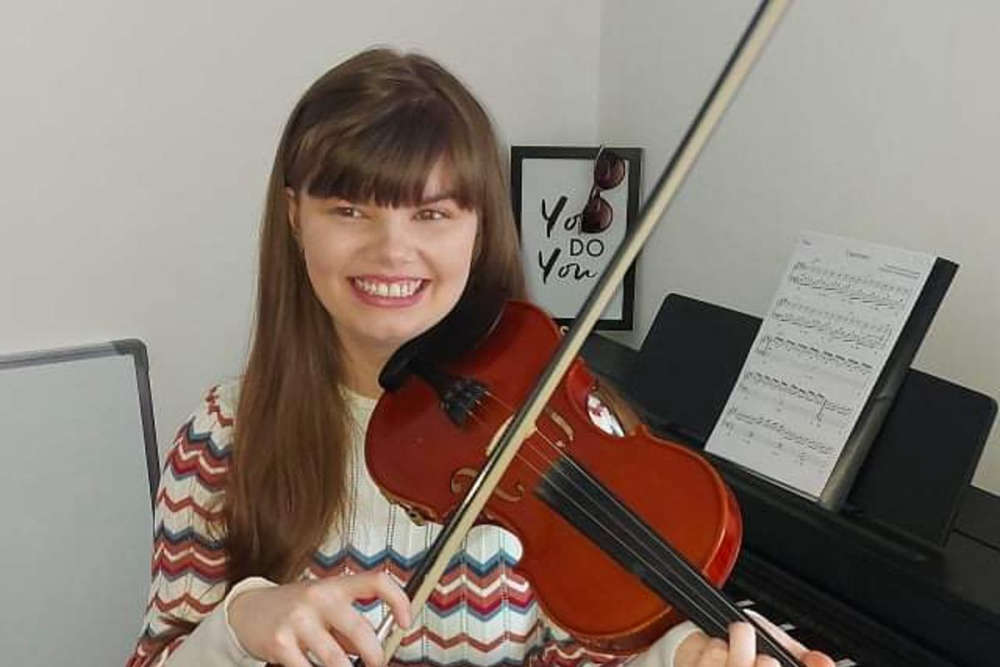 The winner will be announced next month.
An Offaly musician is in the running to land a prestigious title in April. Seventeen year-old Kimberley Delaney from Kilcormac has been announced as one of just ten finalists in this year's FIDDLER OF LONDON 2022 competition, the final of which will take place in the English capital on April 2nd.
Revealing the news on their official Facebook page on March 1st, the Fiddler of London 2022 competition said, "We are delighted to announce our tenth finalist in the Fiddler of London 2022. Congratulations Kimberley, we're looking forward to meeting you in London."
The competition, which is named in honour of the late Justin Whelehan, was open to entries from all around the world and of all ages. Now in its second year, the 2021 event took place online. However, twelve months on and with a largely vaccinated world now in a safer place far as the pandemic is concerned, Kimberley will be taking to the stage in person on Saturday, April 2nd, for the Fiddler of London 2022 Live Gala Final at the Irish Cultural Centre in London where she'll perform two different selections of tunes.
Adjudicators Mike McGoldrick and Dezi Donnelly will choose the winner of the title on the night with the new Fiddler of London receiving the bronze perpetual sculpture Children of Lir, plus a Supreme polycarbonate Panther series Bam fiddle case. This year's winner will also record an album with Mike McGoldrick as producer.
Kimberley is a sixth-year student at Colaiste Naomh Cormac and her selection as a finalist for an event of this stature - one supported by both the government of Ireland and the mayor of London - will come as no surprise to those familiar with Offaly's rich and vibrant traditional music scene. A multi-instrumentalist, Kimberley is as much at home on the banjo, the button-accordion, the piano or the tin-whistle as she is on her beloved fiddle, something that's practically been an extension of herself since she first started learning it at the age of five.
A member of Ballyboy Comhaltas Ceoltoiri Eireann (CCE) Kimberley also teaches fiddle in Rahan CCE. Speaking of her surprise and delight at being selected to perform at the Gala Final, Kimberley revealed that when she first spoke to the event's executive director, she found it almost impossible to believe what she was being told...
"We had to submit an online application form and videos of ourselves performing four tunes. But when I was doing that, you see, the site crashed, because so many people were trying to enter. So I contacted them - the Fiddler of London organisation - on Instagram, and I was able to send them the videos that way, but the application form still wouldn't go through. What happened next, a few weeks later, was that someone I knew called me and gave me a number that they said I had to ring. I had an idea that it might be to do with the Fiddler of London, but I thought it was going to be about the application form not working, so maybe they needed some information from me. But when I rang the number, it was actually Eilish Byrne-Whelehan, the executive director, and she said, 'Congratulations, you're a finalist!' I was stunned. I just couldn't believe it, I really couldn't. I had to ask Eilish if she was really sure, and she said she was. So yeah, I was definitely stunned, but delighted too, of course."
Kimberley was a student - and then a friend - of the late Ashling Murphy for eight years, and is very clear about the hugely positive and influential role Ashling had in her life.
"I remember the first time I saw Ashling play the fiddle when I was only about eight years old, I think, and I was convinced she was a star! I thought she just had to be someone famous. Everything about her that day, from how she played to how she looked and acted, I was just in awe. I even made my mam go up and get Ashling's autograph for me, on the back of a cigarette box! A little while after that, my mam told me to grab my fiddle one day because we were going for a drive. I didn't think anything of it because we were always heading off somewhere to play music. But when we walked into Ashling's house and mam said to me, 'This is your new fiddle teacher', I could hardly speak!"
Kimberley continued, "I thought Ashling was a star when I saw her first, but she actually became a real-life hero to me as I got to know her over the next eight years. She was like a big sister to me, but with the perfect fiddle teacher built-in too. She had so much patience and was always so kind, and she could give you advice about anything. She was like that with everyone. In my mind, no-one will ever be able to play like she could, but I try to be the same kind of teacher for others that she was for me. That's how I can honour her memory. I'll always think of Ashling when I play, and I'll always want to feel like I'm making her proud of me."
Regardless of how things turn out in London in April, Kimberley can rest assured that she's already made her family, friends, school, her wider musical family - and, we're sure, Ashling too - more than proud of her incredible list of achievements to date in her seventeen years. That list includes several Fleadh Cheoil appearances (both as a soloist and as a part of a group), including as part of the Grupa Cheoil collective that Ashling Murphy and her sister Amy guided to a 2nd place finish at the 2018 All-Ireland Fleadh. Kimberley was also awarded two scholarships before taking part in the 2019 Fleadh in Drogheda.
As impressive as that list already reads, there's still more to add in order to paint the fullest possible picture of Kimberley's talent. Among several that are noteworthy are appearances on Fleadh TV and TG4 as a member of the group Spreach (Spark) following a week at the Meitheal Irish Trad Music Summer School, and another appearance at the Irish World Academy in Limerick. Moreover, and as importantly as anything already mentioned, if not more so, when it comes to revealing the kind of person - and the kind person - that Kimberley is, is the fact that she's a familiar face at charity events of all kinds and in many local nursing homes as well.
Kimberley, should she win the Fiddler of London title, will be named Fiddler in Residence for the Irish Community and will be invited to perform at a number of high-profile events in the UK and Ireland during her year in office.