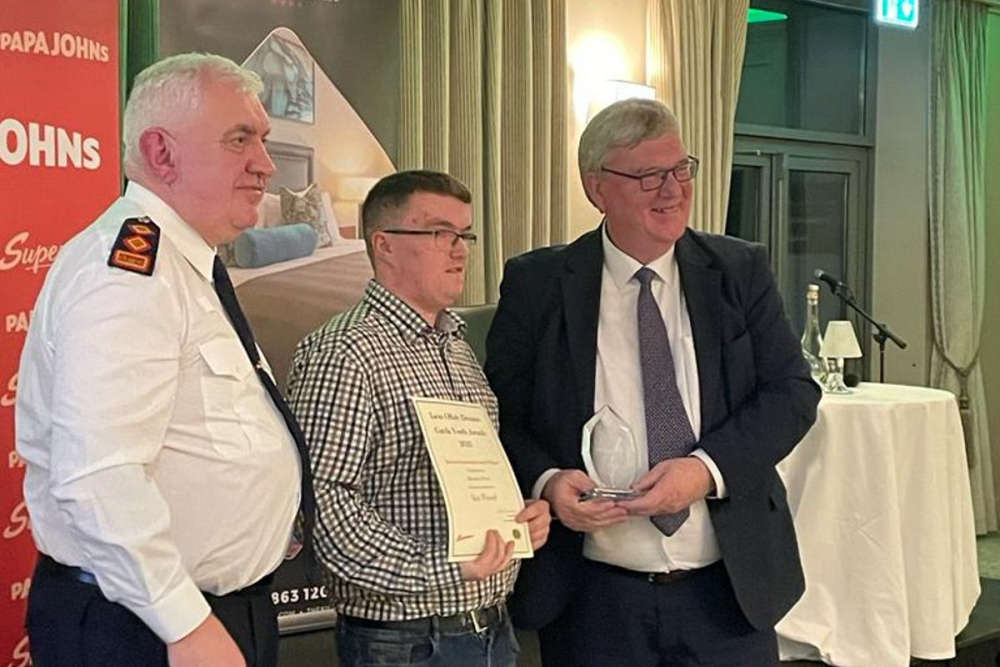 15 people and groups were recognised at the awards yesterday.
It was an emotional evening in Portlaoise last night, as 15 awards were handed out to young people for their contribution to society at the Laois Offaly Garda Youth Awards.
Those gathered in the Killeshin Hotel heard the heart -breaking and inspiring stories of those being recognised.
Ashraf Mohammed Suileann from St. Mary's CBS was awarded for his bravery after he was kidnapped and held hostage in Somalia.
He managed to escape and spent the next 18 months travelling to Ireland before settling into school in Portlaoise.
An Offaly teenager's quick actions were also commended, when his mum suffered a heart attack, while driving him to school.
Ian Flood, was just 15, when he had to grab the wheel and bring the car under control.
A passing motorist stopped to assist him with CPR but sadly his mother passed away.
He's been sharing his story with Midlands 103's Sinéad Hubble:
Inspector at Portlaoise Garda Station, Jane Ryan, says she heard very inspiring stories last night:
Sophie, Sophia and Rebecca were recognised for their Tidy Towns efforts in Mountmellick - they explain how they got interested in the intiative:
Hollie and Tiernan Donnelly from Kilcormac received the Special Achievement award for caring for their younger brother Henry, who has Down Syndrome.
They talked about some of the ways they look after Henry:
15 prestigious awards were presented on the night in three categories.
The Individual Award winners were:
1. Ailís Malone, Banagher College
2. Holly Ogilive, Laois Kayak and Canoe Club
3. Seán Ryan, St Mary's CBS Portlaoise
4. Eric Grimes, Tullamore College
The Group Award winners were:
1. Teen Group Mountmellick Tidy Towns
2. Video Vibers, the Acorn Project, Edenderry, Co. Offaly
3. Shinrone Youth Initiative
4. Tony McInerney & Dolly Nevin, Laois Traveller Action Group
5. All Inclusive Sports - St Mary's CBS Portlaoise, Portlaoise Panthers & Portlaoise AFC
The Special Achievement winners were
1. Ian Flood, Clonbullogue, Co Offaly
2. Hamid Hossini, St. Brendan's Community School, Birr
3. Chloe Kerry, Foróige Portlaoise
4. Moira Scott, Gallen Community School, Co. Offaly
5. Ashrah Mohammed Sulienan, St Mary's CBS Portlaoise
6. Holly & Tiernan Donnolly, Youthwork Ireland Midlands

This year's awards were presented by Chief Superintendent John Scanlon, Laois Offaly and Kildare Garda Division, Superintendent Eamonn Curley, Portlaoise District, Superintendent John Lawless Tullamore District and Inspector Alan Kerin, Birr District along with Mr Pat McDonagh of Supermacs and the Só Hotel Group.
Also attending on the night were members of the Garda Youth Awards Committee and the Judging Panel - Stephen Grant of Grant Engineering, Caroline Hofman CEO Laois Chamber of Commerce, Philip Peake General Manager of The Killeshin Hotel and Inspector Jane Ryan, Portlaoise.
The guest speaker was the truly inspirational Aisling Donoher, Laois Ladies Football star and mum to Little Blue Hero, Dan. Aisling and her husband Niall are the driving force behind the #DoItForDan campaign. Dan who will turn 4 next week has been diagnosed with Spinal Muscular Atrophy, a rare neuromuscular disease, which causes muscles to weaken over time. Aisling spoke about how her passion for sport has helped her through difficult times and how it has instilled qualities such as leadership and discipline.
A special presentation was also made by Deputy Commissioner Anne Marie McMahon to Pat McDonagh and his siblings John Joe, Lilly, Mary and Angela who accepted a Garda centenary commemorative medal on behalf of their late father John McDonagh, who joined An Garda Síochána in 1931 and served as a Garda for over 40 years at various stations throughout the country, including Banagher and Rahan Garda Stations in the Laois Offaly Division.
Musical entertainment was provided by John Gorman from Edenderry, a singer songwriter who performed a number of his own songs. John is a member of the Video Vibers Group who received an award earlier in the night. The ceremony concluded with beautiful traditional music provided by the The Portlaoise Branch of Comhaltas Ceoltóirí Éireann.
Ian Flood is our Special Achievement award winner nominated by his aunt Margaret Flood from Clonbullogue Co. Offaly.
On the 7th of January 2020 Ian then aged fifteen years was a front seat passenger being driven to school by his mother Julia. It was the first day back following the school Christmas holidays. While enroute the car veered over to the wrong side of the road. Ian shouted at his mum but she was unresponsive. Ian somehow managed to bring the car over to the correct side of the road and bring it to a stop. It was a very dangerous part of the road way, narrow with no hard shoulder and bends on approach from both directions. Having stopped the car Ian immediately sought help for his mother. Ian got the attention of a number of motorists and the emergency services were contacted. He then assisted one motorist carry his mother from the car to perform CPR. At the time Julia was going into cardiac arrest and a short time later sadly passed away. During that tragic morning Ian at 15 years of age showed great courage and maturity when dealing with this unexpected traumatic situation. Ian's immediate quick actions may have prevented a traffic collision or traffic collisions on this busy and dangerous section of roadway. Ian has since spoken on the importance of staying calm and composed when in difficult situations, he also believes that it is crucial that young drivers and passengers are educated on the dangers and risks while driving on roadways and on farms. He believes this along with CPR training should be introduced into our post primary schools curriculum. Since his mother passed away Ian has shown great maturity and initiative in his actions and can immediately assume a leadership role when the need arises. Ian's mum was his role model and he now follows in her foot steps by inspiring and motivating his family, friends and all in his community.
Eric Grimes is a winner in our individual award category nominated by Ms. Beatrice Quirke Deputy Principal of Tullamore College
He is a fifth year student at Tullamore College and is an active member of Offaly Comhairle na Nóg. He has represented this organisation at different events from speaking to local council representatives on issues which affect the youth in the community to leading workshops with Comhairle na Nóg youth workers in Tullamore College. He was invited by Trinity College Social Economics Department and has spoken to third level students about the work of Comhairle na Nóg in Offaly. Eric was a leader in the Transition Year 'Coast to Coast Tandem Cycle' in aid of Offaly Hospice. He helped to train fellow students during his lunchtime and while other student's cycled different legs of the journey from Galway to Dublin Eric cycled the full 210km over the two days and cycled alongside his classmates and encouraged them. He is also secretary of the Student's Council in Tullamore College and has led the Christmas food appeal in aid of Tullamore St. Vincent de Paul. As part of his role on the student's council he has given presentations to all first years on Internet Safety highlighting the risks and consequences of being online. He is also currently involved in developing a mentoring programme for 5th year students which will look at providing support for incoming first years as they make the transition from primary to post primary which will be of huge benefit to students. Eric is a leader and admired by all known to him for his friendliness and caring nature, an excellent young role model from Tullamore College.
Ailis Malone is an individual Award Winner who was nominated by her Teacher Kathleen Gleeson of Banagher College. Ailis was born with Down syndrome, however she did not let her disability hinder her from being one of the most inspiring and influential young woman you could meet. Ailis is on the Youth Advisory Panel known as YAP with the Ombudsman for Children since 2010. YAP works on the United Nation Convention on the rights of the child. Ailis spent a year and a half learning about the United Nations Convention on the Rights of the child. YAP created a survey for the children of Ireland to give information on how they understand their rights. 5,700 young people were heard from and a report was created and titled "Pieces of Us". This report was brought to Geneva and Ailis introduced the members of YAP and other speakers before the United Nations Committee. Ailis has said she is proud to be a member of YAP and it has given her more confidence to use her voice to work for the rights of Children. Following on from this Ailis has spoken amongst her peers explaining her role and her work on YAP. Ailis has also launched a Directory, called Inclusion Ireland which is a Guide to Services & Supports for Children with Disabilities in Laois and Offaly. It was launched at Tullamore Library, and Ailis spoke of the value of having such supports in her life. Ailis is an exceptional role model to her peers. She not only raises awareness for inclusion but she is also actively involved herself, she was a dance leader at the "Beyond Limits" events in Limerick and Sligo in 2022. Ailis is a fun loving young woman and she has shown what she can accomplish, rather than focusing on her disability she chooses to focus on her abilities. Ailis is an inspirational young woman who is both celebrated and loved amongst her friends and family.
Holly and Tiernan Donnelly are Special Achievement Award winners nominated by Martina Shorthall of Youthwork Ireland Midlands. They are from Kilcormac, Co. Offaly and they both attend The Young Carers Group at Tullamore Youth Project. Holly and Tiernan are young carers to their younger sibling Henry who has complex needs and requires a lot of support and care by family members. Holly along with Tiernan carry out many household chores between cleaning and cooking alongside attending school and social groups and are a great support for each other in doing this. Holly and Tiernan are remarkable young people whose personalities shine through and reflect positively among their peers in their young carer's group. Despite having to face many responsibilities at home caring for a sibling they continue to be upbeat and cheerful in everything they do in their lives while remaining devoted and dedicated to their family. Their parents are also instrumental in ensuring that they lead their own independent lives too. Holly has inspired many young people in her life and young people look up to her and listen to her advice. Holly's presence in the young carer's group sends a friendly caring and inspiring energy to everyone around her. She proudly wears her young carer's badge. Tiernan is also an exceptional young man whose personality is warm and friendly and along with his contagious laugh make the young people in his group gravitate towards him. Tiernan's good nature and behaviour has a positive energy to motivate other young carer's in his group. Both Holly and Tiernan are to be greatly admired for the love and support they give to their brother Henry whilst balancing this with leading their own individual active lives.
Video Vibers are the Group Award winners, nominated by Kevin Farrell of Youthwork Midlands and from The Acorn Project, Edenderry, Co. Offaly. In the midst of the COVID-19 pandemic in June 2020, these young people overcame their reservations to create a powerful video message of courage and hope. Despite their own struggles, they chose to offer support to others and speak out about their emotional wellbeing. Their bravery in telling their stories has inspired many other young people across the country to do the same. By sharing their experiences, they have shown that it is okay to struggle and to seek help. They have become advocates for youth emotional health and their video is a true representation of what it is to be selfless. The seven members of Video Vibers, aged 14 to 17 years old, attend The Acorn Project in Edenderry, which provides alternative education, sports and work experience. They meet four times a week and have dedicated nine months of hard work to enhance their local community during which time they created their inspiring video message. Their achievement is more remarkable considering they were initially hesitant to speak in front of each other, let alone be filmed. However, their dedication and perseverance have paid off, and their message is possibly lifesaving for young people struggling with emotional wellbeing. In short, Video Vibers have become agents of positivity, overcoming their doubts to offer hope and support to others. Their message has had a vibrant and lasting impact, both locally and nationally. Therefore, it is with great pleasure that I present the Group Award to Video Vibers, who have become an inspiration to us all. Congratulations to each and every member for their remarkable achievement.
Mountmellick Tidy Towns Teen Group are our Group award winners who were nominated by Barbara Lawlor of Mountmellick Tidy Towns. The group comprises of Sophie Gorman, Rebecca Gorman and Sophia Fallon who have all been actively involved with the Tidy Towns Group since the beginning of 2022. The Owenass River walk is the backbone of Mountmellick town it leads to the playground and park and is used by most of the residents of the town, the girls have been instrumental in the constant upkeep and maintenance of the river walk. Each week they weed, litter pick, sweep and cut back brambles ensuring that others get to use and enjoy this great local amenity, when not out maintaining the river walk the girls can be seen around town planting, weeding and watering flowers. These young people use their own initiative to get involved and to come out and work to help Mountmellick Tidy Towns achieve their goals. They take great pride in the town they live in and are an inspiration to us all. They have breathed new life into what was self-described as an older group, the members feel they're constantly learning from the girls.
Holly Ogilvie is an individual award winner who was nominated by Charlotte Fitzpatrick of the Laois Kayak and Canoe Club. Holly is a member of the Laois Kayak and Canoe Club based in Durrow, Co Laois. Holly competes at the highest level representing Ireland in freestyle kayaking where she is currently ranked 8th in the world, she has also retained her position on the Irish team for 2023 and has qualified for the World Championships in Columbus, USA later this year. Holly is extremely passionate about Kayaking she dedicates her time to not only introducing the community of Durrow to her sport but helping them to enjoy themselves while learning. During the 2022 Durrow Scarecrow Festival Holly was involved in giving beginner Kayak lessons to over 300 adults and children, she was particularly focused on getting hesitant teenage girls involved. Holly is involved in Canoeing Ireland's national volunteer programme called "Bridge the Gap" where she is an ambassador for female participation and the promotion of paddle sports to women. Holly's own club has for the first time recorded over 50% of female membership this was in no small part down to Holly's tremendous achievements. Holly has a "can do" attitude which is infectious, those around her can't but help absorb her positively and love for her sport. Her leadership skills in and out of the water helps bring out the best in people, she instils a sense of pride and belonging to the community.
Sean Ryan was nominated by his mother, Niamh, and she describes him as a very kind and thoughtful young man. Sean has a twin brother, Liam, who has severe disabilities and complex medical needs. Sean is always thinking of his brother and of ways he can help him and make his life better. Sean is in second year in St Mary's CBS in Portlaoise and his English teacher asked him to do audio recordings of children's books for children who are learning English. These audio books were sent to primary schools in Laois and Sean asked if they could be sent to Kolbe Special School, where his brother Liam attends, as the children there would also benefit from the audiobooks. Sean has never been shy or embarrassed to speak about his brother and his disabilities and challenges. This has helped his friends and fellow students to have a better understanding and to be more acceptable of people with disabilities. He has also been involved in several fundraisers for Kolbe Special School and Laura Lynn Foundation. Sean is a wholly deserving recipient for this award and he is an inspiration to us all.
Tony McInerney and Dolly Nevin were nominated by Jules Fitzpatrick of Laois Travellers Action Group. Both Tony and Dolly are advocates for young Travellers in Laois and are involved with the Laois Traveller Action Group. In 2022 they became the first travellers to be part of Comhairle na nOg in Portlaoise where they advocated for the education, social and emotional needs of young Travellers. As part of Comhairle na nOg they were involved in the organisation of the Colour Fun Run in May 2022 which was an uplifting event for mental health support in Laois. They have spoken in front of many professional groups and educational services, including the Traveller Education Consultation Event at the Laois Education Centre, to highlight the needs of young Travellers. They have shown great leadership qualities and have demonstrated to other young travellers the benefits of being a part of groups and forums in order for their voices to be heard. They represented all young Travellers in Laois at the National Youth Council of Ireland Conference in Dublin in July of last year. They continue to demonstrate equality and belonging and are well deserving of their award
Ashraf Mohammad Sulieman was nominated by Brian Thompson and Maura Murphy of St Mary's CBS in Portlaoise where he is a student. This young man has a very remarkable story to tell. He has travelled over 10, 000km to Ireland. Ashraf was taken from his school in Somalia by the Al Shabaab (Somalian based Islamist group) and taken to a training camp where he was tied up, beaten and deprived of water. He managed to escape and returned to his parents. His parents managed to get him to Europe where he walked to Greece from Turkey and eventually made his way to Germany. He then sought asylum in Ireland. At the age of fifteen he had to live in a foreign country without any friends or family. He thought himself English and when he came to Ireland he focused on his education.
Ashraf has shared his story with all year groups in St Mary's CBS. His fellow students have heard first-hand the sufferings of others throughout the world and they realise how injustice in the world can and must be overcome by the struggles of people like Ashraf.
Ashraf is an inspirational young man and well deserving of his award.
The All Inclusive Sports Group are our group award winners who were nominated by Des Mulhall of St Marys CBS, Portlaoise and Lynda Scully of Portlaoise Panthers. The group comprises of Odhran Phelan, Dylan Browne, Callum Conroy and Ciara Kennedy and was formed to acknowledge these young people's involvement and dedication to all-inclusive sports teams in Portloaise. The group are involved with the Football For All soccer team and the Portlaoise Panthers Inclusive Team. Football For All gives opportunities to people to play the "beautiful game" who may not ordinarily get a chance to do so. The Portlaoise Panthers Inclusive Team is a basketball team for young people and adults with disabilities. The All Inclusive Sports Group are heavily and actively involved in training both teams very early of a Saturday and Sunday morning. These young people take the players through drills and put them through their paces. Without the active involvement from these magnificent young people neither teams could run their training sessions or become involve in tournaments. These young people make the players feel believed in and most of all included. They have helped the players to focus and their abilities rather than their disabilities.
Chloe Kerry is a phenomenal young person who over the years has shown exceptional potential and commitment to others in need. Chloe has overcome some difficult personal circumstances during her life and in spite of this is always keen to help others. Chloe has worked hard to improve her own personal circumstances and showed great determination to all those that know her and have worked alongside her as she strove to achieve her goals one of which was to attend third level education which Chloe has achieved & now studies social care. Chloe has attained a qualification from NUIG through her engagement with the Foroige Leadership for Life programme, enabling her to be a positive source of empowerment and leadership to her peers and wider community.
Prior to the Covid-19 pandemic Chloe fundraised with PATH (Portlaoise Action towards homelessness) raising over €400 for homeless people and families in Laois and Dublin. Chloe also volunteered with a local charity shop spending her time supporting the work of the shop and ensuring it was accessible for all who needed it. Chloe has engaged locally with the Foroige Youth Justice project which while improving her own educational opportunities also selflessly helped other young people to do the same.
Chloe has had a tremendously positive impact on her immediate and wider family as well as those in her community and in particular her siblings, acting as a positive role model and teaching them the power of hope and resilience.
Chloe is a worthy recipient of a Garda Youth Award due to her commitment to choosing the right path even when it was not always the easiest path to travel, to helping make her community a better place and by supporting those who need it most.