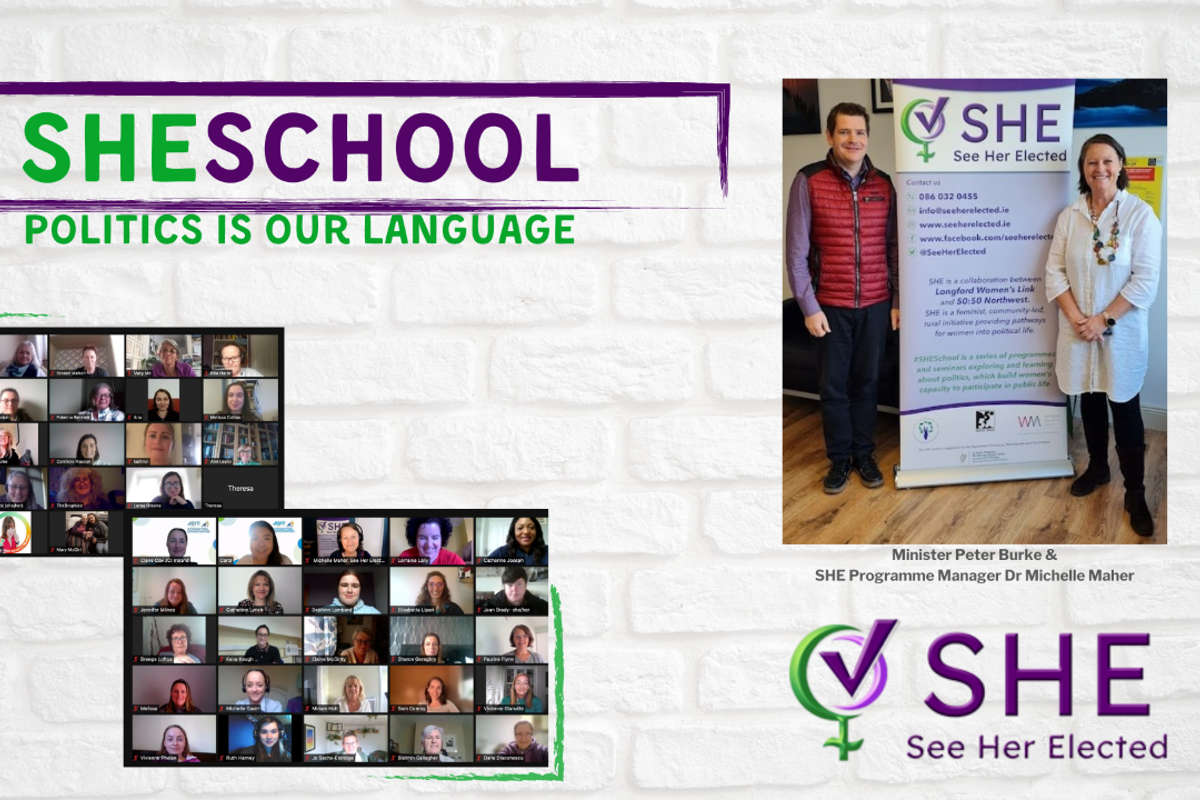 It's one of ten finalists selected out of 400 European entries.
See Her Elected (SHE) the feminist, community-led, rural initiative to support women into politics in the Midlands and North West has been selected as a finalist for the prestigious Innovation in Politics Award 2021.
The annual Innovation in Politics Awards recognise creative projects from across Europe which break new ground to find innovative solutions for today's challenges.
The awards are presented to politicians in recognition of their innovative projects based on European values of social balance, democracy, and human rights – regardless of their party affiliation or level of government.
A citizens' jury, comprising over 1,000 Europeans, evaluates the projects to determine the finalists and winners in the Awards' nine categories.
See Her Elected beat off stiff competition from over 400 European entries to be selected as one of just ten finalists in the democracy category.
Programme Manager with SHE, Mullingar's Dr. Michelle Maher says she's "absolutely delighted" that See Her Elected has been selected as a finalist;
"We are thrilled that the See Her Elected programme has been selected as a finalist in the democracy category in the Innovation in Politics Awards.
"It is fantastic recognition for the programme and our work in trying to increase the numbers of women in local politics in the rural NorthWest-Midlands Region of Ireland, where anything from 78% to 95% of the county councillors are men.
"We need our council chambers to be more reflective of society and we need to see more women in politics in order to have more balanced decision making.
SHE engages directly with women in their communities through the innovative SHESchool.
Free online classes cover politics, public policy, economics, and participation.
For example, the SHESchool Introduction to Politics classes demystify the workings of local authorities, promote active citizenship, and explore barriers to local participation for women.
In a welcoming and relaxed learning environment, women are instilled with the knowledge, confidence, and skills necessary to consider running for election.
They are also empowered to participate in decision-making through Ireland's Public Participation Network.
SHE is funded by the Department of Housing, Local Government and Heritage under the stewardship of Junior Minister and Longford-Westmeath Fine Gael TD Peter Burke and is a joint collaboration between Longford Women's Link and 5050 NorthWest.
The programme is specifically aimed at the NorthWest-Midlands covering the counties of Longford, Westmeath, Roscommon, Sligo, Leitrim and Donegal.
You can find out more at seeherelected.ie.