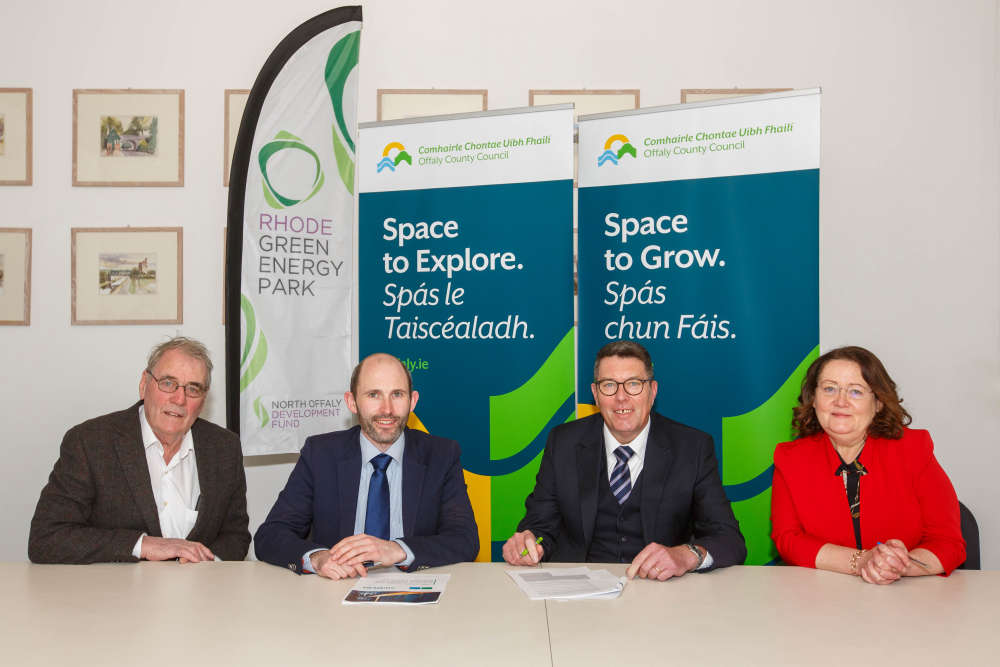 Eugene Mulligan, Chair of NODF; Cllr. Liam Quinn, Offaly County Council; Joe Walsh, General Manager of Siemens; Anna Marie Delaney, CE of Offaly County Council.
The German giant will look into the potential for a renewable energy hub.
German corporation Siemens has been appointed to conduct a leading research project exploring the potential and opportunities for the integration of a data centre with renewable energy and green hydrogen in the midlands.
Building on the energy heritage built up through the peat-generation era, this project at Rhode Green Energy Park is intended to provide evidence-based research to enhance the development of green energy enterprises within the midlands, a region in close proximity to the Greater Dublin Area.
This Study is co-funded by the Just Transition Fund and North Offaly Development Fund (NODF).
The North Offaly Development Fund is a community group, with Rhode Green Energy Park as its flagship project.
Chaired by Eugene Mulligan, the group has been working in close collaboration with Offaly County Council for a number of years to harness the potential of the site.
Speaking on the appointment, the local authority's chief executive, Anna-Marie Delaney says;
"The co-location of diverse renewable energy systems integrating into the national grid at Rhode Green Energy Park provides unique prospects for cutting edge innovation and demonstration hubs.
"Collaborations between industry, academia and stakeholders are underway to explore opportunities such as a Green Hydrogen integration and demonstration hub, and large scale energy user integration with renewables".
Joe Walsh, General Manager of Siemens, says his team is looking forward to working on this project, which is anticipated to deliver key insights of regional and national significance.
Councillor Liam Quinn, Cathaoirleach of Edenderry Municipal District and Director of NODF CLG, has also been welcoming the initiative.
He commented that it demonstrates Offaly's commitment to innovation and sustainable economic development, and is an important milestone in the development of Rhode Green Energy Park.