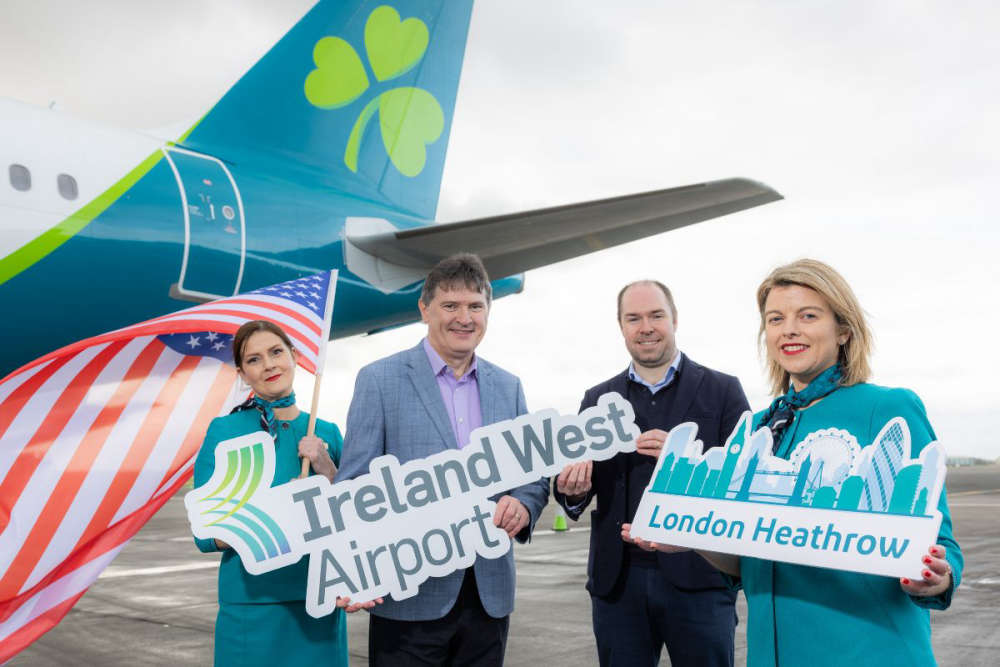 This new service will provide a major boost for the airport and the region.
Ireland West Airport welcomes major announcement by Aer Lingus of a new year-round, daily service to London Heathrow Airport.
Starting March 26th, Aer Lingus will operate daily flights to London Heathrow, the airport is serviced by the Heathrow Express train with a journey time of 15 minutes to Paddington Station in Central London.
This new service will provide a major boost for the airport and the region as it is the first time in the airports 37-year history that the airport will be connected to one of Europe's major international airport hubs.
As well as providing a daily service to Heathrow, this connectivity means customers can enjoy connections via London Heathrow Airport to North America.
Aer Lingus currently has partnerships with a network of airlines out of Heathrow Airport, providing access to an ever-growing number of routes and benefits.
Airlines include Air Canada, Alaska Airlines, American Airlines, British Airways, Iberia, JetBlue and United Airlines. British Airways codeshares on Aer Lingus services which will offer global access from Ireland West Airport to/from UK and London Heathrow.
British Airways also codeshares on Aer Lingus operated North American and Canadian services for connecting passengers to and from the UK.
The new route will boost inbound tourism to the West of Ireland.
Aer Lingus aims to take advantage of the growing trend of screen tourism, which Tourism Ireland has identified as a key opportunity for 2023, with films like the Banshees of Inisherin showcasing the West of Ireland to a global audience.
The announcement reinforces Aer Lingus's commitment to Ireland West Airport Knock.
The new route will replace the current Aer Lingus service to London Gatwick, which will cease operations on 25th March 2023.
Customers already booked on this route will be automatically rebooked on a same day flight.*
Commenting on the new London Heathrow service, Reid Moody Chief Strategy and Planning Officer at Aer Lingus said:
"Our new route from Ireland West Airport to London Heathrow, accompanied with further network connectivity for our customers, is exciting for Aer Lingus and for the West of Ireland. As well as direct connectivity to London Heathrow, there are significant onward connections now open to customers to North America and beyond. The service will also drive inbound tourism at a time when interest in visiting the West of Ireland is very high, with the Oscar nominated Banshees of Inisherin showcasing the beauty of the West of Ireland to millions of people globally."
Welcoming the news, Joe Gilmore, Managing Director, Ireland West Airport commented:
"The airport is absolutely delighted to welcome today's announcement of a new daily service to London Heathrow with Aer Lingus. This is a major development for the West and Northwest regions as it opens up key onward connectivity, through one of Europe's biggest hubs, to over 80 destinations worldwide. The hub status of Heathrow for business and leisure passengers to connect with the global marketplace is a potential game changer for this region, and from a tourism perspective the service will deliver a significant increase in tourism visits from all corners of the globe. In addition, through their code share partnerships, this new service will see the return of US services to the West as it provides the option to book flights on the Aer Lingus website, from Ireland West Airport via Heathrow, to key North American destinations such as Boston, New York, Washington and Los Angeles as well as further onward connections with their code share partners such as British Airways, to a host of global destinations. I have no doubt this new service will attract strong support from the region and overseas and we thank Aer Lingus for their strong show of commitment to the airport and West of Ireland region."
Minister of State at the Department of Transport, Jack Chambers TD, welcoming today's announcement said:
"This is a very positive development both for Ireland West Airport and the region. While Heathrow will undoubtedly be a very useful destination for those travelling to London, the benefits that this link brings are beyond that. In particular, it unlocks further connectivity for users of the service both to onward destinations and to new visitors from across the globe. A daily connection to a global hub such as this has the potential to build new and exciting linkages in not just tourism but across trade to and from the region. The past few years have seen significant pressure on our airports due to the much reduced traffic caused by the pandemic. Government has not been found wanting in providing support. Since the onset of COVID-19, exchequer funding amounting to €12.3m was provided to Ireland West Airport. However, enhancements such as the one announced today are really important signs that air travel is entering into a much-needed period of recovery. Ireland West Airport is one of the airports at the forefront of this recovery and in 2022 passenger numbers recovered to 89% of pre-COVID-19 levels. That is a testament to the hard work of the management and team at the airport, and their airline partners. I wish Ireland West Airport and Aer Lingus every success in the launch of this new service."
Commenting on the tourism boost the new service will bring, Niall Gibbons, CEO, Tourism Ireland said:
"Today's announcement by Aer Lingus is really good news for tourism to Mayo and the Wild Atlantic Way, as we continue to restore growth in inbound tourism. As an island destination, we know there's a proven direct correlation between access and growth in visitor numbers, so this new flight will certainly help boost visitor numbers from Britain. Tourism Ireland is committed to working with Aer Lingus, Ireland West Airport and our other key partners, to drive demand for this new flight, and all other services to Ireland, and help maintain our vital network of routes and services. Great Britain remains a very important market for tourism to the island of Ireland, delivering around 42% of all our overseas visitors. In 2019, we welcomed almost 4.8 million British visitors, whose visits generated approximately €1.45 billion for the economy."