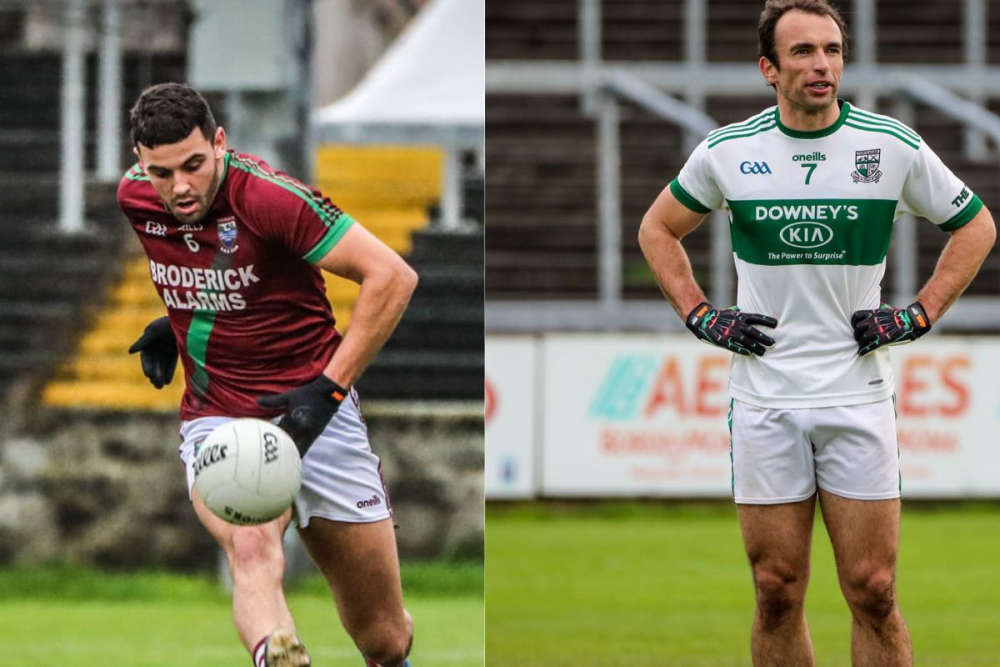 Photo Credit: www.pauldargan.com
Portarlington and Portlaoise promises to be enthralling for the neutral.
There'll be plenty of familiar faces facing one another when the players take their positions for the Laois Senior Football on Sunday.
The majority will have crossed paths in Laois senior panels over the last number of years or in the case of Portlaoise's eight debutantes, through the underage grades at inter-county level.
This will be the fourth time they've met in a county decider, the first coming in 1893 and the last in 1991. They've split the trophy presentations, with the current champions reigning supreme in 1959 while Portlaoise took the glory in 91'.
They've met on numerous occasions over the last three seasons in league and championship and will know one another's strategy inside and out by this point.
Playing in a county final is the highlight of many GAA careers. Playing in a final against your biggest rivals is another massive pull for panelists.
Here's the thoughts of some of the key players from both sides, who'll take the field on Sunday.
First up it's Portarlington's captain Keith Bracken:
It's an exciting week when you're coming up to a county final, and so there's no issues in getting lads out to the pitch and everyone's raring to go out there.
Last time it was a bit of a rush as well. It was only a week turn around and was all new to us.
So glad to have that bit of experience behind us and were able to plan accordingly now.
Look to be honest, since we've started out here as this group. We've taken every game one game at a time. That hasn't changed, and we just look at the team in front of us and who were playing next.
And yeah, obviously it would be great to do and is something that we would be all looking forward to, but at the minute it's just all eyes on Portlaoise and we're thinking of this match and that's it.
Ah yeah, for sure. Like you know there there's a lot of lads there on both teams that have a little bit of experience with Laois and playing inter-county and they're playing together for years so, and they know each other inside out, so it's always going to be a cracker when the boys come up against one another and then please come up against each other.
Rivalry I suppose you're always going to have that and they're the trademark team in Laois for the last ten years or more so, there's just no bother on us. We're really looking forward to the challenge. We know it's going to be big and it's the toughest game we're probably going to face this year.
Defense is something we work very hard on and put a bit of thought into and hopefully it stays going that way for us next week. In saying that we know Portlaoise did put up a huge score.
They kicked 1-17 I think against Ballyroan so obviously we'll be trying to cut that down hugely and come out right side of it.
Martin, it was great to get his experience in regard to doing things differently like he's been very straight out. He's an honest man and he was honest in what he required out of us and that was that was evident from the start and that's brought us all just close together. Everyone is buying in, and we know it is just one big unit.
I think that shows in the style of football we play, so that's probably the big thing in that he just has brought a great unity in the group, and everyone just wants to work hard for each other and do well the game.
Laois star Robbie Piggott also gave us his thoughts:
I wouldn't say that now, there's just a good group of us there. Now that we've really kind of stuck together and we're trying to just leaders all over the pitch, there's there, especially our age.
All 15-players on the pitch are leaders as far as we're concerned.
We're loving up there, so.
Defensively. I think we're fairly well set up. The two boys in the corner just love hard work. Both solid young lads who just love being in there in the corner and even in goal, Scott doesn't even get as much credit as he deserves.
Scott is an unbelievable keeper. He's not even having to do as much work because the boys in there put in such good shift so. It's bread and butter stuff in there for them and they love it.
No no, for me growing up football, it was just Portlaoise winning the whole time and they've been the epitome of Laois football for the last couple of decades, we're under no illusion there what's ahead of us and we are looking forward to it.
Yeah, listen, they've got the best in the semifinal there two years ago and we were very, very disheartened, by that and about how that game went but you know, we'll be looking to set that right for sure.
I think it's just that crop of players that is there at the moment and like he's said, there's a unity in the group in that we're all the best of friends. We're a really close-knit bunch and I think that is one of the main reasons why we stuck together and put the shoulder to the wheel, and we have had a bit of success since.
100%. Like I said, there's a couple of older lads that are really bringing in the experience to us, the likes of Dave Murphy and Cathal Ryan when things might be a small bit frantic, they really calm things down and have a word with the younger lads. It helps to have that experience everywhere, leaders everywhere.
Yeah no, there's some real quality players like Gareth Dillon, Kieran Lillis and then you have Brody back bringing another string to their bow so listen we're going to have our hands full, that's for sure.
There's plenty of medals in the Portlaoise dressing room over the last fifteen years but as Gary Saunders says, they're well aware that they're on the re-build:
I know it's only been about a year, but it feels a bit longer than that with everything that's after going on and look not everyone probably expected us to get this far but we're here now and we will see what happens.
Yeah, we lost the first-round game and probably lucky to come through the second game as well, like so we're I think we were a good few points down and they got man set off. That's probably turned the game in our favor.
It's small margins like that, that turn games. So, I suppose we were a bit lucky to get this far but hopefully we hopefully now we'll drive on.
Yeah, look when our backs were really were against the wall. It was do or die every game for us, every game was knockout if we wanted to get back to a final so that's the way we looked at it.
It gave us time to really regroup and put the right structures in place to reach the final again and it's after happening.
There's a great spirit here and probably looking at the team, it's a relatively young enough team like, so even for the young lads that came in, they made some difference it was like a new energy or a new life around the complex so that helps out a good bit.
Meeting new lads training, you see them coming up, but you don't know them and training with them you build a bond with them, and Kevin has been brilliant with that, pulling us all together so he has, especially during lockdown and covid and you couldn't be meeting up and dressing rooms were closed.
We will have to be at 110% now to get the better of them. They're probably the kingpins of Laois football at the moment. They're an excellent side, you look at them and try to come up with one or two weaknesses and it's hard to come across any.
So, look we will try our best to get over the line but it's going to take everything we have.
That's it, wherever Kevin feels I can do the best for the team is. I don't mind playing anywhere once I get to play really is the way I see it to be honest. I'm lucky enough to be playing in a team in Portlaoise so anywhere he plays me, I'm happy.
Yeah, I know especially in the first. I think my first one was when I was 18 and that was the year O'Dempseys were in the final and just getting to train with the boys that you would actually look up to, the likes of Lillis, I think Healy was actually playing that year as well, so it was unreal to get into the dressing room with them and play with them, something I always wanted to do.
Veteran Brendan Carroll was also very forthright in the build-up to the game:
It's essentially a new team that we have this year. There's a lot of guys that's coming up from minor to new a look team, and so we're just we're just focused on getting ourselves out, line out and final and just have a crack at it and just see where we can go from there.
It's been a tough road but as you said, we did plenty of soul searching after games and I think it showed a lot about the character in the group being able to bounce back from that defeat, nine down to Ballyfin then in the second round and to be able to dig that out and behind against their O'Dempseys as well.
It just kind of show us kind of the belief we have in our system and in each other as a group and I'm just hoping that will help us get over the line now.
It's just something that you develop up through the ages and then you become more reliant on other lads as you go and you just kind of develop that sense of unity and you just know that there's certain lads you can count on day in and day out and lads just step up to the level on each occasion and it is great to have that definitely.
It's probably something that's been questioned within the group over the last number of years, and as I said, with the amount the young guys that are after coming up this year, they've really added so much life to the group, pushing lads for their jersey week in and week out and it just developed our squad as a whole so much better.
Anyone who knows Kevin knows like how much of a town legend is and what he's done for the club and like being in a dressing room with him as a younger guy in the squad like it was savage to see the leaders that we had in that squad like with Kevin and Brian Mulligan, Bruno, Cahir Healy like there was savage leaders within that group.
When Kevin was one of the main ones when he spoke, you listened and that has just carried into his management career now as well. He speaks so so well and you just kind of lights a fire in lads about how passionate he is about Portlaoise football.